BBC micro:bit launches to a generation of UK students
In a landmark moment, from today up to one million BBC micro:bits are being delivered free to every year 7 student in England and Wales, year 8 student in Northern Ireland and S1 student in Scotland. The BBC micro:bit, launched as part of the BBC Make it Digital initiative, is a pocket-sized codeable computer that allows young people to get creative with technology, whatever their level of experience, and aims to help develop a new generation of digital pioneers.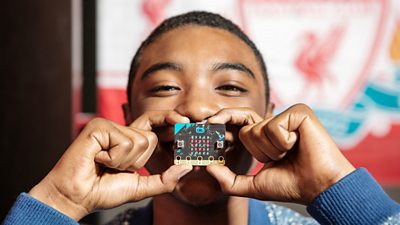 The BBC micro:bit has the potential to be a seminal piece of British innovation, helping this generation to be the coders, programmers and digital pioneers of the future.
Students can program their BBC micro:bit to become anything they want - from simple games to smart watches and even fitness trackers - all by using one of the code editors at www.microbit.co.uk, or the mobile app, and by connecting it to other devices and sensors. The website also features a range of resources and tutorials to help teachers, parents and students take advantage of the BBC micro:bit's vast potential.
It's the BBC's most ambitious education project in 30 years and builds on the pioneering role of the BBC Micro, which helped introduce the nation to computing in the 1980s. It has been made possible only through a ground-breaking partnership between the BBC and 31 organisations including ARM, Barclays, element14, Lancaster University, Microsoft, Nordic Semiconductor, NXP Semiconductors, Samsung, Technology Will Save Us and the Wellcome Trust.
BBC micro:bits will be delivered nationwide through schools and made available to home-schooled students over the next few weeks, but they will be the students' devices to own. This allows students to keep their device as they move up through the school, and to continue bringing their ideas to life outside of school and term time.
Some additional BBC micro:bits have been included in the rollout to enable teachers to extend their BBC micro:bit lessons to students in other year groups, giving the BBC micro:bit partnership an even better chance of inspiring an entire generation.
Following the nationwide rollout, the BBC micro:bit hardware and much of the software will be open-sourced, and BBC micro:bits will be available to buy from a range of retailers. Money generated from these commercial sales will be used to further encourage as many people as possible to join the coding revolution. Further details will be announced soon.
Tony Hall, BBC Director-General, said: "This is a very special moment for us, our partners and most importantly for young people across the country. The BBC micro:bit has the potential to be a seminal piece of British innovation, helping this generation to be the coders, programmers and digital pioneers of the future.  Only the BBC could attempt a project this ambitious, on such a large scale, and I'm thrilled we've persuaded so many people to get behind this and make it happen."
Sinead Rocks, Head of BBC Learning, said: "The BBC micro:bit has seemingly limitless potential, especially when paired with other hardware, and we can't wait to see what students will do with it. They've already come up with all kinds of ideas during testing and at events around the country - some ideas help solve some of life's daily challenges, some could have business potential, and others are just great fun. Teachers have been quick to embrace it too, which is so important to the success of the project, and they have already made valuable additions to our online resources."
Jessica Cecil, Controller, Make It Digital said: "BBC micro:bit represents a major milestone in our bid to inspire a new generation of digital innovators. As part of our Make it Digital initiative we want everyone to discover more about the digital world. We're offering easy-to-use devices like the BBC micro:bit, up to 5,000 Make it Digital traineeships across the UK and shows on the BBC such as Girls Can Code and Calculating Ada, to achieve just that. Working with our many partners to create opportunities for children to code, make and to discover, together we aim to build the chances of the next generation."
The BBC micro:bit is the result of a groundbreaking partnership on an unprecedented scale. The BBC micro:bit's product partners have led on the software, hardware, design, manufacture and distribution of the device. They include:
ARM: The BBC micro:bit was created using the ARM® mbed™ hardware and software development kits and compiler services. The project builds on the organisation's collaboration on the original 1981 BBC Micro computer.
Barclays: Supporting the distribution and manufacture of the BBC micro:bit by incorporating it into their digital education programmes: Code Playgrounds, run by Barclays Digital Eagles online and in branches, and the LifeSkills programme.
BBC: The BBC micro:bit project has been conceived and convened by the BBC, bringing together partners to deliver a digital literacy project on an unprecedented scale.
element14: element14 manufacturers the BBC micro:bit and has worked closely with all partners in areas such as component selection, cost optimisation and design for manufacture. In addition, element14 has leveraged its manufacturing, logistics and packaging capabilities to safely deliver the first one million units into the UK.
Lancaster University: Designed and developed the BBC micro:bit runtime; the essential core code that makes the BBC micro:bit do all the amazing things it does. The University will continue to support the micro:bit community as it grows, and is organising research into how the micro:bit is being used, helping to improve its effectiveness.
Microsoft: Developed the BBC micro:bit website to host code editors for all one million micro:bits and has also supplied two coding languages: Microsoft Touch Develop, a text-based language, and Microsoft Block Editor a graphical coding language. Microsoft has also provided learning resources, and produced a getting started guide for teachers and students.
Nordic Semiconductor: Supplied the ultra low power Bluetooth® chip that integrates the micro:bit's computer brain (a 32-bit ARM® Cortex™ M0 microprocessor) and allows the micro:bit to both wirelessly communicate with other micro:bits, and sync to or be updated from smartphones, tablets, and computers via Bluetooth – all from a single chip.
NXP Semiconductor: Provided the microcontroller that manages the BBC micro:bit's USB connection, the accelerometer and magnetometer that enable the micro:bit to react to motion and the direction it's facing, and a system-level electro-static protection device (ESD) - four million components total.
Samsung: Developed the Android app for the BBC micro:bit, connecting it to smartphones and tablets that will support the micro:bit coding environment, allowing young people to program on-the-go.  They have also developed student projects and teacher resources for the micro:bit.
Technology Will Save Us: A London-based start-up that designs 'Do It Yourself' tech kits that spark the creative imagination of young people. Tech Will Save Us led the BBC micro:bit design, producing the distinctive look & feel that encourages kids to get hands-on with technology. Additionally, they designed and coded the experience that runs on the BBC micro:bit when it is first powered on. Tech Will Save Us also offers a digital catalogue of 'Makes' projects that gets kids creating at home as well as at school.
Wellcome Trust: Through direct initiatives to schools, Wellcome Trust will provide exciting real life contexts for teachers and learners around the UK to use the micro:bit.
And the BBC micro:bit's product champions are playing a vital role in supporting the device through additional support, services, outreach, engagement, educational resources and an iOS app (due to launch at the end of March). These include:
Big Learning Company
Bluetooth SIG
Cannybots
CISCO
Code Club
Code Kingdoms
CoderDojo
Creative Digital Solutions
CultureTECH
Institution of Engineering and Technology
Kitronik
London Connected Learning Centre
MyMiniFactory
National STEM Learning Centre
Philip Harris
Python Software Foundation
ScienceScope
STEMNET
Tangent
TeenTech
Tinder Foundation
DT
Related BBC Links