Amazon delivery drivers are being exploited, claims a BBC Inside Out investigation
An undercover BBC Inside Out investigation has revealed disturbing evidence that some delivery drivers for Amazon - the biggest online retailer in the world - are being exploited.
Published: 11 November 2016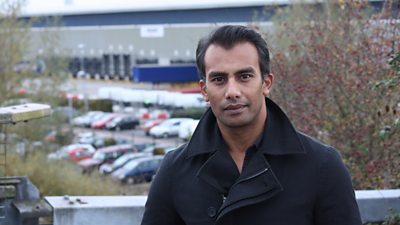 It was definitely one of the hardest jobs I've ever done, the route that's programmed by Amazon is very difficult to achieve because of all the things that aren't factored in, like traffic and customers being out.
Agency drivers working for Amazon Logistics are put under so much pressure that they pose a danger to themselves and our roads, says the programme. The investigation also found that some drivers earn an hourly rate that is less than the national minimum wage.
After receiving numerous complaints about one particular agency supplying drivers to Amazon Logistics, Oxford based AHC Services*, a BBC undercover reporter got a job with that agency at the Avonmouth depot in Bristol. The BBC found that not all the vans provided by AHC Services are roadworthy. When an independent mechanic checked the van hired to the undercover BBC reporter he deemed the vehicle 'dangerous to drive'.**
After two days of unpaid training, the undercover reporter spent seven days delivering Amazon parcels. As he was new to the job, he was given an easier route and had to deliver 100 parcels a day. Most other drivers he spoke to had between 150 – 200 parcels a day. He was told that this number could go up to 300 around Christmas.
A device known as the 'rabbit' or the 'dora' is programmed by Amazon Logistics and works like a sat nav and tracking system that plots the route for the drivers. The undercover reporter was told by an AHC supervisor that Amazon Logistics allocates around three minutes per drop.
The BBC undercover reporter said: "It was definitely one of the hardest jobs I've ever done, the route that's programmed by Amazon is very difficult to achieve because of all the things that aren't factored in, like traffic and customers being out. I just found it impossible to do the route in the time they think you should be able to do it."
Charlie Chikaviro, former driver for AHC Services said: "I had to drive quick - I had to – the way it was designed automatically you're going to have to do that. I had a few crashes, I can say that... but not bad crashes but yeah… several times driving on the motorway a couple of drivers (have) been pulled over by the police cos they're speeding."
The BBC undercover reporter relayed his concerns to a supervisor for AHC Services, who acknowledged there was sometimes a need for speed.
The supervisor said: "No it's not a job for everyone, you've got to be prepared to put your foot down a little bit in some cases, which is a pain in the ass but… it's just the way it is really…it's not the best job for everyone."
Former AHC Services driver Andrei Feciour said: "You didn't take care where you're parking, you just grab your parcel and go to another place…of course it makes you dangerous, you are very fast all the time, you don't have time so you have to be fast fast fast all the time."
Delivery drivers are subject to the 'Domestic Drivers' Hours Rules'. Drivers commit an offence if they spend more than 11 hours a day on duty – which means time spent driving or doing work-related to the vehicle or its load. On all seven of the days that the BBC undercover reporter did the job, following the route set by Amazon, he spent more than 11 hours on duty. On four of the days, he spent around 13 hours on duty.
The BBC undercover reporter said: "They (Amazon) don't factor in any rest breaks, they don't factor in any toilet breaks, so one driver told me on one occasion he had to go for a poo in his van, in a bag, because he was so desperate. He didn't want to put himself far behind by going out of his way to a loo somewhere."
A former AHC Services supervisor, Cody Cooper*** told the BBC investigation that, "we had one guy that he hadn't had a single day off for three months solid - so that was constant seven days a week for three months driving on the road."
Cody continued: "And I got more concerned when I received a call from the driver one afternoon and he told me he fell asleep at the wheel and I kept thinking it was coming up to school time and there could be a group of schoolchildren walking along the path and he could have steered off - anything could have happened so I raised the alarm to some of the other guys and someone contacted him and told him he had to stay on the road and complete that route - it wasn't until I had to argue and say no he cannot be on the road, he will end up killing someone, he's already fallen asleep at the wheel."
In the first week of working for AHC Services the BBC undercover reporter completed three routes at a fixed rate of £110 per day. On average he worked around 12 hours a day, after deductions including; van hire, insurance, personal millage and an admin fee, it left him with £93.47 for three days work. Working out at £2.60 per hour, well below the national minimum wage of £7.20 per hour. In the second week, he earned what equated to an hourly rate of £4.76.****
Amazon Logistics require all drivers who work for them to be self-employed, but some former drivers of AHC Services never felt they were.
Former AHC Services supervisor, Cody Cooper said: "None of them felt like they were self-employed because if they rang up one morning to say I'm sick it would be a case of you have to come in today you need to cover your route or there could be a possibility you will be removed off the contract."
The BBC reporter earned very little money for the amount of time he spent working - but for many former AHC Services workers it was worse, some of the money they earned was never paid to them at all. BBC Inside Out spoke to 11 former drivers who all say they have never received their final payment from the agency.
AHC Services – Right to Reply
AHC takes road safety and the welfare of its contracted drivers extremely seriously. As independent contractors, AHC provides drivers with the freedom and flexibility to choose when they work and to also work with other companies, which a significant number of our drivers take advantage of.
Our vehicles are thoroughly tested on a regular basis by an independent mechanic. Drivers are closely monitored to ensure that they have the necessary training and insurance and that they adhere to AHC policies and procedures.
Many of the allegations that the BBC has made are historic and based on isolated examples which occurred over a year ago. Since then we have made changes to the way our checks are carried out and taken a number of steps to improve our ways of working.
Amazon - Right to Reply
Over 100 small and medium sized businesses across the UK are providing work opportunities to thousands of people delivering parcels to Amazon customers. We are committed to ensuring that the people contracted by our independent delivery providers are fairly compensated, treated with respect, follow all applicable laws and drive safely.
We require delivery providers to ensure that drivers use roadworthy vehicles with annual MOT certification, follow all applicable traffic and safety laws, and hold both a valid UK driver's licence and motor vehicle insurance. We also require delivery providers to audit driver licensing records twice per year.
Our delivery providers are obligated to ensure that drivers do not spend more than 10 hours per day driving. Over the last six months, the average driving time and total on-duty times for drivers in the UK are 8.5 and 9.1 hours per day, respectively. Sophisticated software is used to plan delivery routes and take into account several variables, including speed limits and daily traffic patterns. As independent contractors of our delivery providers, drivers deliver at their own pace, take breaks at their discretion, and are able to choose the suggested route or develop their own.
Our Avonmouth delivery provider pays drivers an average of £12 per hour, plus quality incentives of up to £1.80 per hour and mileage-based fuel reimbursement.
Our delivery providers have always been expected to pay more than the National Living Wage, and we recently clarified with all of our delivery providers that we expect drivers to receive a minimum of £12 per hour before bonuses, incentives and fuel reimbursements.
We take this matter seriously and strive for continuous improvement, understanding that our progress depends on good execution and judgment of our employees and our delivery providers. We recently contacted our delivery providers in the UK to underscore this joint commitment, as well as their contractual obligations to safety, fair compensation and treatment of drivers.
Our delivery providers must abide by Amazon's Supplier Code of Conduct and our more detailed Amazon Logistics contract. We investigate any allegation that a delivery provider is not meeting our expectations.
Inside Amazon - BBC Inside Out Special, Friday 11 November, BBC One at 7:30pm and on BBC iPlayer.
Notes to Editors
*AHC Services are based in Oxford and provide drivers to Amazon depots around the south of England
**Our reporter told AHC Services about the problem with his van and it was swapped for a roadworthy vehicle.
***Cody Cooper, a former AHC supervisor left the company a year ago.
****Despite only working three and four days in the weeks he worked, the undercover BBC reporter wasn't given an option to hire the van for a partial week and so had to pay for a full week's van hire for each week' or similar.
NA
Tagged: