BBC Music launches Ten Pieces Secondary film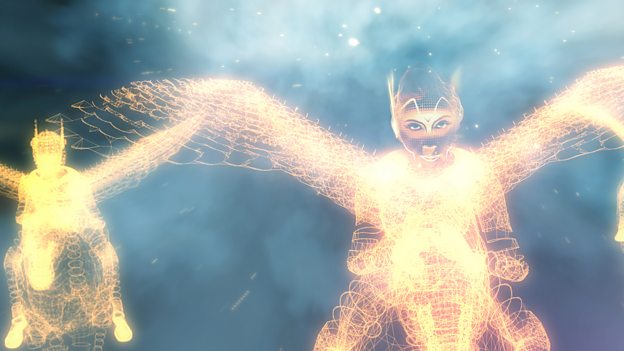 I'm so proud of this campaign, the biggest commitment the BBC has ever made to music education in our country.

Tony Hall, Director-General, BBC
Date: 03.09.2015
Last updated: 21.09.2015 at 18.05
BBC Music has today announced the presenters for its brand new Ten Pieces Secondary film, which will launch for schools in cinemas across the UK in October.
Commissioned and produced by BBC Learning and delivered in conjunction with the BBC Performing Groups, the project is designed to introduce a generation of children to classical music and has been extended to secondary schools with a new selection of music for students and teachers to explore.
Schools can book free cinema tickets now for the nationwide screenings via bbc.co.uk/tenpieces.
The film stars the BBC Philharmonic, which is the BBC's flagship orchestra for the North, and is based in Salford. It is conducted by Alpesh Chauhan, playing side-by-side with members of the National Youth Orchestra of Great Britain, and soloists Nicola Benedetti, Alison Balsom, and DJ Mr Switch, alongside the Hallé Choir. It showcases the Ten Pieces of music that are the basis of the project - representing a wide range of styles and eras relevant to the secondary music curriculum. Each piece is introduced by celebrity presenters, using an engaging mix of live action and animation. The film is designed to act as an exciting gateway to orchestral music, stimulating students and teachers to respond creatively to the repertoire.
The hour-long cinematic film is made by BBC Music Television and independent production company Somethin' Else and features specially shot performances of the ten pieces at Victoria Warehouse in Manchester.
The presenters of the Ten Pieces II film are:
TV presenter and journalist James May: J. S. Bach, orch. Stokowski - Toccata and Fugue in D minor BWV 565 / Soloist: Wayne Marshall
Singer Pixie Lott: Bernstein - 'Mambo' from Symphonic Dances from 'West Side Story'
Actor Bobby Lockwood and TV presenter and actor Naomi Wilkinson: Bizet - 'Habanera' and 'Toreador Song' from 'Carmen Suite'
Comedian and rapper Doc Brown: Anna Clyne - Night Ferry
TV presenter and former footballer Dion Dublin: Haydn - Trumpet Concerto (3rd movement) / Soloist: Alison Balsom
Radio 1 presenter Clara Amfo and composer Gabriel Prokofiev: Gabriel Prokofiev -Concerto for Turntables and Orchestra (5th movement)
Soloist: DJ Mr Switch
Poet and Broadcaster Lemn Sissay: Shostakovich - Symphony No. 10 (2nd movement)
TV presenter Molly Rainford: Vaughan Williams - The Lark Ascending / Soloist: Nicola Benedetti
Comedian Vikki Stone: Verdi - 'Dies Irae' from 'Requiem'
Actor Christopher Eccleston: Wagner - 'Ride of the Valkyries' from 'Die Walküre'
The second year of the Ten Pieces project builds on the success of Ten Pieces Primary – which has already engaged more than half of UK Primary Schools (over 11,000 primary schools). Commissioned and produced by BBC Learning and delivered in conjunction with the BBC Performing Groups, the initiative aims to inspire a generation of children to get creative with classical music by using a selection of ten pieces of music as a spring-board for creativity, as well as a range of free online Key Stage 3/3rd Level music resources, UK-wide events and close collaboration with music and arts organisations.
Once students have seen the film, schools can access online resources to enable students to develop creative responses inspired by the music – either through dance, animation, performance poetry, composition or digital art. Schools will be able to attend live performances of the Ten Pieces across the country throughout the year.
Ten Pieces Ambassadors will continue to work with the project across the country – including Ten Pieces secondary soloists Nicola Benedetti and Alison Balsom, as well as jazz pianist Julian Joseph, baritone Roderick Williams, singer and BBC Radio 6 Music presenter Cerys Matthews, harpist Catrin Finch, and BBC Radio 3 presenter Suzy Klein. New Ambassadors joining the project for secondary schools will include cellist Julian Lloyd Webber, 19 year old Co-Principal Trombonist of the London Symphony Orchestra and former BBC Young Musician Peter Moore, electronic band Clean Bandit, and musician, producer and composer Nitin Sawhney.
Ten Pieces is delivered on the ground through an existing network of more than 250 music hubs, music education services and arts organisations that are already involved with Ten Pieces. These organisations will continue to support the initiative at a local level, extending their activities to secondary schools.
From Monday 28 September to Saturday 10 October, BBC Radio 3 presents a special Ten Pieces season.
Across two weeks, each of the Ten Pieces will be played on Breakfast and a selection of BBC performing group performances of the works will be broadcast in full on Afternoon on 3 including Gabriel Prokofiev's Concerto for Turntables and Orchestra and Anna Clyne's Night Ferry. On the station's drive time programme In Tune, Ten Pieces ambassador Nicola Benedetti presents 'Ten Facts, Ten Pieces'– a special daily feature detailing ten entertaining and informative facts about each of the works (28 September-9 October & available for download). Then, on Friday 2 October, the programme is live from the Thomas Tallis secondary school in Greenwich with presenter Suzy Klein and special guests including Ten Pieces composer Gabriel Prokofiev, DJ Switch, Ten Pieces ambassador Roderick Williams, and the BBC Concert Orchestra. Elsewhere, CD Review's 'Building a Library' feature surveys two of the Ten Pieces – Verdi's Requiem (3 October) and Haydn's Trumpet Concerto (10 October) – and on Essential Classics presenters Rob Cowan and Sarah Walker offer their recommendations of works related to the Ten Pieces. Also on Essential Classics, Ten Pieces Ambassador Nitin Sawhney chooses his favourite pieces of classical music (28 September-2 October).
BBC Radio 2 also marks Ten Pieces Secondary with a Friday Night is Music Night special themed around the ten works (Friday 9 October) and Radio 3 presenter Petroc Trelawny will join Radio 2's Ken Bruce every morning across the two week season to introduce each piece to the Radio 2 audience ( starting Monday 28 September).
Tony Hall, Director-General, BBC, said: "I'm so proud of this campaign, the biggest commitment the BBC has ever made to music education in our country."
Ten Pieces Presenter and Ambassador quotes:
Clara Amfo: 'I'm so very happy to be involved with BBC Ten Pieces – it's such an inspiring project, and a great way of encouraging this generation of children to become creative by using classical music as a starting point. In the film, I present Gabriel Prokofiev's Concerto for Turntables and Orchestra which really shows that orchestral music is very much alive, still evolving and something that young people can definitely enjoy.'
Vikki Stone: 'I grew up with classical music in my bones, so I am thrilled to part of this wonderful project. It's important to keep the spirit of classical music alive, as without its influence, we'd have none of the modern music we listen to today.'
Christopher Eccleston: 'I'm delighted to be involved and to be riding with Wagner and his Valkyries is very thrilling.'
Notes To Editors
Ten Pieces Primary resources and DVDs will continue to be available to primary schools throughout 2015/16 and schools are encouraged to continue their involvement. As Ten Pieces moves into its new Secondary phase, see the impact it's had in Primary schools in this short film - bbc.co.uk/programmes/p03023q3
The inaugural BBC Music Day in June was a nationwide celebration of music, aiming to bring people together across generations and communities through their love of music. bbc.co.uk/music is now the established home for both BBC Music Playlister and exclusive programming. Recent iPlayer commissions include Music Box with Guy Garvey and Amy Winehouse In Her Own Words. And the most talented new artists are given a platform via BBC Music's 17 emerging talent schemes - from BBC Young Musician to the BBC Young Folk Award and BBC Introducing.
MC4 / DH
Search the site
Can't find what you need? Search here
Related Media Centre Links