BBC launches BBC Taster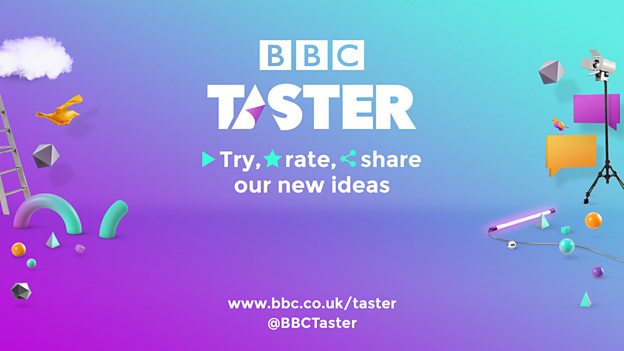 Innovation has been at the heart of the BBC since the birth of radio and TV, right through to the digital age [...] BBC Taster is the next step, bringing together our editorial and technology experts and opening the process up for audiences.

Ralph Rivera, Director, BBC Future Media
Date: 26.01.2015
Last updated: 28.01.2015 at 13.56
The BBC today introduced BBC Taster, a space to develop its latest ideas for digital content and emerging technology. Taster will feature early and experimental concepts from across TV, Radio and Online, enabling the BBC to explore the future of content with audiences and offer them something completely new to try, rate and share.
Taster is a place for the BBC to try new ways of telling stories, develop new talent, and put new technology through its paces. It also allows the BBC to showcase a range of editorial and technology projects that may have previously remained behind closed doors.
BBC Taster is a new home for our experimental ideas – such as interactive, short-form or social content, online features and services, and other ideas from left-field
This release includes exclusive content with Lena Dunham and Jennifer Saunders, Simon Reeves, hip hop duo Run the Jewels, and several major BBC brands
And our latest experiments with digital technology from BBC Future Media, Research & Development, Connected Studio and digital innovation teams
Enables the BBC to better serve audiences by innovating quickly, gaining valuable feedback and responding to changing media habits
Ralph Rivera, Director of BBC Future Media, says: "Innovation has been at the heart of the BBC since the birth of radio and TV, right through to the digital age - having pioneered products and services like the BBC Micro, Ceefax, BBC iPlayer and the first truly digital Olympics in 2012. BBC Taster is the next step, bringing together our editorial and technology experts and opening the process up for audiences. This will give us valuable feedback and technical insights, helping us further develop our ideas and work on those with the greatest potential."
Danny Cohen, Director of BBC TV, says: "We've always pushed the boundaries with our creative programming and innovative digital services. These two worlds are coming together and opening up new possibilities for telling stories. BBC Taster will help ensure we stay at the forefront and better serve audiences now and in the future. It's an exciting opportunity for our world-class production teams to take more creative risks online, try their ideas out and put them in the hands of audiences."
A new approach to innovation
Taster enables the BBC to release its ideas early, get direct feedback from audiences and improve them if we see potential. More ideas will be regularly introduced into Taster and could come from anywhere across the organisation – from TV and Radio production, to our technology experts in BBC Future Media and our digital innovation team. This ensures greater collaboration across the BBC and with the wider industry, enabling us to innovate quickly and work on a range of ideas in response to audiences' rapidly changing media habits.
For example, the devices audiences use are proliferating, with tablets now in 44 per ent of UK households, and 61 per cent of UK adults own a smartphone - including 88 per cent of 16 to 24 year-olds - and are also considered the most important device for accessing the internet among 16 to 34 year-olds.(1) And BBC Online now receives as much traffic from mobiles as it does from PCs.(2) Social media also plays an increasingly important role among youth audiences, with 75 per cent of 16-24 year-olds in the UK claiming to use social networking sites.
Experimental content
There will be a mix of content developed specifically to explore the potential of new formats and digital technologies across a range of genres. At launch, BBC Taster features examples from BBC iPlayer, News, Radio 1, Natural History, Drama, Current Affairs and Arts... with much more to come in future. It's also an opportunity to serve audiences something extra, utilising the BBC archive, additional and unseen material from BBC recordings or backstage footage.
New content will be added regularly into Taster as a result of new collaborations, projects and ideas. Please see below for more information on all the content we are trialing at launch and check back soon to see what's new. Some current highlights include:
When Len Met Jen: The full interview with Lena Dunham and Jennifer Saunders, as seen on Newsnight, made interactive. Features 40 minutes of unseen material.
Who is in today? Lets audiences know which celebrities visited BBC studios and offices that day, offering exclusive photos, videos and backstage gossip.
Simon Reeve's World Tour: Ahead of his upcoming BBC Two series, Simon brings us an interactive world tour, combining archive material and exclusive footage.
BBC iPlayer Shuffle: A continuous video player that learns from what you click on, serving relevant content to you as it figures out what you like, and what you don't like.
Run the Jewels: Exclusive and interactive material from highly acclaimed American hip hop duo Run the Jewels' recent gig at Koko, including backstage footage and interviews.
Body language: Five poets have written three different stanzas about different parts of their body. The user can then mix and match images and poetry to make their own videos and pictures and share with friends, with up to 125 possible combinations.
Your Story: Uses the BBC News archive to create a personalised and shareable timeline of the big, funny or quirky stories making the headlines from when you were born.
Radio 1 R1OT: Brings a competitive element to online voting and will influence what happens on air. Tune in to BBC Radio 1 for the first R1OT taking place soon.
KneeJerk: New comedy talent The Noise Next Door turn social media platforms into a comedy stage.
Footnotes
(1) Ofcom: http://stakeholders.ofcom.org.uk/binaries/research/cmr/cmr14/UK_4.pdf. In November 2014 bbc.co.uk received 23m UK browsers from mobiles and 23m from computers(2) Ofcom - http://stakeholders.ofcom.org.uk/binaries/research/cmr/cmr14/UK_4.pdf
CD5/DT
BBC Taster projects
Kneejerk
Unplanned, unscripted and unlike most things we do. Comedy improv group The Noise Next Door will turn top trending conversations into top comedy material. These guys will take trending tweets, GIFs, and Vines – turning social media platforms into a comedy stage.
World Service Archive
BBC World service radio archive has over 36,000 programmes from the past six decades. You can help us make the archive more useful by improving the topic tags for each of the programmes. Pick a programme, listen, then let us know which you think are the most relevant tags. Come on, join our tag-team. (You have to register.)
Who's in Today?
Want to know Who's in Today? Visit our new, live site for a sneaky peek at celebs and newsworthy personalities who visit the BBC every day. We'll share images and videos of our guests with you as well as links to related content. We want to share the buzz of what it's like to be at the BBC!
BBC Shuffle
BBC Shuffle learns what you like by noticing how long you watch one programme before clicking on to the next, turning your random viewing into a bespoke channel.
Run the Jewels
Backstage Pass gives you exclusive online access to hip hop big boys Run the Jewels. This exclusive interactive video gives you the best spots at their sell-out London gig and the chance to hang out with the guys back stage. *Contains some strong language and flashing images.
Our World War
Become a corporal in combat in this interactive wartime drama. Based on real live events of World War One, you are faced with real-time decisions. The right choice could save lives. The wrong choice, would end them. These difficult decisions were the reality of war. Which ones will you make?
Radio 1 R1ot
Want to influence what happens on Radio 1? Once you vote, you and your friends become part of a virtual tribe. The best R1OTers get a shout-out so your responses may go on air. If you're under 16 please get your parent or guardian's ok before you respond to a R1OT.
Ultimate Adventure
Simon Reeves has been to over 100 countries and on countless adventures. This time you get to navigate. With one click you can send him from drizzly London to anywhere from croc hunting in Oz to dodging bullets in Africa.
Your Story
Who was number one the day you were born? Who was in No. 10 the time you got your first vote? Your Story is a new on-line tool that intertwines your back-story with BBC archive news events, turning the world's timeline, into your timeline. Go on, log in and find out Your Story.
Nature's Weirdest
Ok, sometimes nature gets weird. Really weird. Chris Packham presents this interactive video that allows you to delve deep into weird and wonderful stories of nature. Like the virgin birth of a snake. Told you it's weird.
When Len met Jen
A no-holds-barred conversation between funny women Lena Dunham and Jennifer Saunders. From Paps to the f-word, click on all the juicy bits you want to hear... This interview contains adult themes (no surprise there). The full interview with Lena Dunham and Jennifer Saunders, as seen on Newsnight, made interactive. Features 40 minutes of unseen material.
Body Language
Cut up bodies you say? Yes that's right, but it's all in the name of art. Poetry to be precise. Body Language offers poems to be cut up and assembled by you. Split into three verses relating to the feet, torso or the head, there are actually 125 possible variations. Don't be squeamish, cut up those bodies.
Kitchen Bitch
John Quilter AKA K.B. is ready to take your orders on this interactive cookery show. Will it be Cordon Bleu or just eugh? Remember, always clean anything that touches raw chicken. It's only cooked when the juices run clear.
Turner: Master or Maverick
You're invited to an interactive private view of Turner at the Tate. Your personal guide, Dub poet Benjamin Zephaniah, waxes lyrical about Turner as you click your way through the landmark exhibition.
Search the site
Can't find what you need? Search here