Years & Years named as winner of BBC Music Sound Of 2015
Soulful electronic pop band Years & Years have been named the winners of the BBC Music Sound Of 2015 list of the ones to watch this coming year.
Published: 9 January 2015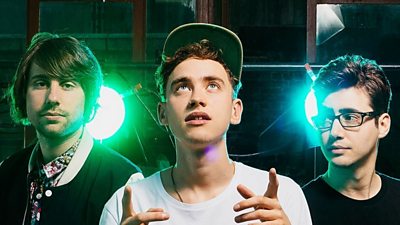 It means we've got a real shot. People are going to listen to what we're going to do, and we've just got to not muck it up.
The London based electronic pop trio consists of bassist Mikey Goldsworthy, keyboard player Emre Turkmen and vocalist Olly Alexander. The band's front man, Olly Alexander, is also an actor whose credits include Channel 4 teen drama Skins, where he played Jakob, and indie musical God Help The Girl.
The group have already had a very successful year, playing coveted support slots with Clean Bandit and Sound Of 2014 winner Sam Smith, as well as performing at a number of UK festivals including The Great Escape, Bestival and Latitude. Their new single King premiered on BBC Radio 1 earlier this week.
Years & Years say: "We can't really get our heads round it, Olly nearly passed out when we found out, it was so surreal and emotional. It feels like it means we've got a real shot, which means the world to us. People are going to listen to what we're going to do, and we've just got to not muck it up. We've got to make the most of it and deliver."
A longlist of the top 15 artists for BBC Sound Of 2015 was published in December and the top five acts have been revealed each day this week by Radio 1 DJ Huw Stephens on the Radio 1 Breakfast Show.
BRITs Critics' Choice winner James Bay came in second followed by unsigned grime artist Stormzy scooping third place. Atlanta born singer-songwriter Raury was fourth on the list, and Cambridge graduate and spoken word artist George The Poet was fifth.
Radio 1 DJ Huw Stephens says: "Years & Years have already and will continue to capture imaginations with their electronic melodies and lively on stage sets. They are a young band with loads of ideas and a clear vision of the music they want to make, and that will take them far this year."
George Ergatoudis, Head of Music for BBC Radio 1 & 1Xtra, says: "Lead singer, Olly Alexander is blessed with a distinctive intoxicating voice that works beautifully with the band's emotive electropop production. They fully deserve to top BBC Music's Sound Of 2015 and they're surely set for stellar success."
Around 140 influential music industry experts including DJs, critics and bloggers voted in this year's list. They were asked to name their three favourite new acts by BBC News.
Pundit Andrew Trendell, Deputy Editor of Gigwise.com, predicts big things for the Years & Years: "With a string of flawless electropop singles under their belts in the form of Real, Take Shelter, Desire and new one King, their following has grown from cult to some pretty serious radio attention. Why? Few bands that could threaten the charts have arrived recently with as much integrity or a vision as fully formed as this. Expect them to be a true success story and dominate the festival season - and they're more than worthy."
The list was started in 2003 and last year's winner, Sam Smith, has gone on to win numerous awards including Album of the Year for In The Lonely Hour and Record of the Year for Stay With Me. Previous winners have included LA pop band HAIM, Adele and Ellie Goulding.
Notes to Editors
Any use of the information in this release must credit BBC Music Sound Of 2015.
Profiles of all 15 artists are available at the Sound Of 2015 website 
The full top five
Years & Years
James Bay
Stormzy
Raury
George The Poet
Also on the longlist (in alphabetical order):
Kwabs
Låpsley
Novelist
Rae Morris
Shamir
Shura
Slaves
SOAK
Sunset Sons
Wolf Alice
A range of music, video, interviews and biographies from each of the Top 15 acts can also be seen on the BBC Music Sound 0f 2015 documentary
Last year Sam Smith was joined in the Sound Of 2014 top five by Ella Eyre, BANKS, Sampha and George Ezra.
The previous winners are: HAIM (2013) Michael Kiwanuka (2012), Jessie J (2011), Ellie Goulding (2010), Little Boots (2009), Adele (2008), Mika (2007), Corinne Bailey Rae (2006), The Bravery (2005), Keane (2004) and 50 Cent (2003).
Other artists in the top five in previous years include Angel Haze and CHVRCHES (2013), Frank Ocean and Azealia Banks (2012), James Blake and The Vaccines (2011), Hurts (2010), Florence and the Machine, La Roux (2009), Duffy (2008), Klaxons (2007), Plan B (2006), Bloc Party (2005), Franz Ferdinand (2004), Yeah Yeah Yeahs and Dizzee Rascal (2003).
The list was compiled using recommendations from 139 influential UK tastemakers, who were asked to name their favourite new acts.
The tastemakers included radio DJs and producers, TV presenters and producers, newspaper critics, magazine and website editors and respected bloggers.
All participants were asked to name their favourite three new acts, who could be performers from any country and any musical genre, whether or not they are signed.
They cannot have been the lead artist on a UK top 20 single or album before 27 October 2014. They must not already be widely known by the UK public (for example, a member of a hit band going solo or a soap star).
They must not have made it to the semi-final or final rounds of UK talent search shows such as X Factor or The Voice in the last 3 years (i.e. 2012 onwards).
Further details of the tastemakers and how the list was compiled are available on the BBC Music Sound Of 2015
Once again BBC Music Sound Of 2015 has teamed up with BBC Playlister to create a playlist with full length tracks featuring all the artists in the BBC Music Sound Of 2015 longlist. The playlist is available in the BBC Playlister app on Spotify
BBC Playlister is the new music service from the BBC that allows users to remember tracks that they hear from across the BBC and export them for full playback on our external partners, YouTube, Spotify, or Deezer. Find out more here 
BBC Music officially launched in October this year with the very first pan-channel broadcast of God Only Knows, an extraordinary reworking of The Beach Boys' classic song uniting 27 internationally acclaimed artists from across the musical genres.
Led by Bob Shennan, Director, BBC Music, it is the BBC's strongest commitment to music in 30 years, comprising of an ambitious wave of new programmes, innovative partnerships and ground-breaking music initiatives, designed to strengthen its place as a world leader in music broadcasting and commissioning, and enhance the UK's position as a world leader in music creation and performance.
Landmark music programming across BBC Television & Radio includes the forthcoming BBC Music Awards on BBC One, Radio 1 and Radio 2 on Thursday 11 December as well as a regular music slots on The One Show, putting more music on the country's most popular TV channel.
A number of productions are under way, including Ten Pieces, an initiative which aims to introduce and engage primary school children right across the UK with ten pieces of classical music.
bbc.co.uk/music is now the established home for both BBC Music Playlister and music clips from BBC Radio & Television. An incredible range of visual music content is curated on the iPlayer.
And the most talented new artists are given a platform via BBC Music's seventeen emerging talent schemes - from BBC Young Musician to the BBC Young Folk Award and BBC Introducing.
PS
Related BBC Links