James Naughtie appointed Special Correspondent for Radio 4
James Naughtie will become Special Correspondent for BBC Radio 4 in January 2016, after 21 years presenting the Today programme.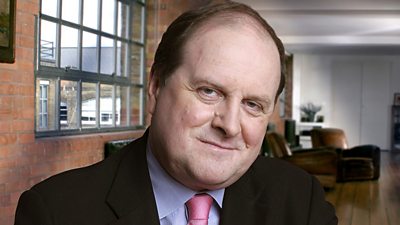 I'm thrilled to be moving from one dream job to another, and working with the programmes across Radio 4 - including Today - that I love and have known for so long.
In this role he will have a responsibility for charting the course of the constitutional changes at the heart of the UK political debate - devolution and independence, parliamentary reform and the changes in the UK's relations with Europe.
Jim will also be a roving reporter and Radio 4 listeners will continue to hear from him at home and around the world. Next year he will be an essential part of the coverage of the Scottish elections for Holyrood, and the American and French presidential elections. He will also report on these and other major stories for Today and all radio news and current affairs programmes. He will write and present radio documentaries and continue to anchor the overnight coverage of elections, and the EU referendum, on BBC Radio.
He is also being appointed as BBC News Books Editor. This will chiefly involve working for Radio 4, where he will present a regular book review for the Today programme on a Saturday morning.
James Naughtie joined Today in 1994 following the death of Brian Redhead, having spent six years as presenter of The World at One, where he succeeded Sir Robin Day. In his 21 years on the programme he has interviewed every significant figure in British politics and all the people who shape our society and culture. He has travelled the world for Today - in Europe, the Middle East, China including Tibet, Australia and to the United States. He interviewed Barack Obama at the start of his spectacular political rise, before his name was known across the Atlantic, and every British prime minister from Margaret Thatcher onwards.
He has anchored every election results programme for BBC Radio since 1997, worked on every US presidential election since 1988, covered Papal installations, D-Day commemorations and been the voice of important national events, including the funeral of Diana, Princess of Wales. He was in Egypt for the Cairo Revolution, Japan for the tsunami, Hong Kong for the hand back to China, and Iraq in the aftermath of the 2003 invasion.
He combined his Today role with that of presenter of Good Morning Scotland for two days a week in order to be at the heart of the 2014 Scottish Referendum coverage. He has written and presented many radio documentaries in 27 years with the BBC and, in recent years, two notable series - the 60-part story of classical music, The Making of Music, and New Elizabethans, profiling 60 of the most influential figures in Britain over the first 60 years of the Queen's reign.
Jim has presented every edition of Radio 4's monthly Bookclub since it began in 1998.
Tony Hall, Director-General of the BBC, says: "Jim has been the emotional heart of the Today programme for a generation. His persistent and incisive questioning has given millions of listeners a greater understanding of the stories of our time. Above all he's a writer and reporter at heart - he can bring to life a vivid scene on the radio better than anyone - and I'm delighted that on many of the biggest news stories of 2016 and beyond Jim will continue to be at the heart of our coverage.
Jim Naughtie says: "It was exciting to discover that the BBC and I had the same idea about what I should do next. I'm thrilled to be moving from one dream job to another, and working with the programmes across Radio 4 - including Today - that I love and have known for so long. I can't think of a more invigorating challenge. And after 21 years, I can turn off that 3am alarm at last".
James Harding, Director of News, says: "Jim brings a range of passions and interests, a host of intelligence and understanding to all that he does on the BBC. As a presenter of Today, he has illuminated the national conversation on politics and world affairs, the arts and culture for more than 20 years. I am excited at the prospect of Jim, unleashed, as inquisitor and reporter, critic and twinkling enthusiast across the Radio 4 airwaves for years to come."
Gwyneth Williams, Controller of BBC Radio 4, adds: "Jim has been a leading Radio 4 presenter for as long as I can remember and I want to thank him for his many years on Today. Our discerning audience trusts his judgement and we all respond to his inimitable enthusiasm and verve. His is an elegant pen and Jim has made good writing his signature. Thus I am thrilled to be keeping for Radio 4, in this broader role, his particular voice, with its rich understanding of politics and culture and history."
EF2
Related BBC Links
Tagged: