Half of family doctors set to quit early according to 'worrying' BBC survey
More than half of family doctors say they are expecting to leave the profession early according to a new survey carried out by the BBC's Inside Out programme.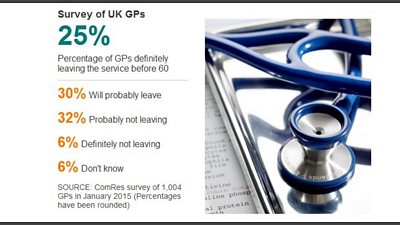 It's worrying when you hear these figures but it's important to look at how things are changing.
Health Secretary Jeremy Hunt has described the findings as "worrying". The results show 56 percent of general practice doctors aged under 60 polled by the BBC expect to leave the profession early.
If that happens, it would create a major headache for the health service, which is already struggling to fill positions in local practices.
ComRes surveyed 1,004 GPs across the UK on behalf of BBC Inside Out. The survey shows 56 percent of family doctors expect to retire or leave before they are 60, including one in four saying they will definitely do so. It comes at a time when NHS managers are struggling to recruit new doctors into general practice.
Health Secretary Jeremy Hunt told BBC Inside Out: "It's worrying when you hear these figures but it's important to look at how things are changing.
"In the NHS in the next five years we want to transform care for older people. It'll be a transformation in the services offered through GPs. There's a whole new programme to encourage people to come back to general practice.
"Hospitals have been struggling to meet increasing demand. That's taken money away from services like GPs, mental health and district nurses. That's wrong and we're moving to correct that.
"The centre of gravity in the NHS for 66 years has been big hospitals. We have to change that to make the centre of gravity general practice and out of hospital care."
But Dr Krishna Kasaraneni from the British Medical Association said he was not "surprised" by the findings. He said: "Politicians across the board need to acknowledge that general practice is not resourced correctly."
Student doctors told Inside Out that some doctors, in other parts of the NHS, gave a negative image of life as a GP. Several students said they had no plans to enter the service. Finola Brooke-Williams, final year student from University College London said: "You'll get a hospital doctor saying 'look at all of you – 50 percent of you are going to be mere GPs'." Asked about the thought of being a GP, she said: "You have 10 minutes to see a patient and it's almost a conveyor belt…I think you'll feel inadequate and who wants to feel inadequate in their day job?"
It is estimated that it costs more than quarter of a million pounds to get a student through medical school. In the three years up to 2013 the number of unfilled GP posts almost quadrupled. Over the last five years consultations have shot up by an estimated 60 million a year.
One student at Imperial Medical School, Mitul Patel said: "The thought of a career that involves a lot of these frustrations puts you off…The work is so stressful it's putting current and prospective GP trainees off."
Maureen Baker, chair of the Royal College of GPs, said it was "not acceptable" for there to be any stigma associated with GPs – particularly if promoted by other doctors in the NHS. She said: "We're actively taking steps to send the message out that it is not acceptable…If the service of general practice wasn't there, their work (the work of hospital doctors and others) would be destroyed."
Inside Out tracked down British GP, Dr Dave Jones, who now works in Perth, Australia. He's one of an increasing number of GPs who practise abroad. Asked for his thoughts on leaving the UK, he said: "I do feel guilty, to some extent.
"When a government invests so much in training doctors…you are a national asset to that country. But the way that asset is being treated in the UK is pushing people away. It's reached the point where people are saying, no I've had enough, I'm not doing this anymore."
Each regional episode of Inside Out features local stories on GP services. In Cumbria the programme observes the pressures on one surgery (Whitehaven) where all 49 appointments are taken within 12 minutes of the phone line opening at 8am. We also have evidence that the NHS is paying Locums up to £850 a day to cover for GP shortages
Interviewed on the programme, Health Secretary Jeremy Hunt said: "What I hope GPs recognise is that things, they said to us worry them, are being addressed. They didn't like targets, we've reduced those by 40%. They needed more money to invest in premises, we put in extra money in the autumn statement. We're increasing the capacity in the workforce outside hospitals. This doesn't happen over-night so I urge people to bear with us as we make these important changes as there are some really exciting things about to happen now."
Watch Inside Out: GPs special documentary on BBC One Monday 2nd March at 7.30pm; also available on BBC iplayer for 30 days
Notes to Editors
Methodology note: ComRes interviewed 1,004 GPs online between 21st and 28th January 2015. Data were weighted to be representative of all UK doctors with all respondents verified via their GMC number. ComRes is a member of the British Polling Council and abides by its rules.
GPs Research – ComRes Survey
· More than half of GPs (56%) expect to retire or leave General Practice in the UK before they become 60 years old.
· One in four GPs (25%) say they will definitely do so.
· Around one in three GPs (32%) say they will probably not retire or leave UK General Practice before the age of 60 and just 6% say they will definitely not do so.
Q: At the current time, do you expect to retire or leave General Practice in the UK before you become 60 years old?
%
NET: Yes 56%
NET: Probably / Definitely not 39%
Yes definitely 25%
Yes probably 30%
Probably not 32%
Definitely not 6%
Don't know 6%
Base: GPs aged under 60 (n=934).
Reasons for leaving
GPs are most likely to cite volume of consultations as the main reason why fewer medical students and foundation doctors are choosing to specialise in general practice than used to (27 percent).
Around one in five cite working hours (19 percent) or standing within the profession (20 percent).
Among a range of 'other' reasons being cited, the most common include 'media portrayal' and "workload".
Q: Which of the following do you believe is the main reason why fewer medical students and foundation doctors are choosing to specialise in the general practice than used to?
%
Volume of consultations 27%
Working hours 19%
Standing within the profession 20%
Pay 9%
Other 22%
Don't know 3%
Base: UK GPs (n=1,004).
CM8
Related BBC Links
Tagged: