BBC launches year-long campaign to get the nation reading
BBC Director-General Tony Hall today announces Get Reading - a campaign for 2016 that will celebrate great authors and their works and get the nation reading and sharing the books they love.
Published: 17 November 2015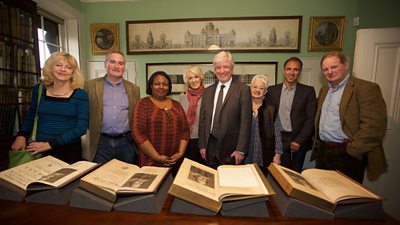 We want to get everyone talking about stories that have influenced them - and inspire them to discover something new.
Get Reading includes a Get Reading Weekend, a digital and social media campaign from BBC Learning and specially-commissioned programmes across BBC TV, Radio and online. 
According to the Reading Agency, reading for pleasure is more important to children's development than education or social class.
Get Reading will work with key reading partners throughout the whole of 2016, including the Reading Agency, BookTrust, the National Literacy Trust, the Society Of Chief Librarians and the Scottish Library and Information Council.
The campaign kicks off in spring with the BBC Shakespeare Festival 2016 - a major season celebrating the genius of William Shakespeare, 400 years after his death.
Over the summer there will be a season of children's books on the BBC, at the heart of which will be programming marking the centenary of one of our most famous children's authors, Roald Dahl.
In the autumn, a landmark season on BBC Two: The Book That Inspired Me (w/t) and an accompanying nationwide social media campaign led by BBC Learning, which will get the nation sharing its favourite books.
Across the year BBC Two and BBC Four will be celebrating the work of famous authors such as the Brontës and Rudyard Kipling, while Radio 4 will explore the work of figures such as Alex Garland, Toni Morrison and Jeanette Winterson. Get Reading will culminate in a Get Reading Weekend as the BBC, working in partnership with UK organisations to inspire everyone across the UK to read something new.
Tony Hall, Director-General, BBC says: "We want to get everyone talking about stories that have influenced them - and inspire them to discover something new. If we can pull that off, it's going to be very special. I hope we can ignite a spark and I'm sure we'll surprise some people. Let's not forget, a book can change your ideas. It can change your life."
Jonty Claypole, Director, BBC Arts, says: "Reading is one of life's greatest pleasures, but also plays a huge role in broadening our horizons and sharpening our imaginations - which is why authors and books have always been at the heart of the BBC. Whether you're catching an author with their latest book on BBC Breakfast, watching CBeebies bedtime story with your child, celebrating the lives and works of our greatest authors on television, or being transported by our many evening radio book shows, you are joining millions of others in a shared love.
"So, I'm delighted that in 2016 we'll push reading even higher up the agenda. Get Reading will depend upon and amplify the work of our partners, who include the BookTrust, the National Literacy Trust, the Reading Agency, the Society Of Chief Librarians and the Scottish Library and Information Council, as we inspire everyone to Get Reading and talk about the books that matter most to us all."
Highlights of Get Reading
A children's books season will feature a major BBC Two documentary celebrating the life and work of Roald Dahl; accompanying BBC Four programmes include a film following a group of primary school children as they learn to read. Radio 4 will offer dramatisations of Roald Dahl's autobiographies Boy and Going Solo. CBBC is planning an Awesome Authors Live event to complement their storytelling season, whilst 500 Words on the Chris Evans Breakfast Show on Radio 2, a short story competition for children, returns for a sixth year.
BBC Two's season and a nationwide online campaign The Book That Inspired Me (W/T), led by BBC Learning, will get the nation sharing the books that inspired them and build a picture of the books that matter most to 21st Century Britons, culminating in a major gala celebration.
Get Reading Weekend. Working with key organisations across the country including BookTrust, the National Literacy Trust, the Reading Agency, the Society Of Chief Librarians and the Scottish Library and Information Council, the BBC will aim to inspire the nation to read something new across one weekend in November.
Programmes across TV and Radio will celebrate great writers. BBC One, BBC Two and BBC Four will celebrate the Brontës, Radio 4 will explore the work of Alex Garland, Toni Morrison, Jeanette Winterson, while BBC Two will feature a new documentary on Rudyard Kipling. A major BBC Four series The Secrets Of The Books We Love will reveal the workings of British genre fiction. Simon Mayo will be one of the BBC's Book Ambassadors for 2016 as his Radio 2 Book Club continues to go from strength to strength and the BBC Nations and Regions will be finding out the books that define the different parts of Britain.
BBC Shakespeare Festival 2016 will mark 400 years since Shakespeare's death with programmes including a BBC Two live broadcast of the RSC's Shakespeare Show (W/T) with David Tennant, and the next instalment of the Hollow Crown: The Wars Of The Roses, starring Benedict Cumberbatch, and Russell T Davies' adaptation of A Midsummer Night's Dream will feature on BBC One.
BBC Arts Online will enhance Books On The BBC, personalised with blogs and tips from many of our best-loved faces like Simon Mayo and Mariella Frostrup - providing a one-stop shop for book lovers across the country.
Pictured: Deborah Moggach, Chris Riddell, Malorie Blackman OBE, Joanna Trollope OBE, Tony Hall, Dame Jacqueline Wilson, Anthony Horowitz OBE, Michael Morpurgo OBE
BBC Shakespeare Festival 2016
In April 2016, as the nation marks 400 years since William Shakespeare's death, the BBC will celebrate our greatest writer and bring his work to a new generation. Working with key partners including the Royal Shakespeare Company, The British Council, the Royal Opera House, Shakespeare's Globe, Hay Festival, the Space and the British Film Institute, the ambition is to get more people enjoying Shakespeare than ever before by interpreting his work in bold, new ways and placing it at the heart of the schedules - across TV, Radio and Online.
The BBC Shakespeare Festival will launch on 23 April - to celebrate Shakespeare's birthday - and continue for a month across our services.
On BBC Two, viewers will be treated to the next extraordinary installment of The Hollow Crown, with three more episodes starring Benedict Cumberbatch, Judi Dench and many others. And the Royal Shakespeare Company is staging a live birthday celebration with some of the biggest names of stage, screen and song.
Russell T Davies, one of our greatest storytellers, is filming A Midsummer Night's Dream for primetime BBC One with the cream of British talent, including Maxine Peake, Matt Lucas, Bernard Cribbins, Elaine Paige and Richard Wilson.
Children's books on the BBC
Roald Dahl: In His Own Words (BBC Two 1 x 60)
Roald Dahl was the most successful children's writer of his generation, and remains one of the most popular of all time. His fantastical, macabre stories have been read by hundreds of millions worldwide, and have become a staple of our childhoods, dominating the bestseller lists in children's fiction. 2016 is Roald Dahl's centenary and the BBC will celebrate his amazing creativity across its services.
On BBC Two, a new television film Roald Dahl In His Own Words will frame his life and work in the playful, inventive, distinctive style of a Roald Dahl story. Drawing on a wealth of letters, diaries, autobiographies, as well as archive television interviews - and featuring the work of Dahl's long-time collaborator Quentin Blake - Roald Dahl's unique appeal will be brought to life as never before. From the Oompa-Loompas to Matilda, Fantastic Mr. Fox to the BFG, Roald Dahl's remarkable literary inventions live on in our collective imagination. But where did these stories spring from? This film will show the truth is that, however far-fetched and fantastical, Dahl's children's fiction was in fact anchored in his own experiences.
B is For Book (BBC Four 1 x 60)
From award-winning director Brian Hill (Century Films), this film follows a group of primary schoolchildren as they learn to read, following each child as they take their first steps in to the world of the written word. Filmed in an ordinary British school, the programme will feature children from the great variety of backgrounds that make up today's Britain. Some of them will make a flying start with their reading; others may struggle. Some will have many books at home, others few. Some may have parents who themselves have trouble reading, and others may have a parent who doesn't speak English. In such cases a child's literacy can be vital for the family.
This film will discover the extraordinary power of literacy, beyond its educational importance. As the children learn to read it is as if the world around them is transformed. Through stories, they can be taken on a journey to discover far-flung places and meet a myriad of colourful characters. B Is For Book will give us privileged access to a profound process that all of us only ever do once in our lives.
The One Show (BBC One 1 x 30).
The One Show will be running items on Dahl both around the theatrical release of one of Roald Dahl's most popular books, The BFG, directed by Steven Spielberg, in July and the actual centenary in September.
BBC Children's
CBBC is planning an Awesome Authors Live event to complement their storytelling season and BBC Children's will be showing a range of programming to celebrate writing and storytelling.
Blue Peter (CBBC).
Blue Peter starts the season with Children's Laureate Chris Riddell, as he announces the winners of the Blue Peter Book Awards 2016 on World Book Day. Blue Peter will then launch its Dream BIG competition, linking up with the new film release of Roald Dahl's story The BFG.
Horrible Histories (CBBC)
As part of Get Reading 2016, the award-winning Horrible Histories returns with a one-off special about Sensational Storytellers. Who wrote the first detective novel? When were books invented? And, imagine what would happen if Beatrix Potter, Malorie Blackman, Enid Blyton and Jacqueline Wilson formed a girl band? This episode takes a look at some of literature's greatest works and history's wackiest writers, from Stone Age storytellers right up to the modern day.
Mel Giedroyc also joins in for a very special Writer's Bake Off, with Roald Dahl, Lewis Carroll and Enid Blyton. Plus, of course, our trusty host Rattus guides the way, trying to write a story of his own.
My Story Special – The Victorian Childhood (CBeebies)
Georgina and Kia begin their journey of discovery to find out what life was like for children over 100 years ago by dressing up as Victorians. They will find out about a young girl called Beatrix and what her life was like, that she was educated by a Governess and how she holidayed in a castle! Kia and his Mummy find out about the wildlife which inspired Beatrix, by exploring the countryside looking for different flowers; visiting an animal sanctuary which looks after animals, just as Beatrix did, and trying to draw some animals just like Beatrix. Together they discover just how much Beatrix's childhood influenced the stories of Peter Rabbit, Jemima Puddleduck and Mrs Tiggy-Winkle.
BBC Radio 2
500 Words - the short story competition for children aged 13 and under - will be returning to the Chris Evans Breakfast Show on Radio 2 in 2016, bigger and better than ever! It follows a blockbusting fifth year which saw more than 120,000 entries and the final broadcast live from St James' Palace, with HRH The Duchess of Cornwall in attendance. 
BBC Radio 3
Radio 3's Essay will be devoting several weeks to exploring contemporary writers' debt to the children's literature of the past, in The Essay: Summer 2016. There will be a week of five essays dedicated to analysing Roald Dahl's characters - and the key to their enduring power. There will be a week exploring some of the foreign masters of children's writing. Also this year will see another instalment in Radio 3's ongoing series, The Book That Changed Me, in which five public figures identify a work of fiction and non-fiction that made a difference to them. Roald Dahl's anniversary will also be marked by some of Radio 3's music programmes.
BBC Radio Wales
BBC Radio Wales will have programming around the Roald Dahl centenary due to his connection with Wales.
The Book That Inspired Me (w/t)
BBC Two's landmark season, The Book That Inspired Me (W/T) and accompanying digital social media campaign, led by BBC Learning and supported across the BBC's services, will get the nation talking about the books that mean the most to them. A climactic moment will reveal the results of our nationwide campaign, discovering the books that matter most to Britain.
The Book That Inspired Me (W/T) (BBC Two)
Teachers and experts have long known that keen readers make good students, and yet more than ever before distractions including technology and social media make it harder to get a teenager to pick up a book. In a special BBC Two season some of our best-known faces take on the challenge of convincing a group of disengaged kids to fall in love with books and start a reading revolution in their schools.
The Book That Inspired Me (W/T) will be an emotional journey as, with expert help and support, these personalities attempt to open children's eyes to the worlds that lie between the covers of their favourite books – and be open about their own formative experiences in their hope of inspiring their class. But at the heart of the series will be the personal stories of the pupils as they reveal what has been holding them back from picking up a book, from peer pressure and other distractions to the stresses of modern family life.
Can our passionate advocates convince a class of teens to go out, share their story and spread the written word? Might they even provide these pupils with a life-changing experience and turn them on to the joys of literature?
The Book That Inspired Me (W/T) – social media campaign
At the heart of the BBC Two season are two connected digital initiatives from BBC Learning. The aim of these is to create a national dialogue about the books that have shaped Britain and encourage a new generation to discover the love of reading for pleasure. The Book That Inspired Me (W/T) is a multi-platform BBC branded campaign using social networks and BBC's own platforms to allow audiences to recommend and discuss the books that changed their lives. From this we will build a snapshot of Britain's favourite reads. The second strand of the campaign will a social media campaign aimed at 14-20 year olds - sports stars, TV personalities and musicians will post clips, pictures and comments on the books that changed their lives when they were teenagers, with the aim of engaging teenagers to begin recommending their own favourite books.
The overall results of the campaign will be celebrated in a gala night of programming on BBC Two.
Get Reading Weekend
In autumn 2016, as the climax of The Book That Inspired Me (w/t) campaign, the BBC will ask the whole nation to get reading with the first ever Get Reading Weekend. The Get Reading Weekend will see the BBC and partners including BookTrust, the National Literacy Trust, the Reading Agency, the Society of Chief Librarians and the Scottish Library and Information Council aim to inspire the nation to read something new over one weekend.
The BBC will use its full range of our services to encourage audiences to get reading, alongside those of its partners and the results of The Book That Inspired Me campaign ensuring there is no shortage of inspiration.
Celebrating great British writers
Living Like a Brontë (BBC Two 1 x 60)
Journalist and broadcaster Martha Kearney, columnist and author Lucy Mangan and novelist Helen Oyeyemi travel to Haworth Parsonage, the home of the Brontë sisters, to discover the stories behind their classic novels, Jane Eyre, Wuthering Heights and Agnes Grey.
Just two years before these works were published prospects for the three unmarried sisters were looking bleak. Their brother was battling an alcohol-fuelled breakdown, Charlotte was suffering depression and their father was going blind. But by 1847 they were literary stars. How was it that Charlotte, Emily and Anne Brontë manages such a sudden and miraculous creative achievement, in the face of adversity?
With help from a range of experts, each presenter will explore one of the Brontës in fascinating detail. By re-living the sisters' daily routines, visiting the key places in their world and immersing themselves in their letters and diaries, and through the sisters' interactions with each they'll discover what it was that served as their sources of inspiration.
Brontës at the BBC (BBC Four 1 x 60)
From Jane Eyre to Villette, this programme will dig deep into the BBC's archive to explore the Brontes' famous works and discover the fascinating lives these sisters lived during this remarkable period in literary history.
The Brontë sisters are among the most adapted writers in the BBC's Archives, with each adaptation reinventing the works for a different era and a different TV generation. This archive-based programme will relive memorable performances from actors including Toby Stephens, Ruth Wilson, Timothy Dalton, Ian McShane, Tara Fitzgerald, Corin Redgrave, Claire Bloom and Rupert Graves. Moments from numerous documentaries about the sisters, fronted by presenters such as A.N. Wilson, Muriel Spark, Margaret Drabble, Joan Bakewell and Brian Redhead will also feature, along with a production of Jean Rhys's Jane Eyre prequel, Wide Sargasso Sea and Sally Wainwright's gender-swap version of Wuthering Heights.
To Walk Invisible: The Brontë Sisters (BBC One 1 x 120)
BBC One's brand new drama - To Walk Invisible: The Brontë Sisters, written and directed by the multi-award-winning Sally Wainwright (Happy Valley, Last Tango In Halifax) - brings an original perspective to the life and work of the extraordinary Brontë sisters. Coming from obscurity to produce some of the greatest and most enduring classics of all time, with themes that shook the nation, Charlotte, Anne and Emily remain one the greatest literary mysteries in the world.
The drama revolves around the three sisters' increasingly difficult relationship with their brother Branwell, who in the last three years of his life - following a tragically misguided love affair - sank into alcoholism, drug addiction and appalling behaviour. Life at home with the Brontës at this time was not a comfortable place to be, and yet from this environment sprang their remarkable literary output.
To Walk Invisible: The Brontë Sisters explores the siblings' relationship not only with one another, but with their father, a clever and unusual man, who grew up in an impoverished home in rural Ireland, who educated himself, and who was happy to encourage his children - irrespective of their sex - to become passionate about literature and its possibilities.
Secrets Of The Books We Love (BBC Four 3 x 60)
From murder-mystery plots in country vicarages via magical portals into the parallel worlds of fantasy to paranoid excursions in espionage, Secrets Of The Books We Love unlocks the secrets of three distinctly British genres of fiction - whodunnits, fantasy epics and spy stories. The series reveals how the 20th century gave rise to these innovative and wildly popular new styles and discovers that their success can be put down to a simple set of rules. Each film will reveal the secrets of its genre in its own unique stylised way, reflecting the classic visuals, moods and motifs, all of which were pioneered right here in Britain.
The Making of Rudyard Kipling (BBC Two 1 x 60)
Ex-soldier and author Patrick Hennessey follows the footsteps of the young Rudyard Kipling, from Lahore to the hill station of Simla.
When Kipling boarded a ship to India in 1882 he was 16 years old, one of thousands of young British men and women sailing toward a strange new world that would make or break them. Kipling became the chronicler for this generation - satirising their foibles, celebrating their fortitude and using fiction to make sense of the complex moral codes that bound the rulers and the ruled, officers and subalterns and the men and women who came to India seeking love as well as fortune. By the time he returned to England seven years later, he was lionised as one of the most famous and celebrated writers in the language.
By following Kipling's path, Hennessey will tell the extraordinary story of how India changed Kipling and how he indelibly changed our image of India with his first published book, Plain Tales From The Hills - a collection of some of the most original short stories ever written.
BBC Radio 2
Simon Mayo will be one of the BBC's Book Ambassadors for 2016 and his Radio 2 Book Club continues to go from strength to strength.
BBC Radio 3
Literary Pursuits: January 2015
A new books series from Radio 3 to launch this year, which is part literary biography, part detective series. Former BBC New Generation Thinker Sarah Dillon pieces together the puzzle of how great literature is written by exploring two classic works: Charles Dickens' Great Expectations and Jean Rhy's Wide Sargasso Sea.
Inside every work of literature is another story - the story of how it was written. Sarah Dillon explores a book from the first words written down, and ends with the moment of publication. Armed with the latest academic research she'll tease out the motivations of authors, try and piece together who they were talking to and why. She hunts through archives, letters and diaries; visiting a writer's haunts, and deciphering their writing rituals, trying to piece together the story of how and why great works get written. At the end will be a portrait not merely of an artist at the height of their powers but the real-life conditions in which literature is created.
Free Thinking's Literary Landmarks: throughout the year
Radio 3's leading arts and ideas programme Free Thinking will be marking some of the key literary anniversaries of the year, by dedicating whole editions to the work of a single writer. In 2015 Free Thinking Landmarks included programmes on Saul Bellow's Herzog, The One Thousand and One Nights, Gunter Grass's Tin Drum, Dante's The Divine Comedy, Trollope's The Way We Live Now, Walt Whitman's Leaves of Grass, Winston Churchill's A History of the English-Speaking Peoples and Angela Carter.
The Verb's Poetry Book Club: throughout the year
In 2016, Ian McMillan's unique weekly exploration of the power of the written and spoken word, launches a new Poetry Book Club. Several times a year, Ian and a group of readers will be joined in Salford by one of our best contemporary poets to discuss a major collection of theirs which is now established in the modern canon. This will be a chance for poetry readers to discuss a book of poetry directly with the writer him or herself, and debate the way that collections pull diverse poems into the pages of one volume.
BBC Radio 4
In addition to its ambitious and wide-ranging book programming, such as Book of the Week, Book At Bedtime, Open Book, A Good Read and Bookclub, The Year Of The Book will see Radio 4 continue its commitment to reading and literature in both dramatisations and serialisations of over 150 books next year, both fiction, non-fiction and everything in between. From Alex Garland to Charlotte Bronte, Toni Morrison to Jeanette Winterson, William Shakespeare to Roald Dahl, the network will celebrate books from around the world and across the ages as it explores both fiction and non-fiction alike. And as the world's biggest short story broadcaster and commissioner, Radio 4 will once again commission over 100 short stories across 2016 and host the BBC's National Short Story Award with Book Trust. Additionally, it'll continue to celebrate poetry with programmes such as The Echo Chamber and Poetry Please.
The station will also broadcast the third and fourth runs of Reading Europe, a journey across the continent exploring what Europeans are writing, publishing and reading - and why. Having visited France, Spain, Germany and Poland in 2015, summer 2016 will see the series arrive in Italy and Greece, airing My Brilliant Friend, the first of four dramatisations of Elena Ferrante's extraordinary Neapolitan novels; and The Settlement, Petros Marakaris' recently published bestseller about the Greek financial meltdown. In autumn the series will take listeners to Scandinavia, to explore everything except Nordic Noir.
BBC Radio Cymru
In 2016 BBC Radio Cymru will continue its partnership with the Welsh Books Council to offer the daily Llyfr Bob Wythnos (A Book Every Week) slot - providing prime-time listeners with an opportunity to enjoy adaptations of Welsh books. Stori Tic Toc has given young children 52 brand new bedtime stories and is regularly one of our most popular podcasts - a new book and CD will be published for World Book Day 2016. Y Silff Lyfrau (The Bookshelf) will continue to bring together a panel of avid readers to share their views on the latest books published in Welsh. Radio Cymru was the first BBC station to have its very own poet in residence, taking creative writing right into the mainstream and finding inspiration in the most unexpected of places - scattered, as one poet put it, 'like beer mats' around the station.
BBC Online
In April 2016, the BBC will be enhancing the Books On The BBC site, to ensure it brings together the best content, with information on forthcoming book readings and author interviews - a one-stop shop for book lovers across the country. Books on the BBC will be personalised with blogs and tips from many of our best-loved faces like Simon Mayo and Mariella Frostrup. The site will also link through to relevant content and initiatives from a range of partners.
Notes to Editors
In addition to the content announced today, books and authors remain at the heart of the BBC. Various BBC schemes include: the BBC National Short Story Award and BBC's Young Writer's Award with The Books Trust and supported by the Reading Agency. The BBC also offers extensive media support to major literary prizes and schemes including Man Booker, Samuel Johnson and Costa Book Awards.
On BBC One the One Show has a regular feature called Britain By The Book. The award-winning arts documentary strand Imagine also focuses on several book-themed documentaries a year (examples including Colm Toibin and Philip Roth). BBC Two highlights include Andrew Marr's Great Scotts: The Writers Who Shaped a Nation; Simon Armitage's The Great War: An Elegy; and War of Words: Soldier-Poets of the Somme.
BBC Four regularly covers books, such as the Arena film on The New York Review of Books and a six-part series with the Open University called The Secret Life Of Books. CBBC and CBeebies broadcasts Bedtime Stories and the Blue Peter Book Awards. BBC News Channel has Razia Iqbal's Talking Books and Nick Higham's Meet the Author.
BBC Radio 2 hosts 500 words on the Chris Evans Breakfast Show – an annual story writing competition for children and Simon Mayo's Book Club, is one of the most significant supporters of the book trade. BBC Radio 3 has regular strands with Literary Pursuit's (launched Jan this year and presented by Sarah Dillon) as well as The Verb, Poetry Please and The Book That Changed Me, The Essay and various single documentaries. Roald Dahl's anniversary will also be marked by some of R3's music programmes.
BBC Radio 4 has Open Book, A Good Read, BookClub, Book at Bedtime, Reading Europe, Book of the Week and The Echo Chamber and regular short stories as well as serialisations in the Classic Serial.
Jim Naughtie has been appointed as BBC News Books Editor. This will chiefly involve working for BBC Radio 4, where he will present a regular book review for the Today Programme on a Saturday.
Over on the World Service, World Book Club invites authors to discuss their best-known novel.
Programme credits
The Fantastic Mr Dahl: In His Own Words (BBC Two 1 x 60) – produced by Mike Smith for BBC Arts
B Is For Book (BBC Four 1 x 60) produced by Century Films and commissioned by Mark Bell for the BBC
The Book That Inspired Me (W/T) (BBC Two) - produced by Mike Smith for BBC Arts
Living Like A Brontë (BBC Two 1 x 60) - produced by Michael Poole for BBC Bristol Arts
Brontës at the BBC (BBC Four 1 x 60) - produced by Michael Poole for BBC Bristol Arts
To Walk Invisible: The Brontë Sisters (BBC One 1 x 120) - written and directed by Sally Wainwright. Faith Penhale, Head of BBC Drama Wales, is the executive producer and Karen Lewis is the producer for the BBC.
Secrets Of the Books We Love (BBC Four 3 x 60) produced by Michael Poole for BBC Bristol Arts
The Making of Rudyard Kipling (BBC Two 1 x 60) – produced by Blast Films and commissioned by Mark Bell for the BBC
The Chris Evans Breakfast Show on Radio 2 - the Executive Producer is Helen Thomas
Simon Mayo's Book Club on Radio 2 - the Executive Producer is Helen Thomas
Boy: Tales Of Childhood by Roald Dahl, dramatized by Lucy Catherine (Radio 4 1 x 60) - a BBC Cymru/Wales Production, directed by Helen Perry
Going Solo by Roald Dahl, dramatized by Lucy Catherine (Radio 4 2 x 60) - A BBC Cymru/Wales Production, directed by Helen Perry
Oranges Are Not The Only Fruit, by Jeanette Winterson, dramatized by Jeanette Winterson (Radio 4, 2 x 60) A BBC Cymru/Wales Production, directed by Helen Perry
BBC Radio 3 The Verb's Poetry Book Club - edited by Sue Roberts for the BBC
BBC Radio 3 Free Thinking - edited by Robyn Read for the BBC
BBC Radio 3 Literary Pursuits - produced by Sara Conkey for the BBC
BBC Radio 3 The Essay: Summer 2016 - produced by Justine Willett for the BBC
BBC Radio 3 The Book that Changed Me - produced by Smita Patel for the BBC
SH8
Related Media Centre Links
Related Web Links