2015 Formula 1 on the BBC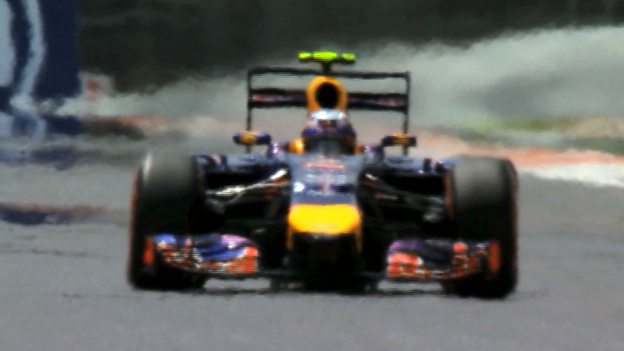 With the current World Champion writing exclusively for the BBC, our access and insight into Formula 1 cannot be beaten.

Ben Gallop, Head of F1, BBC Sport
Date: 05.03.2015
Last updated: 05.03.2015 at 12.39
Every Grand Prix of the season on BBC TV with ten live races and coverage of all others in extended highlights programme
World Champion Lewis Hamilton (pictured) writes exclusively for BBC Sport website
Extensive digital offering allows F1 fans to choose how they want to watch the action, with a multitude of options available on the BBC Sport website
Every practice, qualifying and race live on BBC Radio 5 live , 5 live sports extra or the BBC Sport website
New for 2015: Suzi Perry presents Formula 1 Rewind at key points of the season on BBC Two as F1 legend Murray Walker recounts the most classic Grands Prix of the past
As Lewis Hamilton sets out to defend his World Championship title, the BBC will once again deliver Formula 1 fans a front row seat to all the action of the 2015 season. With extensive coverage across BBC TV, Radio 5 live and online – including an exclusive column from Lewis himself - audiences won't miss a moment of the Brit's defending season.
On TV presenter Suzi Perry (centre) again heads up the team alongside chief analyst Eddie Jordan (right) and co-commentator and expert pundit David Coulthard (left). Lead commentator Ben Edwards takes fans around the track, with reporters Lee McKenzie and Tom Clarkson bringing all the news from the pit lane, and ex-driver Allan McNish providing additional analysis.
Correspondent and commentator James Allen leads the radio coverage on Radio 5 live and 5 live sports extra with Allan McNish as co-commentator and Jennie Gow as pit lane reporter. Jack Nicholls also returns to the commentary box for five races this season.
Malaysia is the first of ten live races on BBC TV this year, along with Lewis's homecoming British Grand Prix at Silverstone in July. The climax of the 2015 season in Abu Dhabi, which last year saw 6.5m people tuning in to watch the final battle for the World Championship, will also be live on BBC TV. Coverage of qualifying and races from the Grands Prix not live on TV will be shown in the popular extended highlights programmes.
Brand new for 2015, Suzi Perry presents Formula 1 Rewind on BBC Two at key points of the season as F1 legend Murray Walker delves into the BBC archive to recount the classic Grands Prix of the past. Formula 1 Rewind will also be repeated on the BBC Sport website and fans catch up on the action on BBC iPlayer.
This year, in an exclusive column for the BBC Sport website, reigning champion Lewis Hamilton will preview every Grand Prix weekend and share his thoughts on his ongoing performance throughout the season.
Also there'll be regular analysis from David Coulthard and Allan McNish, plus all the race reports and news thoughout the season from the BBC's chief F1 writer Andrew Benson.
Lewis says: "I see my BBC column as an extension of my social media commitment and I really enjoy doing it. I hope it gives some insight into my life, which is pretty different to most people's, and shows just how much work I put into being the best F1 driver I can be. The column is a great way of connecting directly with F1 fans and this way, if people want to form an opinion about me, it can be based on exactly what I've said and not anything else."
The BBC F1 website last year attracted an average of 3.3m UK visitors each week, an increase of more than 50 percent on 2013, and this year's digital offering is even stronger. Live TV races, 5 live audio from every session, text commentary and the best of social media will come together at the new BBC Live page, making it the one-stop-shop for all BBC F1 content in 2015.
On live race weekends fans control how they watch the action, with five different video options to choose from in addition to the network TV coverage: the pit-lane camera; a driver tracker; a stream of on-board cameras; the TV pictures with Radio 5 live commentary over the top; and a timing screen. A highlights package will also be available to watch after every race. And you can keep in touch on the move through the BBC Sport app, where you can now sign up for alerts on the result of every track session through the season.
Audiences can access the BBC's digital coverage by visiting the BBC Sport website through any device, and via the BBC Sport app.
BBC Head of F1, Ben Gallop, says: "With the current World Champion writing exclusively for the BBC, our access and insight into Formula 1 cannot be beaten. Across TV, radio and online, our top-class team will get audiences as close as possible to the starting grid, paddock, pit-lane and track – bringing expert analysis and insight throughout the race weekend. We are all hugely looking forward to the 2015 season and delivering every moment of Lewis Hamilton's defending season to millions of F1 fans."
Every Grand Prix of 2015 will be live on Radio 5 live or 5 live sports extra including coverage of practice and qualifying.
Radio 5 live will look ahead to every race weekend in the preview show on a Thursday night while the Chequered Flag podcast, available to download at the end of the weekend, then looks back on all the action from the circuit.
All TV, radio and online coverage will be supported through the range of BBC social media platforms, which are followed by millions of fans in the UK and across the globe. The @bbcf1 account will provide the latest news and behind the scenes coverage from across output, with audiences encouraged to share their views using #bbcf1. The BBC Sport Instagram account also brings exclusive behind the scenes photos while BBC Sport Facebook and BBC Sport Google+ page will extensively cover every race.
BBC Radio 5 live's Formula 1 coverage is produced by USP Content.
The BBC has a deal to broadcast Formula 1® racing, through to and including 2018.
BBC Formula 1 – 2015 Broadcast Details
*Please note – all broadcast details subject to change*
Live Race weekends – ALL coverage live: television, radio, online, red button
Highlights Race weekends – ALL visual coverage is highlights: including television, online, red button. Radio and online text commentary is live.
2015 Grand Prix schedule:
Australia: 15 March - Highlights
Malaysia: 29 March - Live
China: 12 April - Highlights
Bahrain: 19 April - Live
Spain: 10 May - Highlights
Monaco: 24 May - Highlights
Canada: 7 June - Live
Austria: 21 June - Highlights
Great Britain: 5 July - Live
Germany: 19 July - Highlights
Hungary: 26 July - Live
Belgium: 23 August - Live
Italy: 6 September - Highlights
Singapore: 20 September - Highlights
Japan: 27 September - Live
Russia: 11 October - Live
United States: 25 October - Highlights
Mexico: 1 November - Highlights
Brazil: 15 November - Live
Abu Dhabi: 29 November - Live
TV coverage
Live Races:
Live HD TV coverage of Practice sessions, Qualifying and Grands Prix
One hour evening highlights programme on BBC Three and BBC HD, Sundays
All races and qualifying sessions that start before 10:00 to have full repeat on terrestrial TV later in the day
Other races: (NOTE - ALL visual coverage is highlights: including television, online, red button and connected TV. Radio and online text commentary is live.)
Extended highlights (generally 90 minutes) at approx 17:00 for European time zone races; approx. 14:00 for early morning races; and approx. 22:30 for American time zone races
For Qualifying: Extended highlights (75 mins) BBC One and BBC One HD, Saturdays at approx. 17:30 for European time zone Races and approx. 13:00 for early morning races and 22:30 for evening races
BBC Radio 5 live and 5 live sports extra
Live commentary of every race plus coverage of practice and qualifying sessions
5 live Formula 1 on 5 live Sport every Thursday night prior to a race, previewing all the action with expert analysis and the latest news from the track
Uninterrupted 5 live commentary feed will be available on the BBC Sport website
Chequered Flag podcast available to download at bbc.co.uk/5live with expert analysis and reaction from the circuit
Red Button
For all races live on TV - all qualification and race on-track sessions streamed live on Red Button plus Interactive forum on Red Button and the BBC Sport website for an hour after each live BBC race. For non-live BBC races – there will be no live forum
Connected TV
Live streams of all of the live BBC TV races with alternative options including driver tracker, pit lane and on board camera
Extensive video highlights, interviews, race reports and analysis from every race of the season
BBC Sport website
Exclusive column from reigning champion Lewis Hamilton
Live streams of all of the live BBC TV races with alternative options including driver tracker, pit lane and on board camera, and extensive video highlights, interviews and clips from every race of the season
Live Radio 5 live audio commentary and live text commentary of every moment of practice sessions, qualifying and races
Chief F1 writer Andrew Benson will bring the best stories from inside F1 with news, interviews, analysis and comment
Allan McNish will give the lowdown on the cars and the teams throughout the week and the racing weekend
Suzi Perry will bring colour and insight from behind the scenes of F1
GS
Search the site
Can't find what you need? Search here