Winners announced for BBC Food and Farming Awards 2015
The winners of the 15th BBC Food and Farming Awards have been announced tonight at a prestigious ceremony held in Bristol.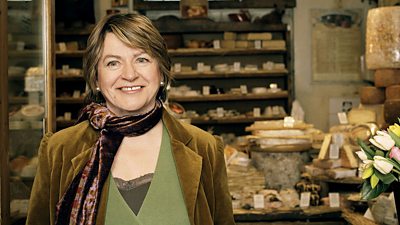 We really wanted to find out from our listeners who the food heroes were in their neighbourhoods - anyone who through food was making life in Britain better.
Some of the country's best-known chefs, food writers and broadcasters – including Hugh Fearnley-Whittingstall, Tom Kerridge, Thomasina Miers, Angela Hartnett, Giorgio Locatelli and Sheila Dillon - came together to celebrate the annual awards, dubbed the 'Oscars of the food world'.
Presenter of BBC Radio 4's The Food Programme and founder of the awards Sheila Dillon says: "In the 15th year of these awards, we really wanted to find out from our listeners who the food heroes were in their neighbourhoods - anyone, any organisation, that through food was making life in Britain better. We've certainly been rewarded with thousands of nominations - and we've had a tough job narrowing down our list of winners this year."
The winners of the 2015 awards come from right across the UK, and include Queens University, Belfast's Professor Chris Elliott who was presented with the Food Game Changer Award by Julia Glotz, for his government review into the horsemeat scandal and his important work in advising the government on assurance of food supply networks. BBC Cook of the Year is Bristol's Jo Ingleby who has developed the idea of 'experimental cookery' for the under-fives, and Best Food Producer was presented by Cyrus Todiwala to Northumberland's Doddington Dairy.
Eighty-two year-old Joan Bomford from Worcester scooped the Countryfile Farming Hero Award, having been farming since the 1930s. And Randolph Hodgson of Neals Yard Dairy was honoured with the Derek Cooper Lifetime Achievement Award. Bristol Mayor George Ferguson presented Steve Griffiths, Head Gardener for the Knowle West Health Association at Springfield Allotments in Knowle West with BBC Radio Bristol's Food Hero gong.
At the ceremony, Peter Salmon, Director, BBC England announced that the BBC Food and Farming Awards would be held in Bristol for the next three years. He said: "This is the second year the awards have been held in Bristol, and I am delighted that it will remain here for the coming three years. It means we can continue our fantastic work, building on our partnerships and keeping Bristol well and truly on the food map of Britain."
The awards ceremony was broadcast live on the Mark Forrest show across the BBC Local Radio network. On Sunday 3 May at 12.30pm, the BBC Radio 4 Food Programme will be the first of a two-part special about the Food & Farming Awards. A special highlights package recorded at the awards ceremony will also be broadcast on BBC Radio 4 on Monday 4 May at 3pm.
Full list of winners
Best Drinks Producer: Square Root (London)
Presented by Pete Brown and Fiona Beckett.
Ed and Robyn started Square Root in 2012 by selling their fresh Ginger Beer at their local farmers' market in Harringay. After a positive reception from customers, they decided to branch out with more flavours and sell their drinks all over town.
Best Food Producer: Doddington Dairy (Northumberland)
Presented by Cyrus Todiwala
Run by the Maxwell family for over 50 years, Doddington Dairy is a producer of hand crafted cheeses, ice creams and yoghurts, situated in the Glendale Valley of Northumberland.
Best Street Food or Takeaway: The Hang Fire Smokehouse (Cardiff)
Presented by Giorgio Locatelli and Paula McIntyre
Hang Fire is a traditional American smokehouse business in Wales, specialising in street food and pop-up restaurants. Having honed their craft on a six-month pilgrimage across the USA, they now cure and cook local Welsh pork, poultry and beef.
Best Food Market: Doncaster Market (Doncaster)
Presented by Richard Corrigan and Peter Gott
Doncaster market is the biggest traditional market in the North, with some 400 shops, stalls and stands comprising four large indoor markets (the fish market, international food hall, corn exchange and wool market), each with its own distinctive character.
Best Initiative: Food Assembly
Presented by Julia Glotz
The Food Assembly is a network connecting food producers directly with customers. Producers upload their available products, adapting to availability and season for customers buy their food online. Customers can then meet the producers in person when they pick up their order, allowing them to know the people behind their food as well as their neighbours.
BBC Radio 4 You & Yours Best Food Retailer: Liverpool 8 Superstore (Liverpool)
Presented by Joanna Blythman and Christopher Hirst
Liverpool 8 has played a vital role in changing a once intimidating space into a bustling one, offering a sense of community for a diverse customer base, as well as selling an abundance of herbs, spices, fresh vegetables and authentic imported ingredients.
BBC Cook of the Year: Jo Ingleby, Redcliffe Nursery School (Bristol)
Presented by Al Crisci and Gabriel Scally
Jo is a chef specialising in children under five and their families. With her team, she has developed the idea of 'experimental cookery' for the under-fives, where the children can choose from ingredients and equipment to develop a creation of their own.
Countryfile's Farming Hero: Joan Bomford (Worcestershire)
Presented by Adam Henson and Charlotte Smith
Joan, aged 82, has been farming on the family beef farm since the 1930s. She's also actively involved in the local community, giving riding lessons and involved with Riding for the Disabled.
Food Game Changer 2015: Professor Chris Elliott
Presented by Sheila Dillon and Tom Kerridge
Professor Chris Elliot, from Queen's University Belfast undertook a review in response to the horsemeat scandal which examined ways to prevent food fraud incidents from happening in the future. It also investigated how to improve the culture of our food supply chain to support industry taking effective responsibility for the traceability of their products and how to ensure consumers have an increased understanding of where their food comes from. All of the recommendations in the Elliott report on food integrity and assurance of food supply networks were accepted by the government, including the establishment of a new Food Crime Unit.
BBC Radio Bristol Food Hero: Steve Griffiths (Bristol)
Presented by George Ferguson, Mayor of Bristol
Head Gardener for the Knowle West Health Association at Springfield Allotments in Knowle West.
Derek Cooper Lifetime Achievement Award: Randolph Hodgson
Presented by Hugh Fearnley Whittingstall
Randolph Hodgson is the owner and Chairman of Neal's Yard Dairy, founded in 1979. A cheesemaking business, Neal's Yard Creamery, was spun off in 1985. In 1990, Randolph founded the Specialist Cheesemakers' Association, which represents over 150 British farmhouse cheesemakers. He is considered to be a "champion of the small producer" (The Independent). In the late 1990s, he was instrumental in the development of Borough Market as London's leading gastronomic retail destination. Faced by the demise of raw milk Stilton, in 2005 Randolph established Stichelton Dairy with Joe Schneider on the Welbeck Estate in Nottinghamshire.
Notes to Editors
Interviews with the judges can be arranged through the BBC Press Office. Sheila Dillon, presenter of BBC Radio 4's Food Programme and one of the founders of the Awards in 2000, is also available for interview.
Information on all the categories and their judges, and a list of previous winners, can be found at bbc.co.uk/foodawards
The BBC Food and Farming Awards launches the city-wide food celebration Bristol Food Connections, which runs from 1 to 9 May. The BBC is running a programme of talks and recordings at the festival.
MH
Related Media Centre Links
Related BBC Links
Related Web Links
Tagged: