Finalists announced for BBC Audio Drama Awards 2015
Ian McKellen is up against Andrew Scott and Julian Rhind-Tutt for Best Actor, while Game Of Thrones' Ellie Kendrick will face Mr Selfridge's Aisling Loftus in the Best Actress category. Nominations also include Toby Jones for Best Supporting Actor and The Exorcist is in the running for Best Sound - against Ray Bradbury's The Illustrated Man.
Published: 6 January 2015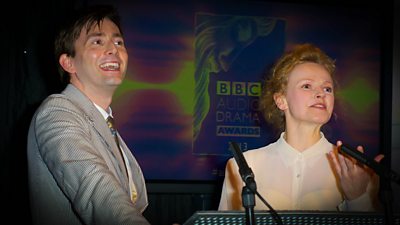 The awards pay tribute to the cultural importance of audio drama, on air and online, and are intended to give recognition to the actors, writers, producers, sound designers and others who work in the genre.
This year's winners will be announced at a ceremony to be held on Sunday 1 February 2015 in the Radio Theatre at BBC Broadcasting House in central London, hosted by Helen Boaden, Director of BBC Radio. Past winners include David Tennant (Kafka: The Musical, 2012) and Andrew Scott, for Best Actor, (Betrayal, 2013); acclaimed writer Katie Hims for Best Audio Drama (Lost Property – The Year My Mother Went Missing, 2012) and Claire Rushbrook for Best Supporting Actress (King David, 2014).
The BBC is delighted once again to be joining with the Society of Authors and the Writers' Guild of Great Britain for this year's Imison Award for best original radio drama by a writer new to radio and the Tinniswood Award for best original radio drama, both of which will also be presented at the ceremony.
This year there were more than 190 entries which have been judged by an esteemed panel including actresses Imogen Stubbs and Nina Wadia, theatre director Nicolas Kent, journalists Baz Bamigboye (Daily Mail), Jane Anderson (Radio Times) and David Hepworth (Guardian) and actors Danny Sapani and Robert Glenister.
The BBC Audio Drama Awards shortlist for each category is:
Best Original Audio Drama (Single play)
Everyday Time Machines by Al Smith, produced by Sally Avens for Radio 3
Everything, Nothing, Harvey Keitel by Pejk Malinovski, produced by Pejk Malinovski for Radio 3
Men Who Sleep in Cars by Michael Symmons Roberts, produced by Susan Roberts for Radio 4
Best Audio Drama (Series or Serial)
Ambiguous Loss by Michael Butt, produced by Toby Swift for Radio 4
Holding On To You by D.L. Weller, produced by Nadia Molinari for Radio 4
The Seventh Test by Ayeesha Menon & John Dryden, produced by John Dryden and Nadir Khan for Radio 4
Best Audio Drama (Adaptation)
Come to Grief adapted by Hannah Vincent, produced by Gordon House for Radio 4
Porcelain adapted by Ian Kershaw, produced by Susan Roberts for Radio 4
The Seventh Test adapted by Ayeesha Menon & John Dryden, produced by John Dryden and Nadir Khan for Radio 4
Best Actor in an Audio Drama
Andrew Scott in Slipping by Claudine Toutoungi, produced by Liz Webb for Radio 4
Ian McKellen in Eugenie Grandet by Honore de Balzac, dramatised by Rose Tremain, produced by Gordon House for Radio 4
Julian Rhind-Tutt in The Real Trial of Oscar Wilde by Nick Stafford, produced by David Hunter for Radio 4
Best Actress in an Audio Drama
Aisling Loftus in Educator by Hayley Squires, produced by Helen Perry for Radio 3
Charlotte Riley in Slipping by Claudine Toutoungi, produced by Liz Webb for Radio 4
Ellie Kendrick in How to Say Goodbye Properly by E V Crowe, produced by Abigail Le Fleming for Radio 4
Best Supporting Actor or Actress in an Audio Drama
Michelle Terry in Educator by Hayley Squires, produced by Helen Perry for Radio 3
Sian Phillips in Hide The Moon by Martyn Wade, produced by Marion Nancarrow for Radio 3
Toby Jones in Pride And Prejudice by Jane Austen, dramatised by Charlotte Jones, produced by Sally Avens for Radio 4
Best Debut Performance
Alex Jordan in Frankenstein – The Modern Prometheus by Mary Shelley, dramatised by Jonathan Barnes for Big Finish Productions
Jade Matthew in A Kidnapping written by Andy Mulligan, produced by John Dryden and Nadir Khan for Radio 4
Sam Hattersley in Magpie by Lee Mattinson, produced by Sharon Sephton for Radio 4
Best Use of Sound in an Audio Drama
The Boy At The Back by Juan Mayorga, sound design by Steve Bond, produced by Nicolas Jackson for Radio 3
The Exorcist by W.P.Blatty, dramatised by Robert Forrest, sound design by Gary Newman, produced by Gaynor Macfarlane for Radio 4
The Illustrated Man by Ray Bradbury, dramatised by Brian Sibley, sound design by Anne Bunting, produced by Gemma Jenkins for Radio 4
Best Scripted Comedy Drama
Believe It: Victor by Jon Canter, produced by Clive Brill for Radio 4
I'm A Believer by Jon Canter, produced by Jonquil Panting for Radio 4
Lunch by Marcy Kahan, produced by Sally Avens for Radio 4
Best Scripted Comedy (Studio Audience)
The Brig Society by Marcus Brigstocke, Jeremy Salsby, Toby Davies, Nick Doody, Steve Punt and Dan Tetsell, produced by David Tyler for Radio 4
John Finnemore's Souvenir Programme by John Finnemore, produced by Ed Morrish for Radio 4
Trodd En Bratt Say 'Well Done You' by Ruth Bratt and Lucy Trodd, produced by Ben Worsfield for Radio 4
Best Online or Non-Broadcast Audio drama
The Child by Sebastian Fitzek for Audible UK
Hood – The Scribe of Sherwood by Iain Meadows for Spiteful Puppet Entertainment
Survivors by Matt Fitton for Big Finish Productions
The shortlist for the Imison Award for Best Radio Drama Script by a new writer is:
(Judges: Society of Author's Broadcasting Committee)
 How To Say Goodbye Properly by E V Crowe
 Goodbye by Morwenna Banks
 The Man In The Lift by Tom Connolly
 Paris, Nana and Me by Caroline Horton
The shortlist for the Tinniswood Radio Drama Award for Best Radio Drama Script is:
(Judges Sue Teddern, Amanda Whittington and Kate Chapman)
Goodbye by Morwenna Banks
The Good Listener by Fin Kennedy
Men Who Sleep In Cars by Michael Symmons Roberts
Notes to Editors (BBC Audio Drama Awards)
The BBC Audio Drama Awards cover audio dramas first broadcast in English in the UK between 1 October 2013 and 31 October 2014 – or first uploaded/published for free listening online in the UK during the same period
Entries were welcome from all makers of audio drama, and were not restricted to BBC broadcasts
Each programme producer could enter up to three categories (one entry only per category) plus a fourth in any of the acting categories.
The audio drama had to be submitted exactly as broadcast or uploade 
There was no entry fee
ER
Related Media Centre Links