Millions watch BBC coverage of Dylan Thomas centenary celebrations
BBC Wales has revealed in its Annual Review, published today (Tuesday 14 July), that almost a million viewers and listeners across Wales tuned into the broadcaster's coverage of the Dylan Thomas centenary.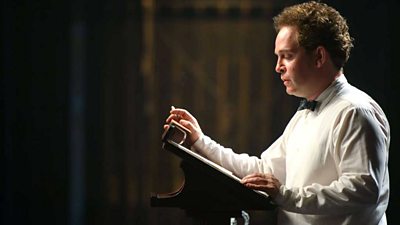 More than 800,000 people in Wales - and many millions across the UK - turned to BBC Wales for an extraordinary celebration of Dylan Thomas' life and work.
In a season of special programming, seen right across the UK, an all-star Welsh cast produced a memorable adaptation of Under Milk Wood, while Tom Hollander (pictured) won the RTS Best Actor award for his portrayal of Dylan in A Poet in New York.
BBC Wales Director, Rhodri Talfan Davies says: "More than 800,000 people in Wales - and many millions across the UK - turned to BBC Wales for an extraordinary celebration of Dylan Thomas' life and work. It was BBC Wales' biggest ever season of cultural programming and delivered a remarkable slate of output, full of real passion and distinction across TV, radio and online."
The Annual Review - which covers the 2014-15 period - also highlights BBC Wales' commitment to developing new artistic talent across a wide range of output, including:
The UK's biggest-ever classical music outreach project Ten Pieces. To date, more than 120,000 schoolchildren across the UK have seen the BBC National Orchestra of Wales' feature-length movie that introduces young students to some of the World's finest composers.
The Horizons new music partnership with Arts Council Wales, now in its second year, which has quickly established itself as Wales' premier showcase for new musical talent.
The report also highlights a number of key achievements across BBC Wales' services, including:
A doubling in Welsh language online usage - up from 40,000 to 89,000 browsers each week
BBC Wales Today remains the most popular local programme, with 293,000 viewers at 6.30pm
1.12m viewers in Wales watched Wales v England in the Six Nations
A documentary about athlete Jamie Baulch's search for his birth mother was the most admired local programme, scoring 92 out of 100 (Looking For My Birth Mum)
A major contribution to BBC network programming, including Casualty, Doctor Who, Young Musician, Bargain Hunt and Atlantis.
In the review, BBC Wales' Director identifies his four priorities as the process of Charter Review begins:
Improving the portrayal of Wales on English language local and network channels
Extending and strengthening coverage of Welsh news to help build understanding of Wales' new political landscape
Moving to a 'digital first' approach, with greater emphasis on content delivered across mobile devices and social media
Reflecting an increasingly diverse Wales on-air and behind the camera.
aled.rowlands@bbc.co.uk
Miliynau yn gwylio darllediadau'r BBC o ddathliadau canmlwyddiant Dylan Thomas
Yn ei Arolwg Blynyddol, a gyhoeddwyd heddiw mae BBC Cymru wedi cyhoeddi bod bron i filiwn o bobl ar draws Cymru wedi dewis gwrando neu wylio ar ddathliadau'r darlledwr o ganmlwyddiant Dylan Thomas.
Fel rhan o dymor o raglenni arbennig – a gafodd ei weld ar draws y DU – cynhyrchwyd addasiad cofiadwy o Under Milk Wood gyda chast o sêr o Gymru, tra enillodd Tom Hollander wobr yr actor gorau yng Ngwobrau'r Gymdeithas Deledu Frenhinol am ei bortread o Dylan yn A Poet in New York.
Dywedodd Rhodri Talfan Davies, Cyfarwyddwr BBC Cymru:
"Gwnaeth dros 800,000 o bobl yng Nghymru – a nifer o filiynau ar draws y DU – wylio BBC Cymru ar gyfer dathliad anhygoel o fywyd a gwaith Dylan Thomas. Dyma oedd y tymor mwyaf erioed o raglenni diwylliannol gan BBC Cymru – a ddarparodd ddewislen nodedig o allbwn unigryw a llawn angerdd ar draws teledu, radio ac ar-lein."
Mae'r Arolwg – dros gyfnod 2014-15 – hefyd yn pwysleisio ymroddiad BBC Cymru i ddatblygu doniau artistig newydd ar draws ystod eang o allbwn, gan gynnwys:
Prosiect addysgol cerddorol mwyaf o'i fath yn y DU - Ten Pieces. Hyd yn hyn, mae dros 120,000 o blant ysgol ar draws y DU wedi gweld ffilm nodwedd Cerddorfa Genedlaethol Gymreig y BBC sy'n cyflwyno myfyrwyr ifanc i rai o gyfansoddwyr gorau'r Byd.
Mae cynllun newydd, Gorwelion mewn partneriaeth â Cyngor Celfyddydau Cymru – sydd bellach yn ei ail-flwyddyn – eisoes wedi ennill ei blwyf fel prif lwyfan Cymru ar gyfer talent cerddorol newydd.
Mae'r adroddiad hefyd yn amlygu nifer o lwyddiannau ar draws gwasanaethau BBC Cymru, gan gynnwys:
Dyblu'r nifer o borwyr unigryw wythnosol i'r holl gynnwys arlein Cymraeg - o 40,000 i 89,000 o borwyr bob wythnos
Mae BBC Wales Today yn parhau i fod y rhaglen leol fwyaf poblogaidd gyda 293,000 o wylwyr am 6.30pm
Gwyliodd 1.12m o bobl yng Nghymru y gêm rhwng Cymru a Lloegr yng nghystadleuaeth y Chwe Gwlad
Rhaglen ddogfen am yr athletwr Jamie Baulch yn chwilio am ei fam geni oedd y rhaglen leol gafodd ei edmygu fwyaf – gyda sgor gwerthfawrogiad o 92 allan o 100 (Looking for my Birth Mum).
Cyfraniad sylweddol i raglenni rhwydwaith y BBC, gan gynnwys Casualty, Doctor Who, Young Musician, Bargain Hunt ac Atlantis.
Yn yr adroddiad, mae Cyfarwyddwr BBC Cymru yn nodi ei bedwar blaenoriaeth wrth i broses Adolygu'r Siarter ddechrau:
Gwella'r portread o Gymru ar deledu yn y Saesneg ar sianelau lleol a rhwydwaith
Ehangu a chryfhau cynnwys newyddion Cymreig er mwyn cynorthwyo i greu dealltwriaeth o dirwedd gwleidyddol newydd Cymru
Symud at ddull 'digidol yn gyntaf', gyda mwy o bwyslais ar gynnwys wedi ei ddarparu ar ddyfeisiadau symudol a chyfryngau cymdeithasol
Adlewyrchu amrywiaeth y Gymru fodern yn well ar y sgrin a thu ôl i'r camera
aled.rowlands@bbc.co.uk
Related BBC Links
Tagged: