Kim Shillinglaw announces ambitious range of new BBC Two commissions
Kim Shillinglaw, Controller BBC Two and BBC Four, celebrated the unique role of BBC Two and announced a raft of new commissions at a special preview event in London tonight (Tuesday 21 April).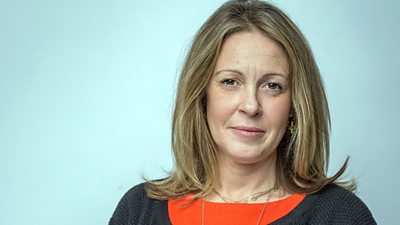 Hugo Blick writing new drama for BBC Two
Major new series from Sue Perkins, the Hairy Bikers, Brian Cox, Gareth Malone, Mary Beard,
Alice Roberts, David Olusoga, Dominic Sandbrook, Gordon Buchanon and Neil Oliver
Nigella Lawson returns to BBC Two for her new series, Simply Nigella
Daniel Radcliffe and Bill Paxton to star in new factual drama, Gamechanger
New comedy series, 'Mum' from the Bafta award-winning Stefan Golaszewski
Sara Cox to present The Great British Pottery Throw Down
Family Guy coming to BBC Two
Hardhitting new documentary series with exclusive access to Greater Manchester Police's new unit investigating sex offences
Comedian Katherine Ryan to present new series, Hair
Kim Shillinglaw says: "BBC Two is in great shape. From the the critical and ratings success of Wolf Hall, BBC Two's biggest drama series in at least 13 years and Banished, which was our fourth highest drama series launch, to stand out seasons on Food, The Super Rich And Us, Taking Liberties and our Holocaust Memorial content, we've got people talking and watching the channel in significant numbers. I'm particularly proud to have won more RTS Awards than any other channel, with awards for Marvellous, The Honourable Woman and Inside no 9, amongst others.
"The sheer range and quality of content I'm announcing today demonstrates the unique role BBC Two plays in enhancing people's lives and contributing to the creative life of the UK. From enabling British writing, presenting and directing talent to do their most distinctive, signature work to Factual with real purpose that tackles contemporary issues in lively, intelligent ways or encourages viewers to take their passions further, I want BBC Two to be the place to come for widest range of grown up, opinionated and entertaining content on British television."
Relevant images for many of these shows can be found at bbcpictures.co.uk - search for BBC Two launch 2015.
BBC Two - Signature Drama
Following the acclaimed dramas, The Honourable Woman and The Shadow Line, Hugo Blick is working on a new series for BBC Two. The new piece about a compelling set of characters caught up in a very human moral dilemma and plays out in a setting drama very rarely takes us to, contemporary Africa.
Game Changer (working title)
Daniel Radcliffe and Bill Paxton to star in new factual drama, Game Changer (w/t).
Conceived for an adult audience, this special 90-minute drama tells the story of the controversy surrounding the computer game Grand Theft Auto - arguably the greatest British coding success story since Bletchley Park.
Its triumph was down to a bunch of British gaming geniuses who had known each other since their school days, and at the heart of it all was GTA's creative mastermind, Sam Houser. In autumn 2013 its latest iteration - GTA:V - earned $1bn in its first three days, becoming the fastest selling entertainment product in history.
Grand Theft Auto offers gamers the chance to step into a fantasy world where they can behave like criminals, gun down rival gangsters and cops, hijack cars and venture deeper into an imaginary American underworld.
But the violent gameplay coupled with its outstanding commercial success leads to fierce opposition: from parents worried about children immersing themselves in such a violent world; from politicians, alarmed at the values they say it encourages; and above all from moral campaigners, who fight passionately to keep it out of the hands of children. At the vanguard of this crusade is the formidable campaigning lawyer Jack Thompson, a man determined to do whatever he can to stop the relentless rise of Grand Theft Auto.
Game Changer (w/t) tells the story of an extraordinary chapter in the history of this iconic game, and reveals the major impact it has had on our cultural landscape.
BBC Two is delighted to announce that Daniel Radcliffe will play Sam Houser and Bill Paxton will play Jack Thompson.
Game Changer (w/t) is a BBC in house production. Written by James Wood (Rev, Ambassadors); directed by Owen Harris (Kill Your Friends, Black Mirror, Holy Flying Circus, Misfits); produced by Jim Spencer (Pride, All Stars, Monsters); executive produced by Mark Hedgecoe (The Challenger) and commissioned by Tom McDonald, head of natural history and specialist factual formats
Family Guy
Family Guy is coming to BBC Two for its 13th UK season, with its razor-sharp humour, spot-on parodies, spectacular animation and orchestra-backed original music. Since its debut the series has reached cult status among fans and its breakout star - a talking baby - has become one of the greatest TV characters of all time.
Family Guy has racked up numerous awards, including an Emmy Award nomination for Outstanding Comedy Series and series' creator and lead voice actor, Seth MacFarlane (voice of Brian Griffin, Peter Griffin and Stewie Griffin) recently received a 2014 Emmy Award nomination for Outstanding Voice-Over Performance.
In this season's special one-hour premiere of Family Guy, 'The Simpsons Guy,' two of the most iconic and revered families on television will come together when the Griffins meet the Simpsons.
Family Guy is a 20th Century Fox Television production. Seth MacFarlane is creator/executive producer. Rich Appel and Steve Callaghan serve as executive producers/showrunners, while Danny Smith and Kara Vallow are executive producers.
Family Guy is distributed by 20th Century Fox Television Distribution.
Mum
BBC Two has commissioned Mum from Big Talk Productions. The comedy reunites the creative team behind the Bafta award-winning Him & Her including Writer/Executive Producer, Stefan Golaszewski; Director, Richard Laxton; Producer, Lyndsay Robinson and Executive Producer, Kenton Allen.
Oliver Award winner and Bafta-nominated actress Lesley Manville (Another Year) stars as 'Mum', a mother in her late 50s and at a milestone in her life. We follow her and family through a year of new beginnings as she rebuilds her life following the death of her husband.
The series has been commissioned by Shane Allen, Controller, Comedy Commissioning.
Stag
A darkly comic thriller in three parts created by Jim Field Smith (producer/director of The Wrong Mans) and George Kay. A meek schoolteacher (Jim Howick - Peep Show, Babylon) struggles to survive the Stag weekend from hell, as he joins his future brother-in-law (Stephen Campbell Moore - Our Zoo, Ashes To Ashes, The Wrong Mans) and several obnoxious friends, on a deer-stalking expedition in the Scottish highlands. It quickly gets messier than anyone expected; as the hunters become the hunted, sordid secrets emerge and old friendships are tested to the limit.
The 3x60 series is a BBC In-House Comedy production in association with Idiotlamp. Written by Jim Field Smith and George Kay. Produced and Directed by Jim Field Smith. The Executive Producer is Myfanwy Moore
Two Doors Down
Scottish families at their best and worst feature in a new comedy of manners by Simon Carlyle and Gregor Sharp, exploring why it is that the people you're closest to always seem to cause you the most grief. Two Doors Down features a core cast of distinctive characters - Beth and Eric, Cathy and Colin, Christine and daughter Sophie - all of whom stand ready to support each other through life's highs and lows. This could seem like a blessing but it's usually more of a curse. This network of friends, families and neighbours always seem to loom too large in each other's lives. Toes are trodden on, boundaries are crossed and some fiery tempers inevitably fray.
The Executive Producer is Steven Canny and the Producer is Catherine Gosling Fuller.
Children Of The Gaza War
Children in Gaza and southern Israel have lived through three wars in the last six years. Last summer more than 500 children were killed in a 51-day war. Almost every child in Gaza lost a loved one and more than a third were left traumatised. Children on the Israeli border lived in constant fear of rocket attacks and underground tunnels. With unique access, Lyse Doucet follows the lives of children on both sides of the conflict through the war and for six months afterwards, revealing how children born so close are growing further apart with each war.
Commissioned by Clive Edwards. The producer/Director is James Jones and the Executive Producer is Lucy Hetherington
Old School
This autumn the Hairy Bikers will take on one of their biggest challenges. Motivated by their own experience of caring for elderly parents, and by what they saw filming Meals On Wheels, they want to address what can be done to support elderly people who feel isolated and lonely to make them feel more valued in society. The fact that more than half of over 75 year-olds in the UK live alone is not just desperately sad, but has a real impact on public health; there are proven links between loneliness and poor health.
Around the world, including the US and Japan, pensioners are brought together with children, with the old helping and teaching the young and the young helping the old feel loved and valued. Inspired by these schemes, the Hairy Bikers create and drive an ambitious and potentially revolutionary experiment: bringing up to 30 retirees into a secondary school where they could make a huge difference and, over the school's autumn term, transforming both the school and the lives of the pensioners.
If this works, it could be adopted permanently by the school and inspire change across the country. This series is about two generations who have more in common with each other than they might at the start think: both groups can feel undervalued and are often ignored by the rest of society, neither considered truly responsible for themselves. Joining forces they demonstrate what they can achieve together.
Commissioned by Alison Kirkham, Head of Commissioning, Features and Formats. The Executive Producer at Maverick TV is Eve Kay. 
Simply Nigella
As beautiful and inspiring as ever, Nigella's latest BBC TV series - Simply Nigella - will introduce viewers to a new pared-down approach to cooking and eating.
With a handful of dishes per show, Nigella will talk about what the recipes mean to her as well as giving tips to find the easiest way to cook them. With feasts for special occasions sitting alongside tasty every day meals, Simply Nigella will deliver a true sense of balance between lightness and lushness.
From healthy everyday breakfasts and substantial weekend brunches to quick-to-make, lighter suppers that de-stress, and 'bowl food' that comforts, Simply Nigella brings us recipes that will be both a pleasure to cook and eat.
Nigella Lawson says: "It's about food that makes our life easier, that makes us feel better, more alive and less stressed."
Commissioned by Alison Kirkham, Head of Commissioning, Features and Formats, the Director is Dominic Cyriax and the Executive Producer is Jennifer Fazey for BBC Productions
The Great British Pottery Throw Down
Get ready to roll up your sleeves and get dirty with Bake Off's messier cousin, The Great British Pottery Throw Down, as Sara Cox presents the search for Britain's best budding potter. In the brand new six-part series from Love Productions she is joined by two of the British pottery scene's most passionate and renowned potters, Keith Brymer-Jones and Kate Malone.
The ten potters are set a number of tasks testing their skills (and patience) at the wheel and with different techniques. Each week they have to create the Main Make, which sees the potters produce a piece from slab of clay to glazed glory with every episode culminating in the reveal of the Main Make which the potters present straight from their kiln for judging. But anything can go wrong in the kiln. The potters who fail to impress with their clay will leave the pottery studio until the final when one person proves themselves to be master of the wheel. It's messy, it's hot, it's pottery.
Sara Cox says: "Clay, mess, passionate potters and the team behind Bake Off. What's not to love. There's something really raw and exciting about grabbing a lump of clay and creating something unique out of it."
Executive Producers: Anna Beattie, Richard McKerrow, Suzanne McGairl and Melanie Crawford
A Love production. Commissioned by Maxine Watson, Acting Head of Documentaries.
The Naked Choir
Gareth Malone launches a nationwide contest, paying tribute to the homemade, passionate energy of local choirs and singing groups - pushing competitors to their very limits whilst celebrating their individuality and origins.
To seek out the very best and pose the ultimate test of vocal dexterity, creativity and ingenuity, Gareth is stipulating that each group must rely solely on the versatility of their voices and perform a cappella - without backing tracks or musical instruments.
Gareth Malone says: "Singing a cappella is the ultimate test of any choir. Only once you've stripped away all those musical crutches that a backing track offers - it's possible to truly see, and test, the group's quality."
From doo wop to hip hop, glorious gospel groups to barbershop quartets, Gareth is looking for the highest standards of musicianship and technical ability: but he'll also encourage spectacular and witty performances, the kinds of choreography and gymnastics that turn groups into YouTube stars.
Eight very different singing groups will compete for the title of Britain's best amateur singing group. The series follow the competitors at home as they prepare for a series of performances at famous public venues in front of big audiences and a carefully selected jury of music experts who will decide who goes through to the next round.
The Naked Choir is being made by Twenty Twenty. It was commissioned by Maxine Watson, Head of Commissioning, Documentaries.
Hair
Hosted by comedian Katherine Ryan, and with judges Denise McAdam, session stylist and royal hairdresser; and Alain Pichon, international session stylist, the search for Britain's best amateur hair stylist returns for a new series, this time on BBC Two.
Each week the competitors will face four different challenges which will test them on every level: the judges want precision and perfection and are not afraid to tell the contestants exactly where they have gone wrong.
The ten home hairdressers face a wide range of challenges, some in the specially kitted-out salon and some professional tasks in real life scenarios - from styling at a pop up 1920s vintage night, going behind the scenes at London fashion week and taking on real brides at the capital's funkiest wedding fair.
Made by BBC Documentaries. The Executive Producer is Aysha Rafaele and the Series Editor is Ceri Jones.
Britain's Forgotten Slave Owners
In 1834 Britain abolished slavery, a defining and celebrated moment in our national history. What has been largely forgotten is that abolition came at a price. The government of the day took the extraordinary step of compensating the slave owners for loss of their 'property'. In total £17bn in today's money was paid to the slave owners. The enslaved got nothing.
In an exclusive partnership with University College London, historian David Olusoga uncovers Britain's Forgotten Slave Owners. Forensically examining the compensation records, he discovers the surprising range of people who owned slaves and the sheer scale of the slavery business.
David traces how the now forgotten pro-slavery campaigners influenced ideas about race. And by following the trail of money he reveals how the unprecedented injection of capital into the Victorian economy changed Britain, leaving a legacy that can still be felt to this day.
The Executive Producer is Chris Granlund; the Director is James van der Pool; and the Producer and director is Ben Crichton. The series was commissioned by Martin Davidson, Head of Commissioning TV, Specialist Factual and is a collaboration with University College London, Department of History.
Let Us Entertain You
In the years since the end of the Second World War, Britain has been a nation in decline: the loss of Empire, the collapse of industry, and the decline of political and economic influence in world affairs. However, there is one arena in which we can legitimately claim superpower status - our popular culture.
In the post-war years, Britain's cultural contribution has been second to none, from music and fashion to art, film, literature and theatre. James Bond to Agatha Christie, Andrew Lloyd Webber to John Lennon, it is through our culture that the world now sees us.
In four one-hour episodes for BBC Two, historian Dominic Sandbrook argues that this is a contribution anchored firmly in our own past. A uniquely British culture, reflecting uniquely British values and outlooks which were first forged, and articulated, during the Industrial Revolution and the Victorian era. The same impulses, the same concerns, the same ambitions that drove our Victorian forbears, remain the engine of our modern culture today.
Commissioned by Mark Bell, Head of Commissioning, Arts. The Executive Producer is Steve Condie for Oxford Scientific Films.
Six Degrees
Professor Brian Cox challenges a team of scientists and celebrities to get connected and battle their way through the six degrees of separation that connect everything in our universe. From Babbage to Buzzfeed, Lovelace to Linux, Six Degrees is based on the theory that everyone or everything is six or fewer steps away from any other person in the world. The panel show will rejoice in the often serendipitous connections that have led us through the digital revolution.
Commissioned by Tom McDonald. Executive Producer, Andrew Cohen.
Himalaya With Sue Perkins
Following the success of her series exploring the Mekong River, Sue Perkins is embarking on an epic and unforgettable journey across the greatest mountain range on Earth - the Himalayas. Over soaring peaks and mighty rivers, through hidden kingdoms and lush foothills, Sue will travel through one of the world's most spectacular regions, where extreme geographical isolation has created and nurtured cultures as diverse as the landscape itself. Uncovering the story of this remote and inaccessible land, Sue will step into a world where adventure is of the very highest level.
Clare Paterson is the Commissioning Editor for the BBC; Lucy Carter is the Executive Producer at Indus Films.
Meet The Roman Empire
In this four-part series classicist and historian, Professor Mary Beard draws on her immense scholarship, unique viewpoints and myth-busting approach to Roman history, to give her definitive take on the Roman Empire. Travelling from Spain to Iran, Egypt to Scotland, Tunisia to Greece, she'll pose the big questions that have fascinated people for centuries: how and why did it happen?
In search of answers, she'll take viewers to the most telling sites and the most revealing artefacts - from the remnants of Roman ships at the bottom of the sea to miraculous letters preserved on ancient papyri. And she'll examine the legacy the Roman Empire has left behind - not just its technology and buildings, its roads and laws – but also in the worlds (religious and imperial) that came after it.
Commissioned by Martin Davidson. Executive Producer is Caterina Turroni at Lion TV
The Detectives
In July 2012 Greater Manchester Police set up a new unit to investigate sex offences. In the first of its kind for the force, 60 detectives were trained as specialist rape investigators. Within the first year, reports of sex offences across Britain reached levels never seen before in the history of policing. This three-part series follows the detectives as they investigate sex crime in unprecedented times. Gripping and dramatic it take us into their world, revealing the complexities and challenges, highs and lows, of investigating the crime that is second only to murder.
The Executive Producers are Clare Sillery for the BBC, and Colin Barr and Ruth Kelly for Minnow Films. Series directed by James Newton.
Celts
Neil Oliver and Alice Roberts team up in a three-part series to discover the world of the Celts. Travelling across Europe, from Ireland to Turkey, Denmark to Portugal, they seek out brand new archaeological discoveries, some of our greatest ancient treasures, and the very latest scientific studies. With dramatic reconstruction of three pivotal battles in the history of the Celts, Alice and Neil will reveal an incredible lost empire that stood up to the might of the Rome for hundreds of years.
Commissioned by Martin Davidson. The Executive Producer is Cameron Balbirnie and the Series Producer is Robin Dashwood
Wildest Tribes
In this three-part series naturalist and wildlife cameraman Gordon Buchanan imbeds himself with remote tribes, using their remarkable field skills to get closer than ever before to iconic wildlife, including anacondas and lions. Gordon needs to be accepted by each tribe and learn their unique survival and tracking skills in order to gain a completely new insight into the wild animals which still dominate their lives.
Commissioned by Tom McDonald. The Commissioning Editor is Lucinda Axelsson, the Executive Producer is Tim Martin and the Series Producer is Ted Oakes
Atlantic - Earth's Wildest Ocean
This 3x60 landmark series reveals the mysteries of the Atlantic Ocean - from the Arctic to the Antarctic, the crushing depths of the abyss to the sun drenched tropical reef. This series will reveal the amazing, surprising and resilient inhabitants of the Atlantic, both animals and people, as they pit themselves against the world's wildest ocean.
Each episode unveils the natural forces that underpin life in the Atlantic, from the world's most powerful currents, ferocious hurricanes and huge chains of undersea volcanoes making this dynamic ocean rich in life.
The first programme follows the extraordinary Gulf Stream, a massive ocean current travelling thousands of miles across the North Atlantic; the second programme, From Heaven To Hell, follows a year in the life of the tropical Atlantic, where everything from dolphins to manatees, whale sharks to sun-bathing jellyfish thrive in the Caribbean's warm, sheltered waters.
The final programme travels to the vast South Atlantic where huge pods of dolphins, massive penguin colonies and the largest gathering of marine mammals on Earth gather, because of powerful volcanic forces.
Commissioned by Tom McDonald, Head of Commissioning, Natural History and Specialist Factual Formats, the Commissioning Editor is Craig Hunter, the Executive Producer is Tim Scoones and the Series Producer is Dan Rees.
Japan: Earth's Enchanted Islands
This blue-chip series from the Natural History Unit explores the rich and varied landscapes of Japan, showcasing one of the most iconic natural landscapes on the planet.
Narrated by Michelle Dockery, the series reveals a nation of more than 6000 Pacific islands, full of surprises and places where nature thrives: from the far north, where giant eagles walk on frozen seas, to the subtropical southern islands, with coral reefs and erupting volcanoes; and the mountainous central island, home to spectacular displays of cherry blossom, monkeys bathing in hot pools, bears stalking the forests - and more than 100 million people.
Each episode explores how life survives across these wildly diverse islands, dominated by forested mountains, volcanic forces and powerful seas, arctic winters and tropical, typhoon ravaged summers; and reveals the unusual and unexpected relationships between human characters and the wild.
Japan: Earth's Enchanted Islands will reveal the wild side of Japan that the viewers might never have imagined.
Commissioned by Tom McDonald. The Commissioning Editor is Lucinda Axelsson, the Executive Producers are Tim Martin and James Honeyborne, the Series Producer is Mary Summerill and the Producers are Gavin Maxwell, David Marks, Susie Painter, Matthew Wright.
Cosmic Dawn - The Real Moment Of Creation
Forget the big bang. The real moment of creation was the Cosmic Dawn - the moment of first light. This is the scientific version of the story of Genesis.
The big bang gets all the credit for creating our universe. But in fact, the universe it gave was dark and boring. There were no stars, no galaxies, just a vast, black fog of gas - the cosmic dark ages.
But after a hundred million years of nothing, came a dramatic moment of transformation - the Cosmic Dawn. It's the moment the first stars were born, the moment that lit up the Universe, and made the first structure and the first ingredients of life. This was the real moment of creation.
This new episode of Horizon explores how astronomers are now trying to witness the cosmic dawn. For the first time they have the tools to explore the very first stars of the universe and to tell the scientific story of our creation.
The Horizon Editor is Steve Crabtree.
EDA
Related BBC Links