The Wrong Mans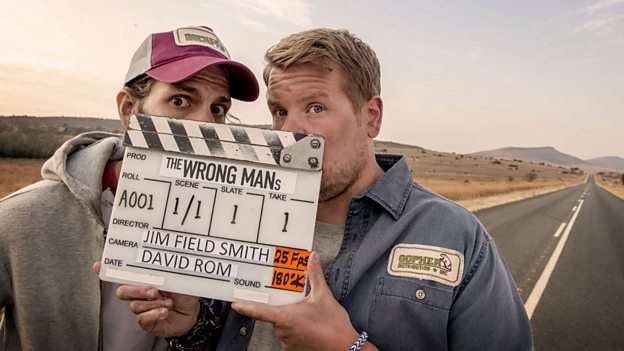 Date: 06.12.2014
Last updated: 08.12.2014 at 11.00
The award-winning, action-packed comedy thriller The Wrong Mans returns to BBC Two this Christmas and sees our two hapless heroes Sam and Phil in deeper, darker danger than ever before as they embark on a dangerous international quest to prove once again they are The Wrong Mans.
The Wrong Mans is a BBC Production co-produced with Hulu, the new series comprises 2 x 60 minute episodes that will air on BBC Two during Christmas fortnight.
Having earned their status as hometown heroes in the first series, Sam (Mathew Baynton) and Phil (James Corden) are blasted back to zero again. Now 4,000 miles from home, Phil is relishing the chance to reinvent himself but Sam pines for his old life. But some distressing news from back home forces them to make a difficult choice: hide in the shadows and be forgotten forever or brave it in a world that doesn't even know they are alive in order to get home to Bracknell in time for Christmas and reclaim their lives. First there's just the small issue of busting out of a high-security Texan jail.
The show's creators and co-stars Mathew Baynton and James Corden are joined by a stellar international cast that includes Anastasia Griffith (Damages) as Miller, an ambitious DEA Special Agent on the trail of Mexican drug kingpin Carlos Espinosa, portrayed by Raoul Trujillo (Apocalypto) alongside John Ross Bowie (Big Bang Theory, Curb Your Enthusiasm) as his unscrupulous attorney Kinsmann. Olivier Award-winner Bertie Carvel (Matilda, Doctor Who, Sherlock) stars in the role of Nathan Cross, an unpredictable White Supremacist with a secret, and Ray Panthaki (EastEnders, 28 Days Later, Kidulthood) portrays Khalil, who enlists Sam and Phil to help him bring down a terrorist gang. Other guest stars include Samantha Spiro (Bad Education, Grandma's House) and Trevor Cooper (Happy Go Lucky, Holby City).
Returning to the cast are Dawn French (The Vicar Of Dibley, French & Saunders, Roger & Val) as Phil's fragile mum Linda Bourne, and Rebecca Front (The Thick Of It, Grandma's House) as Cox, the unrepentant head of MI5. Sarah Solemani (Him & Her, Bad Education) reprises the role of Lizzie Green, Sam's ex-girlfriend and former boss who is on the hunt for the truth. Other returning cast members include (co-writer of episode 3) Tom Basden (W1A, Plebs) as Sam's former colleague Noel and Alec Utgoff (Jack Ryan) as a strangely familiar Russian agent.
James Corden said: "It is a real treat to be on over Christmas, I love it; it's a privilege and an honour to be on the BBC at Christmas time. After all the thrills and highs of The Wrong Mans series one, you get a greater sense of heart for this series, and I think that comes from the feeling of Christmas and the warm feeling you get when you watch Christmas TV."
Mathew Baynton added: "We were writing The Wrong Mans before we knew it was going to air over Christmas, it's a homecoming story with the added air of Christmas magic!"
Mark Freeland, Executive Producer and Controller, Fiction & Entertainment, BBC Production said: 'The clock has been ticking under Phil and Sam's car since the end of series one. It's so exciting that at Christmas on BBC Two it's time to find out what happens to our unintentional heroes when the ticking stops. Talk about starting with a bang.
The series was commissioned for BBC Two by Shane Allen, Controller of Comedy Commissioning, executive produced by Mark Freeland and Myfanwy Moore. The series is produced and directed by Jim Field Smith (Episodes, Butter, She's Out Of My League).
Key Character Guide:
Sam Pinkett (Mat Baynton)
Through no choice of his own, lowly office worker Sam took on some very bad people and won. Not only did he bring down a corrupt businessman, a double agent and a duplicitous murderer, he found a new lease of life, made up with his ex-girlfriend Lizzie and gained a new best friend. Life was exciting and painless (apart from the bullet wound in his shoulder), but then he lost it all again and found himself back at square one. Down on his luck and wallowing in self-pity, our reluctant hero is going to have to muster his courage once again and risk everything to find his way back home.
Phil Bourne (James Corden)
County Council mailroom worker Phil couldn't believe his luck when he overheard Sam on the phone to a murderous kidnapper; it was everything he'd always dreamed of. In his relentless pursuit of adventure, he was only too happy to put Sam's life on the line time and again until they beat the bad guys. On top of that, he's been handed the chance to reinvent himself, make lots of new friends and has even found his soulmate. Everything is perfect, until some distressing news from back home forces him to think again.
Lizzie (Sarah Solemani)
Sam's ex-girlfriend and ex-boss Lizzie can't believe the official line that he's really gone, and will do everything in her power to discover the truth.
Linda (Dawn French)
It was hard enough losing her husband, but when Linda believes she has lost her son Phil too, she must put on a brave face.
Cox (Rebecca Front)
The ballsy boss of MI5 just wants Sam and Phil to stay dead and buried, she has more important things to deal with.
Dmitri (Aleg Utgoff)
A strangely familiar Russian FSB operative, Dmitri is on a mission to mete vengeance upon his brother's alleged murderers – and anyone else who gets in his way.
Rosa (Rosa Whitcher)
Phil's girlfriend Rosa has lived a tough life, helping to raise her brothers and never with enough money to make ends meet. Unsure she'll like the real Phil, he has told her a series of escalating untruths to keep her sweet.
Maria (Samantha Spiro)
Running a trucking distribution yard isn't enough for Maria, so she's happy to take on a few extra shipments, and looks for fulfillment elsewhere.
Carlos Espinosa (Raoul Trujillo)
Carlos spends a lot of time moving things across the border into America – guns, drugs, people. So when he's asked to help smuggle stuff in the opposite direction, he's only too keen to oblige.
David Kinsmann (John Ross Bowie)
An unscrupulous lawyer in the pay of Espinosa, Kinsmann is adept at dealing with ambitious DEA agents or hapless Brits alike, and likes to keep people in line with his personal collection of crime scene photos.
Agent Miller (Anastasia Griffith)
DEA Agent Miller will do anything to bring down Carlos Espinosa, one of the Most Wanted drug lords on her hit list. When an opportunity presents itself to take him down for good, she only needs to convince our heroes to help her land this catch.
Guard Harry (Trevor Cooper)
Harry is content with the life of a prison guard; locking people up, denying them phone calls, taking bribes…
Nathan Cross (Bertie Carvel)
Wiry and psychotic, covered in white power tattoos and with a distinctive white glass eye, Nathan Cross is in prison because of what the authorities call a 'spree', but that's just the ones they found.
Khalil (Ray Panthaki)
Khalil is the financial brains of a four-person gang of international mercenaries. He finds the buyers, then the gang go shopping for whatever distasteful goods the client desires. But it soon transpires his motives are a little different from the rest of his criminal team.
Creative Team Biographies:
James Corden – Co-creator / co-writer / "Phil Bourne"
James was the Tony Award winning star of One Man, Two Guvnors which showed at the National Theatre, West End and Broadway. He co-created, co-wrote and starred in the BAFTA and British Comedy award winning BBC TV series Gavin and Stacey, as well as co-creating, co-writing and starring in The Wrong Mans for the BBC.
For The Wrong Mans, James Corden and Mathew Baynton won an RTS and BAFTA Craft award for their writing, both were also nominated for Best Male Performance in a Comedy Programme in the 2013 BAFTA Television Awards. And this year, the show has 3 nominations for the British Comedy Awards, Best Comedy Drama, Best New Comedy Programme and Mathew Baynton for Best TV Comedy Actor
James was recently announced as the new host of CBS's talk show The Late Late Show, taking over from Craig Ferguson in early 2015.
James played Paul Potts in the movie One Chance, directed by David Frankel. He also starred alongside Keira Knightley and Mark Ruffalo in Begin Again.
Previous film roles include The Three Musketeers, Gulliver's Travels, Lesbian Vampire Killers, Telstar, How To Lose Friends & Alienate People, Pierrepoint, Starter For 10, All Or Nothing, Twenty Four Seven and the reprise of his West End role in the critically acclaimed film adaptation of The History Boys, as well as a slew of other theatre and TV credits such as Horne and Corden, Little Britain, Fat Friends and The Vicar Of Dibley. He is the four-time host of The BRIT Awards and is the current host of Sky 1's sports quiz A League Of Their Own.
During his career to date, James has been awarded numerous comedy awards including a Writers' Guild of Great Britain Award for Comedy Writer of the Year, South Bank Show Award for Comedy, National Television Award in 2010 for Best Comedy and of course, most recently, the prestigious Tony Award® for One Man, Two Guvnors.
Mathew Baynton – Co-creator / co-writer / "Sam Pinkett"
Mathew is perhaps best known from his tenure in the hugely popular BBC sketch show Horrible Histories, which ran for five series, winning numerous awards including two Children's BAFTAs, the RTS Award for Best Children's Programme and two British Comedy Awards. He co-created, co-wrote and stars in The Wrong Mans for the BBC.
Mat recently starred in Tom Basden's play Holes. Mat and his Horrible Histories collaborators reunited to write Yonderland for Sky, currently in production for a second series, in which they star and voice an array of puppet characters inhabiting a fantasy land.
Other TV acting credits include Spy, Psychobitches, Gavin and Stacey, Peep Show, Armstrong & Miller, Horne and Corden and Ashes To Ashes.
Film credits include You Instead, Hereafter and Telstar. Theatre credits include Horrible Histories: BBC Proms 2011, Office Party, Hello Dalai, The Bubonic Play and Loot.
Mathew trained at Rose Bruford Drama College and L'Ecole Philippe Gaulier, Paris.
Jim Field Smith – Producer and Director
Jim is a film and television director, writer and producer working in the UK and USA. He directed the second season of Episodes for BBC / Showtime, receiving both BAFTA and Golden Globe® nominations. He produced and directed the BAFTA nominated The Wrong Mans, and has had a new project, Stag commissioned by the BBC to go into production in 2015.
His second feature film, the satirical comedy Butter, starring Jennifer Garner, Hugh Jackman and Olivia Wilde was released at the end of 2012. Prior to that he had directed his debut feature She's Out Of My League for Dreamworks, which opened Spring 2010 worldwide.
His career began with the short films Missing Moscow, Goodbye To The Normals and Where Have I Been All Your Life?
Jim has directed numerous award-winning TV commercials and other writing credits include Fur TV, the cult puppet show for MTV, and two series of his own BBC Radio 4 sitcom Deep Trouble, in which he also starred.
In a former life he was an actor and comedian, and one fifth of the Perrier Award nominated sketch group Dutch Elm Conservatoire. His film acting credits include L'entente Cordiale and Telstar. TV credits include Coupling, The Robinsons, Suburban Shootout and My Life In Film.
IV
Search the site
Can't find what you need? Search here