BBC marks the 800th anniversary of the Magna Carta with Taking Liberties season
2015 marks the 800th anniversary of Magna Carta – the document seen by many as England's greatest export. It set out limits to the powers of the monarch and ideals of liberty and justice which have underpinned British society, the establishment of Parliamentary democracy and the development of the legal system in the UK and around the world.
Published: 16 November 2014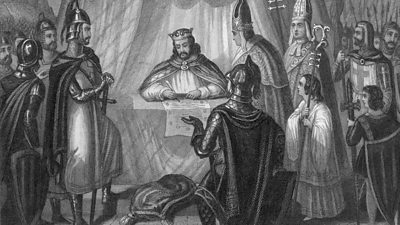 This landmark moment falls in a General Election year and the BBC will mark this period with Taking Liberties – a collection of thought-provoking new commissions from across the BBC that will not only explore Magna Carta's history and influence but will also examine the current state of democracy.
The BBC's Director General Tony Hall says: "I am delighted to announce this new season marking the 800th anniversary of Magna Carta. The BBC should be the place where the great events in our nation's history are commemorated. Michael Cockerell, David Starkey, Melvyn Bragg, Amanda Vickery, Nick Robinson and Helena Kennedy QC amongst others will be presenting a season of programmes examining what Magna Carta's key themes of freedom, power and justice mean to Britain and the world today."
The BBC's season will form part of an extensive range of events and activities across the country to mark the anniversary. The BBC has been working closely with the British Library and the Magna Carta 800th Anniversary Commemoration Committee to develop this collection of programmes.
Taking Liberties kicks off on January 5 2015 with Magna Carta, a major new four-part documentary series for Radio 4. Melvyn Bragg investigates the history of our most famous legal document and tells the story of the events and people responsible for this landmark of our law and personal rights, tracing its influence over the 800 years since the Great Charter was agreed between King John and his barons in a field at Runnymede.
Taking Liberties highlights 
Democracy Day
The season will then feature Democracy Day on the 20 January – the 750th anniversary of the De Montfort Parliament – England's first parliament. A day of live events, discussions and debate, produced in partnership with the Speaker's Office of the House of Commons, will be broadcast across the BBC from both inside Westminster and from the BBC Radio Theatre.
Democracy Day will look at democracy, past and present and encourage a debate about its future. Panels of politicians, international academics and writers will discuss such issues as the relationship between Islam and Democracy and whether technology provides an opportunity or threat to the democratic process.
As part of the day's offering, Today in Parliament will bring Radio 4 listeners a day in the life of other international Parliaments and the BBC's Public Philosopher Michael Sandel will venture inside the Palace of Westminster, challenging an audience of MPs, Peers and public to apply some critical philosophical thinking to what democracy really means. The BBC will also turn the spotlight on itself, opening up several of its news planning meetings to public scrutiny and broadcasting them live, inviting listeners worldwide to comment and contribute to the day's output.
BBC TWO
Inside the Commons (W/T)
Michael Cockerell presents this documentary revealing a remarkable year leading up to the General Election. Cameras have been given unique access to the House of Commons and the result is a vivid and extraordinary picture of what goes on behind the scenes, providing a profound insight into how our democracy works. Following everyone from MPs to doorkeepers, and clerks to clockmakers, Inside the Commons explores how the nation's most important – yet largely unexamined - institution really works. We follow MPs from different shades of the political spectrum as they navigate the machinery of the House of Commons to fight their constituents' battles. We experience the challenges faced by the staff of the House as they strive to keep the country's most iconic and historic building functioning as a modern parliament. This is the heart or our democracy as never seen before.
Atlantic Productions – 4 x 60
Magna Carta - why so revolutionary? Presented by David Starkey - BBC Two
We take our liberties for granted. They seem absolute and untouchable. But they are the result of a series of violent struggles fought over 800 years that, at times, have threatened to tear our society apart. On the frontline was a document originally inked on animal skin – Magna Carta. Distinguished constitutional historian David Starkey looks at the origins of the Great Charter in 1215 to check the abuses of King John - and how it nearly died at birth. He explores its subsequent deployment, its contribution to making everyone – even the monarch – subject to the rule of law, and how this quintessentially English document migrated to the North American colonies and eventually became the foundation of the US constitution. Magna Carta has become a universal symbol of individual freedom against the tyranny of the state, but with ever-tightening government control on our lives, is it time to resurrect it?
Oxford Film and Television - 1 x 60
The Longest War - Women & the fight for Power (W/T) - BBC Two
In this series for BBC Two, historian Amanda Vickery uncovers Britain's longest war, the 300 year long campaign by women for political and sex equality in Britain, revealing the largely forgotten heroines (and a few heroes) who fought for the cause. The suffragette's battle to win the vote is the popular symbol of this struggle, but Vickery places that struggle in a much wider context, from the Levellers, the first recorded women's rights demonstration at the time of Cromwell to the first custody battle in court over children in a divorce, producing the first piece of British legislation in support of women's rights, to the lessons she draws from a woman becoming Prime Minister just 50 years after the franchise was extended to all women over the age of 18 and the ongoing fight for equal status today.
Matchlight - 3 x 60
Up the Women - BBC Two
Written by and starring Jessica Hynes (Spaced, Twenty Twelve) and also starring Rebecca Front (Nighty Night, The Thick Of It) Up the Women returns for a second series to BBC Two. It's 1910, and having been inspired by the Women's Suffrage Movement in London, a group of villagers in Banbury, formerly known as the Banbury Intricate Craft Circle, have set up their own - hilariously ineffectual - movement, calling themselves The Banbury Intricate Craft Circle Politely Request Women's Suffrage.
The first series saw the group picket the post office, overcome inner-circle disputes and receive a visit from the great Emmeline Pankhurst herself, but what next for the movement? What schemes will be cooked up in circle's headquarters, Banbury Church Hall? The second series promises six more wittily written instalments of the group's exploits and more excellent comic performances from the talented cast.
BBC/Babycow productions - 6 x 30
Rory Bremner's Coalition Derby (W/T) - BBC Two
Rory Bremner returns with new guests and new characters as he takes on the coalition in a one-off special. In May 2010, Britain went to the polls to elect a new government. Except they didn't. 'The people have spoken' as Bill Clinton remarked. 'It's just we don't know what they said.' Days later, two men got hitched in the Downing Street Garden and promised to govern in the interests of the country. What happened next? Who won? Who lost? And while the Coalition continued like a marriage, with lots of arguments, what was going on elsewhere, in Scotland and beyond Westminster? Recorded in front of a live audience, Rory Bremner brings some new characters to life, alongside old favourites to make sense of the nonsense and ask, 'what is going on?'
Vera - 1 x 30
BBC THREE
BBC Three will offer a selection of programmes, exploring satire and what democracy means today and featuring well known BBC Talent, including the comedians behind BBC Three's BAFTA-winning The Revolution Will Be Televised.
Magna Carta 2.0
Comedian Jolyon Rubinstein believes young people have lost their trust in and respect for politicians. The Scottish independence referendum galvanised youth engagement in politics in Scotland like never before, and Jolyon wants to inject real energy into politics in the rest of the UK. With 2015 being the 800th anniversary of the signing of the Magna Carta, Jolyon feels it's time for a brand new contract between the people and their elected representatives and to this end, presents Magna Carta 2.0, a new documentary packed full of stunts, fun and comedy.
BBC FOUR
BBC Four's Storyville strand presents three documentaries, Democrats, Internet's Own Boy and Datong
Democrats (W/T) - BBC Four
Democrats is a political documentary thriller set in Zimbabwe, following two political enemies forced on a joint mission. Two top politicians, MP Paul Mangwana and MP Douglas Mwonzora, from the governing party and the opposition respectively, have been appointed to lead Zimbabwe through the process of writing a new constitution. It is the ultimate test that will either take the country a decisive step closer to democracy and away from President Robert Mugabe's dictatorship, or toward renewed repression. In a country impeded by economic sanctions from the international community and hyperinflation running rampant, failure is not an option.
Upfront Films - 1 x 80
Internet's Own Boy (W/T) - BBC Four
This film depicts the life of American programming prodigy Aaron Swartz, through personal archive, testimonies from his family and world leaders in the computing field. Internet activist Aaron Swartz had his fingerprints all over the internet. He was integral to the development of the basic internet protocol RSS and co-founded the global social news and entertainment website Reddit.
It was also Swartz's ground-breaking work in social justice and political organising, combined with his aggressive approach to information access, that ensnared him in a two year legal nightmare. It was a battle that ended with his suicide age 26. Aaron's story touched a nerve with people far beyond the online communities, in which he was a celebrity. Internet's Own Boy is a personal story about what we lose when we ignore the implications of technology and its relationship to our civil liberties.
Luminant Media – 1 x 90
Datong (W/T) - BBC Four
Datong mayor Geng Yanbo is one of the 'officials with personality' ('gexing guan yuan') to have emerged on China's political stage in recent years. His aim is to revitalise the city of Datong by rebuilding the ancient city to attract tourism. But that means demolishing vast swathes of flats and relocating thousands of residents. Datong follows game changer Geng Yanbo in his most turbulent period as mayor to find the real man and real battle behind the public image.
QI Films – 1 x 80
Asylum - BBC Four
Conceived by Kayvan Novak (Facejacker) and Tom Thostrup and written by Thom Phipps and Peter Bowden, Asylum is a satirical comedy about a government whistle-blower and a millionaire internet entrepreneur trapped together in a London embassy.
LIVE EVENTS
On the 15 June 2015, the BBC plans to provide coverage of the events which will celebrate this important anniversary at Runnymede, where King John sealed the Magna Carta on that day in 1215.
2LE Media – 3 x 30
RADIO 4
Magna Carta – Radio 4
In a major new documentary series for Radio 4, Melvyn Bragg investigates the history of our most famous legal document: Magna Carta. Over four programmes he tells the story of the events and people responsible for this landmark of our law and personal rights, and traces its influence over the 800 years since the Great Charter was agreed between King John and his barons in a field at Runnymede. The first programme looks at the background to the events of 1215 – the evolution of English law from its ancient origins, and the uneasy political situation in medieval England. The second programme tells the story of how the charter was negotiated and examines what it contains and why. In programme three, Melvyn explores the influence Magna Carta has had on our institutions, legal system and sense of liberty – including a range of opinions on its current significance. And the series concludes by examining the surprising legacy of Magna Carta beyond these shores, and why other countries still believe this to be the most important statement of rights and liberties ever made.
BBC Productions - 4 x 45
Can Democracy Work? - Radio 4
At a time of widespread political disillusion, and when constitutional reform is moving up the political agenda, the BBC's Political Editor Nick Robinson presents a three-part BBC Radio 4 series examining the state of democracy in Britain today. He explores attitudes towards the political decision-making process, conflicting views about where political power really lies, what the public really want from democracy, and how our democratic system can tackle the profound challenges it has to face.
BBC Productions - 3 x 30
A Modern Magna Carta - Radio 4
Distinguished lawyer and human rights champion, Helena Kennedy QC attempts to design a Magna Carta for today's globalised world. The original charter sought to control the power of the King. But in a fluid world without borders, power lies not with those who govern nation states, but with nomadic bankers and vast corporations. In this interconnected world, whose power should we rein in? What new charter will protect our rights and freedom?
Helena talks to politicians, academics and philosophers about where power lies and how it might be contained. Are the current international institutions created after the war fit for that purpose? In a world where the locus of power is diffuse and shifting, how do we address forces like climate change, migration and terrorism that affect us all? In this half hour Helena draws up some provocative principles for a Modern Magna Carta that would have global reach and would protect our rights.
Jolt Productions - 1 x 30
The Sinha Carta - Radio 4
Magna Carta is a seven-page document that surprisingly few people have read, given how important it is. Luckily comedian Paul Sinha (The Sinha Test, The Sinha Games, Paul Sinha's Citizenship Test, Paul Sinha's History Revision) has read it, and will explain why what's in it is brilliant, as well as looking at what's been taken out that shouldn't have been, what's not been taken out that should have been, and what he would like to see added 800 years on.
BBC Productions - 1 x 30
CBBC
Horrible Histories: King John and the Magna Carta - CBBC
Featuring Ben Miller as King John, Horrible Histories looks at the life and reign of King John (1166-1216). King John was one of the most rotten rulers of the lot, whose life was dominated by fights with English noblemen. This episode will explore what was happening in the world during King John's life, such as the rise of Genghis Khan, and the Crusades as well as looking at the King himself, as he went from problem child to angry adult and how, just a year before his rotten death, he signed the Magna Carta in 1215 - the greatest thing to come out of his reign and a document that still affects our lives today.
Lion Television – 1 x 30
BBC WORLD SERVICE
BBC World Service will broadcast a special documentary on the international legacy of Magna Carta as well as a dramatised documentary which reimagines how the Magna Carta would be written in the present day. The World Service will also host a debate with legal experts from around the world, at the Temple in London, King John's headquarters in the run up to Magna Carta. BBC World Service and BBC World News will mark the BBC's Democracy Day with live programming and content on Tuesday 20th January.
BBC PARLIAMENT
BBC Parliament will broadcast a lecture from Professor Linda Colley, the Shelby MC Davis 1958 Professor of History at Princeton University in the United States, entitled 'A Changing Magna Carta: Present, Pasts - and Futures?' Professor Colley's lecture will examine the changing meanings of Magna Carta over the centuries and what it may mean in the future.
BBC Productions – 1 x 50
BBC ONLINE
Magna Carta iWonder guides
The BBC will have a number of iWonder guides which will explore themes around the story of how Magna Carta came to be written, how it was distributed and the role it continues to play today.
Notes to Editors
Television SH8
Radio CD
Online MA
Tagged: