BBC announces ambitious plan to improve representation of disabled people on and off screen
A range of measures will be used to radically change representation on air, and to make the BBC a top employer for people with disabilities.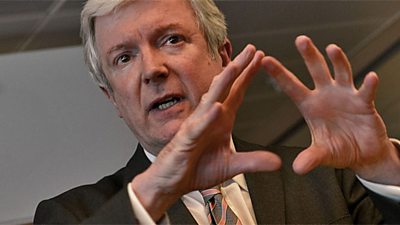 It is vital we reflect the public we serve – both on and off air. While the BBC has some good schemes in place, we must and can do significantly more.
The measures include:
Quadrupling the on-screen representation of disabled people by 2017
A pan-BBC Disability Executive to champion disabled talent and projects
Developing the BBC's existing schemes to recruit and retain disabled staff
Opening up even more opportunities for disabled people to work for the BBC
These actions are also intended to help the BBC reach its existing target of increasing disabled staff and disabled leadership in the organisation to over 5 per cent by 2017.
BBC Director-General, Tony Hall, says: "It is vital we reflect the public we serve – both on and off air. While the BBC has some good schemes in place, we must and can do significantly more. That's why we want to quadruple on-screen representation and open up many more opportunities for disabled people to work at the BBC.
"We will now work tirelessly to achieve our new ambitions, and reserve the option of going even further in the future."
A pan-BBC approach
A new Disability Executive will be appointed to work across the BBC, to improve programming, commissioning, talent management and the portrayal of disabled people. This person will champion disabled talent and projects across the BBC, providing expertise and support to colleagues.
Extend
We will add to the award-winning Extend programme, which helps disabled people to work in production, so that we retain more of the scheme's graduates. We aim to support 30 people who, through the Extend recruitment process, have either come to the end of their contract and need support to stay in the industry, or have been identified as high potential, to get into the BBC talent pool (these are in addition to the 30 who are on full placements).
They will be offered access to training and given their access reports in advance, which should help speed up any reasonable adjustments. We will assign them a BBC mentor and crucially we will provide them with six months formal connection to Talent, HR and hiring managers, and therefore access to jobs.
Opening up the BBC
Working in partnership with organisations like the Shaw Trust, Leonard Cheshire Disability, Royal National Institute for Blind People (RNIB), Working Links and Remploy, we will open up 150 roles to 'non-media ' disabled people in roles that support the business. Having more people with disabilities working visibly in our buildings and teams across the UK has the potential to influence cultural change at the BBC.
HR will also be improving talent-mapping and recruitment processes to enable the best talent to be hired and developed at the BBC, so that barriers to a diverse workforce are diminished.
In addition, we will continue to open up the BBC to more people from diverse backgrounds by building on our access and apprenticeship programmes.
On-screen targets
We have set a target to quadruple on-air representation and/or portrayal from 1.2 per cent to 5 per cent by 2017.
Independent challenge and advice
Disabled people are represented in the small group of respected BAME and disabled experts and cultural leaders who form the Independent Diversity Advisory Group, chaired by the Director-General. Their role is to challenge and advise Tony Hall and the BBC's senior leaders on diversity, and to judge on results, not just efforts. Currently Baroness Tanni Grey-Thompson and former BBC executive Tanya Motie have accepted the invitation to join.
Today's announcements follow the Director-General's commitment to help drive change in the wider industry and contribute to better representation of BAME audiences on screen and off, as revealed last month.
Notes to Editors
+ Currently the BBC's staff profile and targets around disability are:
Disabled - all staff is currently at 3.7 per cent - target for 2017 is 5.3 per cent.
Disabled Leadership is currently at 3.1 per cent - target for 2017 is 5 per cent.
+ The partnership to open up BBC roles to disabled people will work as follows:
We will provide generic job specs for business support roles at our sites across the UK. Our lead partner will be the Shaw Trust, who will liaise with the other groups on our behalf. Our partners will identify and filter candidates for us from their talent pools, ready for interview.
We will interview the supported candidates alongside other applicants. Our partners in the project will provide ongoing in-work support for successful candidates. This will complement the BBC's own disabled employee support such the access service, accessible technology team and the disabled staff forum, BBC Ability. It will support our aims to recruit and retain the best people to work across the BBC.
+ We have a number of schemes already in place to improve the recruitment, retention and career progression of staff from a range of diverse backgrounds:
• We continue to run the successful Extend scheme for disabled work experience participants. Over the past 14 years, Extend has recruited 513 disabled people. Extend recently won a national award at the inaugural Recruitment Industry Disability Initiative Awards.
• In June 2013, we launched a mentoring scheme for 28 disabled lower to mid-grade staff called Elev8. This has already resulted in four promotions. We are about to recruit for the second year of this scheme.
• BBC Television is working closely with the disabled staff forum BBC Ability to identify and understand ways to improve representation of disabled people on screen.
• The Journalism Trainee Scheme (JTS) and the Journalism Talent Pool (JTP) both specifically target disabled people to help diversify the journalist community at the BBC and beyond.
• We have been working with Equity to promote disabled actors and performers. As part of our work to mark the International Day of Disabled People we worked with Equity, ITV and Channel 4 to facilitate a day of speed auditions for 72 disabled actors and performers.
• In 2011, we ran PresentAble, a nationwide search for new disabled presenting talent which offered a unique training opportunity with the BBC. BBC Television also ran The Company which provided development opportunities for potential disabled actor talent.
BBC Press Office
Related Media Centre Links
Related BBC Links
Tagged: