Radio 4 to make first ever dramatisation of Good Omens
It's the end of the world - just not quite how we might be expecting it - but then this is Terry Pratchett and Neil Gaiman's version of Armageddon.
Published: 5 September 2014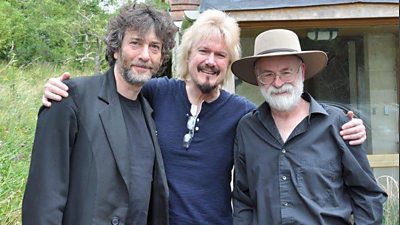 The Radio 4 audience loved Neverwhere and Good Omens will be a splendid Christmas treat.
BBC Radio 4 has today confirmed that the station will be collaborating with acclaimed authors Neil Gaiman and Terry Pratchett to create the first ever dramatisation of their co-penned cult-classic, Good Omens.
The audio drama, which begins recording today in a secret London location, has a cast including Colin Morgan (Merlin, The Fall) as Newton Pulsifer, Josie Lawrence (Skins, EastEnders) as Agnes Nutter and Paterson Joseph (Peep Show, Green Wing) as Famine, as well as a host of delightful cameos, from the Gardeners' Question Time team to Neil and Terry themselves. Other cameos are set to delight listeners, but they are under wraps for now. Probably in a dusty occult bookshop in Covent Garden, but no one is quite sure.
Mark Heap (Spaced, Green Wing, Stardust) and Peter Serafinowicz (Guardians Of The Galaxy, Star Wars: The Phantom Menace, Shaun Of The Dead) will be taking the central roles as angel and demon, Aziraphale and Crowley, respectively. The star-studded cast will also include Clive Russell (Game Of Thrones, Ripper Street), Julia Deakin (Spaced, Hot Fuzz), Louise Brealey (Sherlock), Simon Jones (Hitchhiker's Guide To The Galaxy), Arsher Ali (Four Lions, Complicit, Beaver Falls), Phil Davis (Silk, Whitechapel, Being Human) and Mark Benton (Waterloo Road, Land Girls) to name but a few.
According to the Nice and Accurate Prophecies of Agnes Nutter, Witch, the world will end on a Saturday. Next Saturday in fact. Just after Any Answers on Radio 4.
Events have been set in motion to bring about the End of Days. The armies of Good and Evil are gathering and making their way towards the sleepy English village of Lower Tadfield. Atlantis is rising, fish are falling from the sky, the Four Horsepersons are assembling; everything seems to be going to the Divine Plan.
Everything that is, but for the unlikely duo of an angel and a demon who are not all that keen on the prospect of the forthcoming Rapture. In fact the prospect of Armageddon is all really rather inconvenient for them actually. But if they are to stop it taking place they've got to find and kill the one who will bring about the Apocalypse: the Antichrist himself. There's just one small problem: someone seems to have mislaid him.
Released in 1990 and listed among the BBC's Big Read Nation's 100 favourite books, incredibly Good Omens has never been dramatised – until now.
The team behind Radio 4 and 4 Extra's Neverwhere - which received a phenomenal critical and audience response last year - has reunited for this special six-part dramatisation of Good Omens. With Dirk Maggs, best known for Hitchhikers Guide To The Galaxy, once again back in the director's and adaptor's chair, joined by producer Heather Larmour and ably assisted by Neil Gaiman. Neverwhere starred James McAvoy, Benedict Cumberbatch, Natalie Dormer and Sir Christopher Lee, to name but a few of the illustrious cast.
Fans will have to wait excitedly to hear the final drama as it is currently scheduled to air in December. It will broadcast across a week in five half-hour episodes and culminate in an hour-long final apocalyptic showdown, on a Saturday, shortly before Woman's Hour, should the world not actually end.
Gwyneth Williams, Controller, BBC Radio 4, says: "I'm delighted to have Neil Gaiman back on Radio 4 – and this time with Terry Pratchett. I can't wait to hear what they will do with the Apocalypse. The Radio 4 audience loved Neverwhere and Good Omens will be a splendid Christmas treat."
Listed in the Dictionary of Literary Biography as one of the top 10 living postmodern writers, Neil Gaiman (American Gods, Stardust, Anansi Boys, The Graveyard Book, the 'Sandman' comics) has a huge following, even guesting on an episode of The Simpsons. His episode of Doctor Who was one of the most highly anticipated of recent years and he has nearly two million followers on Twitter.
Sir Terry Pratchett is best known for his epic comic fantasy Discworld series. Since his first Discworld novel (The Colour of Magic) was published in 1983, he has written two books a year on average. His 2011 Discworld novel, Snuff, was at the time of its release, the third-fastest-selling hardback adult-audience novel since records began in the UK, selling 55,000 copies in the first three days.
Notes to Editors
Neverwhere received more iPlayer requests than any other radio programme in the month it aired and attracted more than 1.5 million visitors to the programme page.
ER
Related BBC Links
Tagged: