Inspector George Gently: interview with Pixie Lott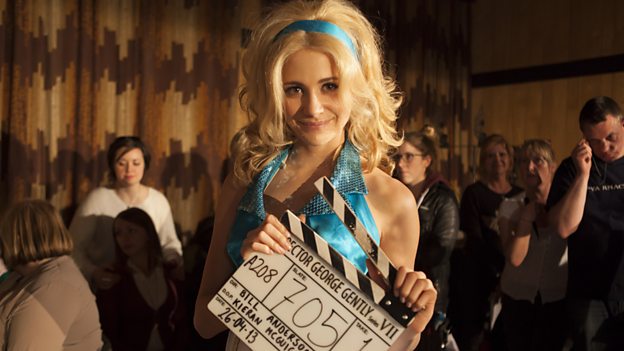 Date: 07.02.2014
Last updated: 18.03.2014 at 17.55
Pixie Lott talks about her role as Megan Webb in the second film in this series of BBC One's Inspector George Gently.


What character do you play?
I'm playing Megan Webb. She is one of the Bluebirds at the holiday camp. She has left her home, which was a strict environment to pursue her singing and dancing ambitions there. She meets some friends and then something dark happens in the camp which she gets involved in, leading to an unfortunate event.
Is this your first television drama?
This is my TV drama debut. It has been really fun. I've learnt so much about how it all works, and a lot from the other actors and actresses in the cast. I had no idea how much detail goes into everything. Hopefully I will take everything I have learnt here into my next job.
So, you've watched the show before...

I think the show is really great. I enjoyed doing the research. The first episode I saw was 'The Lost Child' last series, which had Helen Baxendale in it, which really impressed me as she plays Emily in Friends - and I am a huge Friends fan. She was doing something completely different to what I had seen her in before – in Inspector George Gently she was playing a very gritty character and I thought I absolutely wanted to be involved.
Do you have an interest in the Sixties?
I have a massive interest in the Sixties which is what predominantly drew me to the part. Being set in the Sixties, the makeup, the hair and costume, props all looks so cool. I love the music from the Sixties which has inspired my next album, including costume. It's been great to sing a song which was made in the 60s and all the dance moves were so fun to do.
Tell us about the 'Shoop Shoop' Song
Well the 'Shoop Shoop' Song is originally by a singer called Betty Everett but has since been covered by loads of other artists. I love the version that was sung by Cher, which my grandfather used to play in his car. But I will be doing my own version of the song.
What have you enjoyed best during filming?
I've enjoyed seeing how it all works, meeting all the crew. Seeing how much goes into everything, all the props… it looks exactly how you imagine the Sixties looked. Also I think my favourite scene shot so far is the one where Megan gets killed. She gets hit over the head with an iron. It was fun putting all the anger and emotion into that scene – it had serious guts!
What has it been like filming in the North East?
It's been fun for me. When I come up here on tour it's usually only for a couple days at a time. It's been good to come and spend a serious amount of time in the area. The weather isn't as good as it is in London (where I have supposedly missed out on the hottest day of the year being up here). It was especially bad yesterday, when it was all cold and raining and I was doing a scene where I was completely wet and I had to put my head in the wet sand, so my hair was all wet, making me really chilly. But apart from that it has been really nice. We had a day trip out yesterday to Durham where we got to see the Cathedral and cobbled streets.
I hear you went to holiday camps when you were young?
Yes I did. I went to a holiday camp when I was really young called Hoburne Holiday Park. I remember loving it, meeting all the other kids, making lots of friends. I even entered the talent competition and had my outfit already – which was a jumpsuit, top hat and cane. I was tap dancing to 'Cheek To Cheek' from the movie Top Hat. I did win (but was only up against a few other people) - it was good fun!
Do you remember the Blue Coats at the camp?
I remember they did have blue coats. We went to one in Devon, when I was three and the other one in Highcliffe, Dorset when I was a bit older. I know they still have them going – they'll probably find it funny when they find out I'm now playing a Blue Coat.
For further information please contact Deborah Goodman on 020 8959 9980 or publicity@dgpr.co.uk.
Search the site
Can't find what you need? Search here
Related Media Centre Links