BBC announces ambitious commitment to natural history across TV and online
The BBC today announces its most ambitious and wide-ranging commitment to natural history across television and online.
Published: 16 October 2014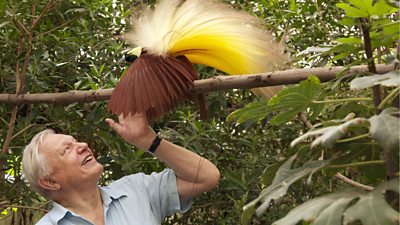 No-one does natural history like the BBC. We've got the best back catalogue in the world and an exciting future ahead of us. Today I'm delighted to announce what I think is the most ambitious range of Natural History we've ever commissioned - with Sir David Attenborough going on some big new adventures for us.
A raft of new natural history content announced today from both the BBC's Natural History Unit and the indie sector, including major new landmarks Shark and Dynasty on BBC One
Three new programmes from Sir David Attenborough, Waking Giants on BBC One and Attenborough's Paradise Birds and Attenborough's Big Birds on BBC Two
BBC Earth launches on bbc.co.uk offering a new digital home for BBC nature content in the UK with incredible imagery, world-class videos and stories offering a new perspective on the world
Personalised interactive feature 'Your Life on Earth' reveals just how the world around you has changed since your birth
The BBC today announces its most ambitious and wide ranging commitment to natural history across television and online.
Tony Hall, Director General of the BBC, says: "No-one does natural history like the BBC. We've got the best back catalogue in the world and an exciting future ahead of us. Today I'm delighted to announce what I think is the most ambitious range of Natural History we've ever commissioned - with Sir David Attenborough going on some big new adventures for us."
Major new programmes announced today include new series that use innovative new filming techniques from the latest 4 & 5k and high-speed camera technology to thermal imaging and moving slo-motion to reveal new insights into animal behaviour, from a shark that glows in the dark to a hummingbird as fast as a space shuttle; programmes that take us right around the world and offer fresh insights into life across the planet, from Ireland – The Wild Edge Of The World to the Savute Marsh for Africa's Fishing Leopards and to Death Valley in The Wild West; and epic new BBC One landmark Dynasty due for 2018 which demonstrates the BBC's ongoing commitment to natural history and our strong pipeline of content into the future.
Following the launch of BBC Earth on bbc.com, the international version of bbc.co.uk last month, today sees the UK edition, bbc.co.uk/earth go live.
Together with news and features that share thought-provoking new discoveries and in-depth looks at intriguing natural phenomena, BBC Earth in the UK will also focus on British wildlife, with a calendar of natural events, citizen science guides and activities that anyone can participate in. Visitors to the site will be able to explore stunning photo galleries and world-class videos that offer a new perspective on the world around us, including behind-the-scenes stories and photos taken by natural history film crews on location. So whether it's stories such as "The monkey that became a midwife" which includes never-seen-before footage and an explanation into why the monkey may have taken on this role, or photos of a tornado of budgies in Australia, BBC Earth has something for everyone.
BBC Earth's new digital platform puts audiences at its heart, allowing them to share their favourite features, images and content from the site and engage in conversation with others through the BBC Earth social media offering which include Facebook and Twitter. To mark the launch of the UK edition and celebrate this truly global digital platform, users can also explore a specially curated interactive feature – Your Life on Earth – which invites individuals to discover how life on Earth has changed since their birth. By simply inputting their date of birth, height and gender, the interactive feature will reveal how they and the natural world around them has changed in their lifetime with more than 50 modules of content including how many times their heart has beaten since birth in comparison to a hummingbird or killer whale, how many species have been discovered and how old they would be if they lived on a specific planet. The bespoke 'Your Life on Earth' feature will be fully sharable on social media including Facebook, Twitter and Google+ either in its entirety or with the option to share each individual graphic.
BBC Earth follows a tradition of encouraging people to capture and share their own experiences of the natural world, through shows such as Springwatch. Photos and video captured by the British public will be hosted on the BBC Earth website. The hope is to continue to ignite a passion for the wondrous world around us, and let BBC audiences play a role in creating new digital natural history 'unmissable moments.'
From Sir David Attenborough
Waking Giants (NHU) 1x60' BBC One, Executive Producer - Vanessa Berlowitz
Presented by Sir David Attenborough, Waking Giants tells the remarkable story of one of the 'dinosaur finds of the century' - 200 bones from seven giant creatures that have recently been unearthed after 100 million years of lying undiscovered beneath the South American desert - one thigh bone alone measures 2.4 metres - an absolute record.
Sir David and the team think they could have stumbled upon the largest dinosaur and indeed the largest animal that has ever walked on Earth. To prove this, they must race to unearth the rest of the bones and erect a skeleton - no mean feat given they estimate it to be 40m long. Meanwhile, Sir David links together clues from the bones with evidence from living giants like elephants and giraffes to reveal new ideas as to how and why these dinosaurs grew to be the size of whales!
In this extraordinary pre-historic detective story, Sir David investigates a once-in-a-lifetime discovery that experts believe will rewrite text books and could change the way we look at dinosaurs forever.
Attenborough's Paradise Birds (NHU) 1x60' BBC Two, Executive Producer - Mike Gunton, Producer - Miles Barton
Birds of Paradise are one of David Attenborough's a life-long passions. He was the first to film many of their beautiful and often bizarre displays and has spent a life time tracking them all over the jungles of New Guinea/Indonesia. He says: "For me Birds of Paradise are the most romantic and glamorous birds in the world. And this is a film I have wanted to make for 40 years."
In this very personal film he uncovers the remarkable story of how these "birds from paradise" have captivated explorers, naturalists, artists, filmmakers and even royalty. He explores the myths surrounding their discovery 500 years ago, the latest extraordinary behaviour captured on camera and reveals the scientific truth behind their beauty; the evolution of their spectacular appearance has in fact been driven by sex.
And in a final contemporary twist to this story of obsession and royalty, he travels to the desert of Qatar, to a state of the art facility which houses the largest breeding group of these birds in the world; a Sheikh's very own private collection. There he has his closest ever encounter with a Greater Bird of Paradise and its dramatic display, one he first witnessed in the forests of New Guinea more than 50 years ago.
Natural World: Attenborough's Big Birds (Mike Birkhead Associates/Thirteen/WNET) 1x60' BBC Two, Executive Producer - Mike Birkhead, Series Editor - Roger Webb
Meet the world's oddest birds; a big family of big characters that haven't flown a day in their lives. At the centre of the film will be a family of the largest and fastest birds in the world - a young couple of breeding ostriches who are struggling to survive the blistering heat and ferocious predators of the Kalahari Desert in Africa. We will capture their first courtship and follow them as they start a family. We will be there as the chicks take their first steps and learn to eat whole stones, even diamonds, to aid their digestion. And we will discover why even though they can run at great speed, they are easy prey for clever lions.
Interwoven with this tale of Ostrich home life, will be the stories of their eccentric extended family: Australia's Nomadic Emus with two sets of eyelids and tiny hidden stabilising wings; the charismatic and aggressive Cassowary of New Guinea who lays bright green eggs in the rainforest; the family orientated Rhea who leaves all the childcare to dad in South America; and the secretive New Zealand Kiwi with cat-like whiskers who sleeps in burrows to avoid predators.
But it's not just the current generation of this family in the picture: the long-lost relatives of these flightless birds were impressive and terrifying. The stuff of legends and folklore, the huge extinct elephant bird of Madagascar stood at more than three metres tall and weighed half a tonne. Tracing the family tree back through the ages, we will try and answer the great Big Bird Riddle: Why can't these birds fly?
Innovation
Shark (NHU/Discovery co-production) 2x60' + 1x60' BBC One, Executive Producer - Mike Gunton
For the last two years a team from the BBC's Natural History Unit has been travelling all over the world making using the latest 4K and high-speed camera technology to film behaviour never seen before. The teams have been filming from the tiny islands of the South Pacific to the snowy wastes of Baffin Island in the north of Canada.
It is a series full of surprises. They have filmed shark courtship, sharks giving birth, the perils of growing up and even how sharks clean their teeth. They have filmed Greenland sharks that live deep under the arctic ice, Swell Sharks that can glow in the dark and even the tiny Epaulette shark that can walk on land.
The first two programmes are 'blue chip' wildlife films with world-class underwater teams.
The third film highlights the work of the world's leading shark scientists as they race to unlock the secrets of these wonderful but increasingly endangered animals.
Pets Wild At Heart (John Downer Productions/PBS/WNET co-production) - 2x60' BBC One, Executive Producer - John Downer
Pets have lived alongside us for hundreds if not thousands of years but, beneath the skin, they are still wild animals at heart. The multi-award-winning team behind Earthflight and the 'Spy' series applies its innovative techniques to uncover this hidden behaviour.
From rabbits, hamsters, guinea pigs and budgies to the more familiar cats and dogs, this is pets as you have never seen them before. Using night vision cameras, thermal imaging, Schlerien photography and moving X-rays which reveal their internal structure as they perform fantastic feats of nature, we will discover what makes this select group of animals unique and why they became human companions. Roving stabilised cameras will follow the mini-cam carrying pets, gaining a true animal perspective as they interact with each other and humans.
Invisible Nature: Flight revealed (NHU) 3x60' BBC One, Executive Producer - Vanessa Berlowitz
Flight is the ultimate superpower – an extraordinary ability most of us can only dream of – until now…
This three-part series uses cutting edge technology to reveal the secrets of flight - one of nature's greatest innovations. Cameras developed to film the London Olympics and Hollywood stunts take viewers up into the air with everything from giant flying squirrels to jet propelled squid, red kangaroos to Goliath beetles, Dragon lizards to parachuting frogs, to reveal the adaptations that have enabled an amazing range of animal aeronauts to master the skies.
For the first time, super hi-speed cameras reveal how one male humming bird exceeds the G-force of the space shuttle when it re-enters the atmosphere, just to impress the ladies. An underwater timeslice rig captures the extraordinary moment when a flying fish transforms its fins into wings and flycam enables us to fly at breakneck speed alongside a sparrowhawk as it hunts down its prey in the obstacle course of Britain's back gardens.
Join us as we enter the skyworld and experience the lives of jumping, gliding and flying creatures like never before.
Filming around the world
Ireland - The Wild Edge Of The World
(Crossing the Line Productions/TG4/ORF/PBS/NDR/France TV/Media & Section 481 Irish Govt Tax Incentives co-production) 2X60' BBC Two & BBC Northern Ireland, Executive Producers – Craig Hunter & Justin Binding with John Murray for Crossing the Line Films
In this two-part special, Emmy-award-winning natural history cameraman and presenter Colin Stafford Johnson journeys along one of the most spectacular coastlines in the world, featuring the wildlife and wild places that make it so unique
Using some of the latest filming techniques, including Starlight, high-speed and Cineflex, Colin will look at a wide array of scenery and animal behaviour from the green island as never seen before.
We will uncover why, in the 6th century, early Christian monks built a monastery at Skellig Michael in south-west Ireland; visit the world's most spectacular gannet colony at Little Skellig; humpback whales off the Blasket Islands; red deer rutting in the Mountains of Kerry; and the mysterious annual appearance of Basking Sharks off the Causeway Coast.
Natural World: Africa's Fishing Leopards (Icon Films in association with NHFU Botswana/National Geographic Wild co-production) 1x60' BBC Two Executive Producer - Harry Marshall, Series Editor -Roger Webb
Filmed over the course of two years by cameraman Brad Bestelink, this blue-chip biography offers the most in-depth portrait of a leopard family to date. All the key trials, tribulations, threats, and milestones in the cubs' early lives are well documented, including the unique (and rarely filmed) ability of these leopards to fish.
The fishing is a truly remarkable adaptation, a classic example of effective opportunism. When the Savute Marsh began to dry, the increasingly stranded and floundering fish offered the leopards an accessible and obvious food source. The returning rains would appear to have removed this piscine banquet, as the fish would (presumably) no longer be there for the leopard cubs to simply scoop up. However, these leopards have developed a taste and a genuine talent for catching fish… and in the now full and flowing watery channels this leopard family continues to find success. No longer mere opportunist scavengers these leopards have become fully fledged and expert hunters.
This particularly unique portrait of a family of leopards focusses on the determination and perseverance of the mother and the successful coming-of-age story of her cubs. It tells the story of one unique family who have turned the problematic and temperamental surroundings of the Savute Marsh into profit and advantage.
The Wild West (NHU) 3x60' BBC Two Executive Producer - Mike Gunton
There is nowhere in America more varied, more extreme and more spectacular than the Wild West. America's most iconic landscapes - Death Valley, The Grand Canyon, the giant redwood forests and extreme coastlines - have been forged over millennia.
New camera techniques - 360-degree, motion-controlled time lapse photography, alongside multi-level aerial shots - will bring the barren landscape of the Canyon Lands alive.
The Sierra Nevada is surrounded by great forests of giant redwood trees, and crowned by Mount Whitney. The oldest living organisms on Earth, bristlecone pines, thrive on the mountain slopes. Aerial cameras will soar around the towering trunk of General Sherman - Earth's tallest living organism; a 275 feet tall redwood weighing 2.7m tonnes.
Built by intense volcanism as the Earth tore apart along the San Andreas fault, the 800-mile long Baja Peninsua is one of the longest of its kind. We will reveal how this land of contrasts has created a unique and spectacular mix of life, from elephants seals, brown pelicans and sea otters to a giant cactus forest which provides home for unusual birds such as gila woodpeckers and elf owls.
This landmark series reveals how these extraordinary worlds were carved out, what makes them so unique, and the elemental forces governing the lives of the creatures that survive there.
Filming into the future - delivering 2017/18
Dynasty (NHU/BBC America co-production) 5x60', BBC One, Executive Producer - Mike Gunton
Every animal has one aim in life - to produce the next generation. Dynasty follows individual animals of five different kinds - lion, African hunting dog, chimpanzee, tiger, and emperor penguin - over their most critical years. They set out to build a group, a family, a troop, a pride – one that will rule and in turn provide for their offspring. More than just survival – their goal is dominance of the land.
From the team behind Life Story, this is an intense portrayal of the lives of these animals as they unfold, day-to-day, hour-by-hour, where the tiniest incident may end up having a huge impact on their future. Their chances of success depend on their own character, their choices and on luck. But these animals do not operate alone - their success or failure will also depend on how they work with, or against, their own families.
This series will show for the first time what an animal must do to create a dynasty and leave the most important legacy in nature. It will be shot at 4k and 5k in Ultra HD.
Animals Like Us - Super Spy (John Downers Productions/PBS co-production) 5x60' BBC One, Executive Producer - John Downer
The Spy Creatures, first seen in Penguins - Spy In The Huddle, turn their beady camera eyes on their most fascinating subject yet: animals that behave like us, including chimps, meerkats, elephants and wolves. These lifelike robots infiltrate the natural world to film surprising human-like behaviour – all captured from the animal's point of view. As they discover chimps that keep pets, dolphins that bear gifts, meerkat babysitters, monkeys that get drunk and a wealth of other extraordinary behaviour, they reveal that the roots of our own actions lie hidden in our animal past. Drawing on the latest scientific discoveries, the Spy Creatures discover that we are not so different from other animals after all.
All BBC One programmes commissioned by Charlotte Moore, Controller BBC One and Tom McDonald, acting Head of Commissioning, Science and Natural History.
All BBC Two programmes commissioned by Kim Shillinglaw, Controller BBC Two and Tom McDonald, acting Head of Commissioning, Science and Natural History.
All programmes distributed internationally by BBC Worldwide
TD
Related BBC Links