BBC One announces new NHU series presented by David Attenborough, Life Story
Life Story is BBC One's new landmark series from the award-winning Natural History Unit. Presented by David Attenborough, it tells the remarkable and often perilous story of the journey through life.
Published: 10 September 2014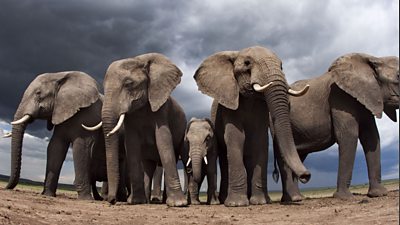 Life Story has raised the bar again in our natural history 'landmarks' - shooting in Ultra High Definition has been amazing and of course David Attenborough tells all the stories brilliantly.
Every animal on earth is in pursuit of nature's greatest prize - the continuation of its own bloodline through its offspring. The odds may be stacked against any individual succeeding, but each is born with a relentless instinct to overcome the odds. An animal must triumph again and again, over every challenge, if its life is to culminate in success.
The stories are shot to give the viewer a sense of what it is like to be an animal in nature, facing difficult choices and relentless pressure, highlighting the scale of the achievement for every individual who wins through in life.
This series, produced in partnership with The Open University, forms one story - that of continuing the bloodline – which is told across six engaging and emotionally powerful episodes. Each shows animals attempting to overcome the challenges of one stage of life through resilience, tenacity and extraordinary behaviour.
Executive producer Mike Gunton says: "I think Life Story has raised the bar again in our natural history 'landmarks'. Shooting in Ultra High Definition has been amazing - there is such a high level of intensity and insight, I think the audience will see the extraordinary ways animals survive in a wonderfully new light… and of course David Attenborough tells all the stories brilliantly."
Success at each stage means taking a step towards their ultimate target, of creating the next generation. The animals must survive the hazards of being young and defenceless, learn how to survive in the adult world, find a home, climb the social ladder to a position of power, win a mate, become a parent and usher the next generation into the world.
Like previous landmark series, Life Story will capture stories and unique behaviour from around the globe, from Australia and South East Asia to Africa and the USA, along with stunning landscapes and natural spectacles.
Many of the stories of animal behaviour have been filmed for the very first time: the humpback whale who selflessly rescues a youngster from a shark in the US; the Indonesian octopus who climbs inside a coconut shell when threatened; Senegalese chimps who fashion spears and hunt small mammals and the Australian peacock jumping spiders who perform an extraordinarily colourful 'mating dance'.
Other sequences show a Flame Bower bird in Papua New Guinea who attempts to woo a lover with a courtship display of stunning extravagance; the story of a tiger cub in India whose life is imperilled when her father is chased away; a recently-discovered, tiny puffer fish in Japan that creates the most complex and perfect structure made by any animal - a beautiful, sand 'crop circle', made to get himself noticed; and a newly hatched Barnacle goose chick who must undergo one of the greatest trials that any animal faces at the beginning of its life – a life-threatening, 400 foot leap down a sheer cliff in Greenland.
Life Story is the first landmark series to be shot in ultra-hi-definition (4K), delivering the highest quality images ever seen in a wildlife documentary.
Life Story is a BBC/Discovery Channel/France Televisions co-production distributed globally by BBC Worldwide. It is Executive Produced by Mike Gunton for the Natural History Unit and Rupert Barrington is the Series Producer. Life Story is produced in Partnership with The Open University. It will tx on BBC One this autumn.
Alongside the series the BBC Natural History Unit has created a Life Story eBook, which offers an exciting behind-the-scenes look into the filming of new landmark BBC One show.
The interactive eBook features personal and in-depth stories from the team, including beautiful images taken on location, exclusive video clips of their encounters and travels, sequence storyboards and audio guides to the animals they were filming. Each chapter is an intimate story about filming animals from the series, written by the director. From a frighteningly close encounter with a tiger to battling the high seas in the South Atlantic and trying to film kangaroos in the snow, the Life Story eBook provides a deeper insight into life on location.
Built for BBC Earth in collaboration with BBC eBooks, this publication will be available for free in the UK on iOS, Android and Kindle devices.
Notes to Editors
The Open University has produced a free and interactive Life Story wall poster to accompany the series. Animals featured on the poster will come to life on your phone or tablet. Posters will be available via the BBC website at the time of broadcast
TD
Interview with executive producer Mike Gunton
What is the idea behind Life Story?
The premise is that the greatest story in nature is the journey that all animals take - from the moment they are born to the moment they try to reach their ultimate biological goal, which is to produce the next generation. There are as many ways of making that journey as there are types of animal on the planet. Life Story looks at the various ways in which animals try to make that journey through life. It's divided up by life stages, where each stage is a critical point in that animal's life. So you have the challenge when you're born, when you're growing up, when you're trying to find somewhere to live and somewhere to be safe; then the next challenge is about trying to establish your place in society, the power games you have to play to become a successful and hopefully powerful member of your environment; then there are the shifts and challenges to find a mate; and then the final challenge is to successfully have offspring and then make sure that they survive. That takes them back to stage one and the circle is complete.
What's new about this series?
This is the first time we have told such a complete story. There's a lovely nest of stories within the series - each individual story could stand alone - then within each programme there is the bigger story of getting through that life stage, and then the whole series is the whole life story and that forms an arc. I think that's uniquely satisfying for a wildlife series because sometimes a greater story is harder to extract, and I think we've done that here.
We have also tried to make the camera less static than is traditional. Often the camera is observing stuff happening: we've tried to get the camera with the animal so when they're moving we're moving with them. We have taken the giro stabiliser cameras to another level, I hope, sometimes using it handheld, sometimes on helicopters and sometimes on vehicles. One example is this cheetah hunt, where some young cheetahs have to bring down an impala for the first time. Rather than shoot it from 100m away with a telephoto we had a cameraman who knew these cheetahs, who'd acclimatised them to his presence. They tolerated him being close. So when it came to this hunt he could use a handheld camera, right in the action. It's like the difference between filming a boxing match from a camera at the back of the auditorium to filming a fight actually in the ring. That has never been done before in a wildlife documentary series.
What technical advances have you incorporated?
This is the first series that we've made in ultra-high definition or 4K. That does a number of things: the quality of the images is much, much higher because you have four times as much information. Although we're not transmitting in 4K, when you see a 4K-acquired image on an HD television it still looks significantly better: it's much more detailed. And that detail is not just for fun - it actually brings you closer to and more in to the animal's world, because a lot of this is about seeing the lives of these animals on their faces and in their eyes. This new level of detail really delivers that.
Give an idea of the amount of work that goes in to making a series like this...
It will have been almost four years of effort by the time we've finished. Typically there will be about 2000 days in the field for something like this and getting on for 100 or so separate expeditions to locations. We are a team of about 18, but that's just our production unit. It doesn't include the dozens of cinematographers who've been involved and then there are all the field assistants and all the scientists who help us with the original stories. I would estimate 1000 people have been involved in this series either directly or indirectly.
How do you discover these new things that haven't been filmed before?
Sometimes it's sheer serendipity. Occasionally we're in the field, something extraordinary happens and we're there to capture it. But actually we're very focussed. We go for very specific stories. Typically what will happen is you might find something in the scientific literature that gives us a lead to where people are working. Then we get on the phone and ask, "What have you found out that's exciting you?" We then use that as our leaping off point, working with them to go and film. Sometimes it's stuff that hasn't even been recorded by the scientific community. It's people in the field, stills photographer, nature guides, people who see things that only they know and then they will give us that information and we'll go and work with them. And then we ourselves are naturalists and we're always storing things in our heads we've seen to try and use them in future programmes.
What does having David Attenborough on a natural history project mean to you?
First of all, having David involved means that this is a definitive piece. David's involvement brings with it a sense of significance – he's almost a kitemark of authority and importance. He only does the big stuff. Secondly, he absolutely loves extraordinary animal behaviour. When I asked him if he wanted to be involved in this he said, "I'd be furious if anybody else does it." He gets so excited about new pieces of behaviour that people haven't seen before. That is a spur to us. There's nothing like delivering something and getting his approval. The first thing I ever did for the BBC was work with him on Trials Of Life and in some ways Life Story is a modern iteration of that story. It's really nice to be able to come back and do that again with him, but to take it on to a new level.
Related Media Centre Links
Related BBC Links
Tagged: