BBC releases major update for BBC iPlayer apps
The BBC today released major updates for its iOS and Android BBC iPlayer apps for mobiles and tablets.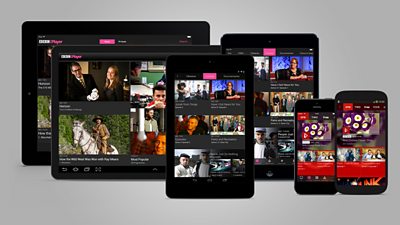 This update brings the best ever BBC iPlayer experience to our hugely successfully mobile and tablet apps, making it easier to discover the breadth of what the BBC offers wherever you are.
The release means new BBC iPlayer now offers the best-ever playback experience, and makes browsing and discovering BBC programmes even better across four screens - mobile, tablet, computer and connected TV.
The app, available from the Apple App Store and Google Play, and as an update to the 26 million apps already downloaded, follows the launch of new BBC iPlayer on connected TVs and responsive web in March, a new BBC iPlayer interface on Sky last week and new Amazon Kindle and Windows Phone 8 versions in the last few days.
New features in the iOS and Android app upgrade include: 
A new Home screen with a selection of curated programmes and the most popular programmes available on BBC iPlayer at the moment
New Category pages, with a selection of curated programmes to browse and a simple A-Z list that makes finding programmes even easier
New Channel pages in channel branding that showcase programmes specific to each channel - with Watch Live prominently displayed for easy access
Subtitles for downloaded programmes, enabling BBC programmes to be enjoyed with subtitles on the go
An optimised design which switches seamlessly between landscape and portrait orientations.
The Home, Category and Channel pages all include Collections - a new feature that allows programmes to be grouped together based on a series or theme. This feature could showcase a collection of new and archive programmes on Hip Hop or the entire new series of Sarah & Duck, for example.
Dan Taylor, Head of BBC iPlayer, says: "This update brings the best-ever BBC iPlayer experience to our hugely successful mobile and tablet apps, making the huge breadth of what the BBC offers - from Happy Valley to Match Of The Day, from The Trip to In The Night Garden - easier to find and putting the discovery of new favourites that you didn't know about at the heart of the iPlayer experience. The BBC iPlayer mobile and tablet apps let you to take this experience with you wherever you go, with downloads enabling offline viewing - now with the added benefit of subtitles."
BBC iPlayer favourites including Favourites, Downloads and Search remain unchanged for now, but the apps will be updated at regular intervals with new features like Live Rewind and continuous play being added in time. New functionality will also be added to make BBC iPlayer a more personal experience, with cross-platform playback and tailored recommendations planned.
A new BBC iPlayer launch video entitled BBC iPlayer - The Story So Far is available below (embed available):
Alongside technological innovation, BBC iPlayer continues to lead the way with new forms of content and breaking new talent.
Available from Sunday 1 June, Original Comedy Shorts feature some of the biggest names in British comedy. Commissioned exclusively for BBC iPlayer, each comedian was given the opportunity to make a show with no restrictions. Frankie Boyle and Bob Mortimer host their own cookery show, Micky Flanagan has issues with a fox, Matt Berry narrates a wildlife documentary in a way that only Matt Berry can, Reece Shearsmith and Sally Philips star in a 1930s Austrian comedy, Meera Syal offers a cutting insight of Bollywood life and Morgana Robinson rips through trailers for new shows on Channel M, including Benefits Cul-de-Sac and The Undateables (with Miley Cyrus).
The Original Comedy Shorts follow the Original Drama Shorts that featured new talent and writers, the global premiere of Chris Lilley's Jonah that was stacked on BBC iPlayer, Goldie's exclusive tour of Matisse's Cut Outs exhibition at The Tate, a series of extended interviews with First World War veterans and the hugely successful Doctor Who and Sherlock minisodes, The Night Of The Doctor and Many Happy Returns.
Also available now, stacked on BBC iPlayer before it airs on BBC Three, is People Just Do Nothing - a comedy from The Office producer Ash Atalla about pirate radio station Kurupt FM. The Daily Telegraph described the new series as "impressive". Discovered on YouTube, the first series premiered on BBC iPlayer before moving to BBC Three and is now back on BBC iPlayer: bbc.co.uk/iplayer/episode/p01xw0zf/people-just-do-nothing-1-secret-location
And coming soon, exclusive to BBC iPlayer, acclaimed journalist and storyteller Adam Curtis will bring a radical vision of contemporary Britain, exploring the themes of hypocrisy, deception and corruption with his exclusive iPlayer trilogy: Out There, At The Mountains Of Madness.
The Head of TV Content for BBC iPlayer, Victoria Jaye, has written a blog post, Celebrating British Creativity, which has more on these shows, and a showreel: bbc.co.uk/blogs/aboutthebbc/posts/New-iPlayer-Celebrating-the-Best-of-British-Creativity
Dan Taylor's blog post, Introducing new BBC iPlayer, has more on the new iPlayer: bbc.co.uk/blogs/internet/posts/Introducing-the-new-BBC-iPlayer
To read about the processes involved in developing the mobile apps, Senior Product Manager, Chris Tangye's blog post explains the methodology behind the apps.
To find out more about the design principles behind new BBC iPlayer, read this from Creative Director Kutlu Canlioglu: bbc.co.uk/blogs/internet/posts/New-BBC-iPlayer-redesign-insights
To know more about the Sky BBC iPlayer update, read this from Marcus Parnwell: bbc.co.uk/blogs/internet/posts/Update-to-BBC-iPlayer-on-Sky-HD
And to read more about the Windows 8 phone update, read this blog post from Navin Nair: bbc.co.uk/blogs/internet/posts/New-BBC-iPlayer-comes-to-Windows-Phones-8
Notes to Editors
BBC iPlayer launched on Christmas day 2007 on one device, the PC. It is now available on over 1,200 devices. BBC iPlayer is the number one brand in the UK, having topped YouGov's BrandIndex for the second year running - above the likes of Samsung, Apple, John Lewis, Dyson and Sainsbury's.
In March 2014, there were a record 320 million programme requests on BBC iPlayer. In 2013, there were over 3 billion requests in total.
The catch-up window, which is currently limited to seven days on BBC iPlayer, will be extended to 30 days from the summer, following approval by the BBC Trust - significantly extending the number of hours of programing on iPlayer.
In December 2013, BBC iPlayer TV and radio requests from mobile and tablets passed computers for the first time. TV requests from tablets overtook computers for the first time in April 2014, with 30 per cent of total iPlayer TV requests from tablets and 28 per cent from computers.
For a deeper breakdown, read the March BBC iPlayer Performance Pack (PDF): bbc.co.uk/mediacentre/iplayer/iplayer-performance-mar14.pdf
For a full list of ways to access BBC iPlayer visit the FAQs page: bbc.co.uk/tv/ways_to_get_iplayer and follow @bbciplayer
Download the new BBC iPlayer from these locations:
Apple App Store / iOS
https://itunes.apple.com/gb/app/bbc-iplayer/id416580485?mt=8
Amazon Kindle
http://www.amazon.co.uk/gp/aw/d/B009SPY7PW?pc_redir=1400804544&robot_redir=1
Google Play / Android
https://play.google.com/store/apps/details?id=bbc.iplayer.android
Windows Phone 8
http://www.windowsphone.com/en-gb/store/app/bbc-iplayer/4ca944d4-2c9d-47a0-a153-731b67b69b80
CD5
Related BBC Blogs
Related Media Centre Links
Related BBC Links