BBC unveils new computing and coding content for children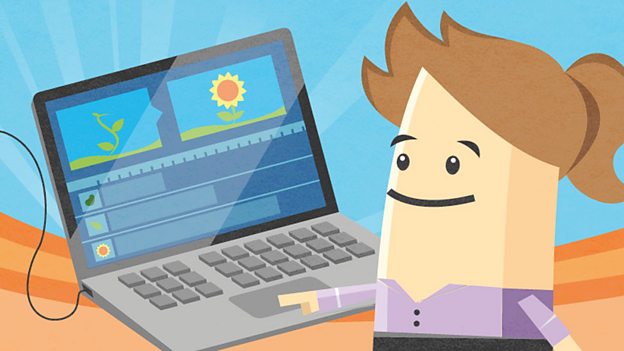 Our new education resources are designed to give a hands on approach through a range of great animation, video and interactive games that we hope will really engage and entertain whilst also enabling our audiences to develop key digital skills.

Sinead Rocks, Acting Head, BBC Learning
Date: 01.09.2014
Last updated: 01.09.2014 at 10.37
BBC Children's and BBC Learning today announce a range of content across Bitesize, CBBC and CBeebies that will encourage children across the UK to get involved with computing and coding, with new education resources, lively television series, games and competitions.
These early examples form part of the BBC's coding and digital creativity initiative for 2015, which aims to inspire a new generation to get creative with coding, programming and digital technology. More detail on this initiative will be announced soon.
To support primary and secondary schools across the UK, and to coincide with the new computing curriculum in England, BBC Learning has introduced a new range of media-rich computer science content through Bitesize. These include curriculum-mapped guides using animation, graphics, video and interactive games
In Appsolute Genius on CBBC, Dick and Dom learn about the geniuses whose ideas, creations and discoveries have shaped the world of coding, computer programming and gaming. As part of this brand-new interactive series, Dick and Dom will also be challenging CBBC viewers to design and help build their very own game – giving a budding young designer the once in a lifetime opportunity for their idea to be released as an app that people across the UK can download and play. Competition details will be announced on CBBC and on the CBBC website later this month.
Also launching on CBBC this autumn is Technobabble, a fun new series delving into the exciting world of technology and taking children on a journey to discover how digital innovations may affect their lives in the future. Presenters Frankie Vu and Clara Amfo will be highlighting the latest apps, games and brilliant examples of digital creativity from around the world, from 3D printers to movie special effects and immersing themselves in the world of virtual reality.
For younger viewers super scientist Nina returns to CBeebies with a brand-new series, Nina And The Neurons: Go Digital, which sees Nina and her young experimenters travel the UK in search of wonders of computer technology. Nina and her experimenters have a go at computer code, find out how the internet works and even try some 3D printing of their own.
Sinéad Rocks Acting Head of BBC Learning, said: "We know that many children are genuinely interested in technology and we want to play our part in inspiring and empowering them to pursue their passions and to find out even more. Our new education resources are designed to give a hands on approach through a range of great animation, video and interactive games that we hope will really engage and entertain whilst also enabling our audiences to develop key digital skills. This combined with great television and online output from CBBC and CBeebies means that the BBC can inspire children to get creative digitally both within the formal setting of the classroom and at home through television, games and competitions."
Joe Godwin, Director of BBC Children's, said: "It's really important that BBC Children's is at the forefront of digital creativity, because for millions of children CBeebies and CBBC are their first port of call for facts, information and inspiration. And with Dick and Dom and Nina and her Neurons leading the charge, we are sure it will be huge with our audiences."
Full information
Bitesize
BBC Bitesize is changing and now features media-rich curriculum content at both primary and secondary level. This includes study guides and quizzes, as well as thousands of curriculum-mapped clips for use in the classroom. The new Bitesize is designed to work on tablets and mobile phones as well as on desktop PCs and whiteboards.
Brand-new resources supporting the new Computing curriculum at primary level include over 40 curriculum-mapped computing guides using animation, graphics, video and interaction. Sample topics range from Algorithms, Debugging and Writing programs to Animation, Computer Games and How the Internet Works.
The new KS3 Bitesize content will cover: Computational Thinking Algorithms, Programming, Data Representation, Hardware and Software, Internet Communication and Safety and Responsibility; with the new GCSE Bitesize content covering Computers in Society, Binary and Data Representation, Hardware, Software, Networks, Databases and Programming. Again, all content is aligned to the new computing curriculum programmes of study
The new resources can be found at bbc.co.uk/schoolscomputing, which will link to all the new Computing content on Bitesize as well as to other BBC classroom resources, including content to support Dick and Dom's Appsolute Genius.
CBBC
In Appsolute Genius, Dick and Dom learn about the geniuses whose ideas, creations and discoveries have shaped the world of coding, computer programming and gaming. The series will include interviews with key figures from the world of coding including the animators of Sonic the Hedgehog, Pac Man and Pong - one of the first computer games ever created - and various celebrities who share their memories of games over the years. There will also be an exclusive once-in-a-lifetime competition inviting CBBC viewers to design their very own app, which will be made and available for people across the UK to download. Appsolute Genius can be seen on CBBC in autumn 2014 and the app will be available to download in 2015. The series is made by the Salford-based CBBC Productions team and is a co-commission with BBC Learning.
Technobabble is an exciting, fun new series transporting CBBC viewers into the technological future.
Each episode will be a thrilling mix of future tech, from virtual reality to space travel, and all the latest from the worlds of apps, gaming and all things digital. Brought to CBBC viewers by a fresh mix of new presenting talent, hugely popular YouTube video bloggers and computer-generated character 'The Vlogster' (voiced by Dave Lamb), Technobabble will also encourage and empower kids to expand on their computer skills and knowledge.
CBeebies
What amazing things will we have in the future? And, how do computers know what to do? In a brand-new series for CBeebies, Nina And The Neurons: Go Digital, super scientist Nina and her young experimenters ask exciting questions about computer technology.
Over five new episodes, Nina and the Neurons explore and explain computer science for four to six year olds. From coding to 3D printing, Nina and her experimenters test technology and make amazing discoveries along the way.
Nina and her experimenters have a go at computer code, find out how the internet works and even try some 3D printing of their own. They get out and about visiting animation studios, 3D print studios and even see driverless cars.
Nina is assisted by her five neurons, Luke (sight), Felix (touch), Belle (hearing), Ollie (smell), and not forgetting baby Bud (taste). Together with our child experimenters they visit extraordinary places and conduct exciting experiments all in the name of computer science.
Throughout the series Nina, her Neurons and her experimenters will find out all about: Coding, Internet, Animation, Driverless Cars and 3D Printing.
Nina And The Neurons: Go Digital is made by the CBeebies Scotland team.
Notes to Editors
Bitesize covers a wide range of UK curriculum subjects with content findable by nation, level or subject. The new site brings together the BBC's primary and secondary content for the first time, including guides for independent student study. It also features classroom resources including a collection of around 10,000 curriculum-mapped video clips to enrich lessons and help bring the best of the BBC to the classroom.
JP2
Search the site
Can't find what you need? Search here