CBeebies launches new Storytime app
The BBC has today unveiled CBeebies Storytime, its latest app for children. Available for free on iOS and Android devices, the app gives young readers the chance to learn alongside their favourite CBeebies characters.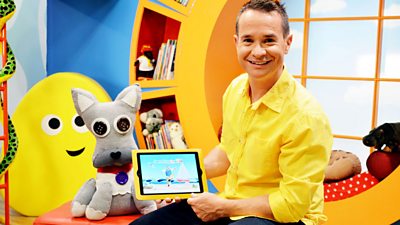 The new CBeebies Storytime app brings storytelling into the digital era in a safe and trusted environment for our youngest audience members, and we hope they'll enjoy their Storytime learning journey as much as we enjoyed making it for them.
CBeebies Storytime is about making reading fun - with enjoyable reading experiences for children, their parents and carers. It aims to engage children in reading and storytelling and is designed to help improve reading and listening skills, whilst encouraging 'family learning'.
The app has six playful and imaginative story books featuring much-loved CBeebies characters, including: Old Jack's Boat, Show Me Show Me, Something Special, Grandpa In My Pocket, Octonauts and Charlie And Lola. Each story is designed to help support early years reading, with entertaining things to touch, swipe and play within each story, as well as recall questions to help develop comprehension skills. The app has two reading options - 'Read to Me' and 'Read by Myself' – plus guided interaction points to engage the child throughout their learning development.
A dedicated Grown Ups section includes tips to support you and your child's reading development, including links to more useful information from the CBeebies Grown Ups website.
CBeebies Storytime builds on the success of the CBeebies Playtime app which launched in August 2013 – and has already been downloaded nearly 3 million times.
Kay Benbow, Controller, CBeebies, said: "CBeebies Storytime is an app for grown-ups and little ones alike. Adults can feel safe in the knowledge that their child is using an app that is free to download, free from any advertisements or in-app purchases and features a parental lock to help keep little fingers safe; while kids are free to read, explore and enjoy a fun learning experience with their favourite CBeebies characters."
Patrick Healy, Head of Product for BBC Children's, said: "The CBeebies Playtime app – with almost 3m downloads so far - shows there is real appetite amongst children and parents alike to engage with their favourite CBeebies brands in the palm of their hands. Our focus is providing educational and entertaining content for our audiences, and learning through play is essential to encourage children in their development.
"Building on the success of the CBeebies Playtime app, we've taken our audience's feedback, wants and needs on board to create an engaging reading experience. The new CBeebies Storytime app brings storytelling into the digital era in a safe and trusted environment for our youngest audience members, and we hope they'll enjoy their Storytime learning journey as much as we enjoyed making it for them."
To download the app, go here:
iOS - https://itunes.apple.com/gb/app/bbc-cbeebies-storytime/id891730883?ls=1&mt=8
Android - https://play.google.com/store/apps/details?id=air.uk.co.bbc.cbeebiesstorytime
MA
Related BBC Links
Related Web Links