CBeebies Christmas Show flies into Salford with new adaptation of Peter Pan
Families will have the chance to see their favourite CBeebies stars on stage in a brand-new musical adaptation of the children's classic, Peter Pan.
Published: 10 September 2014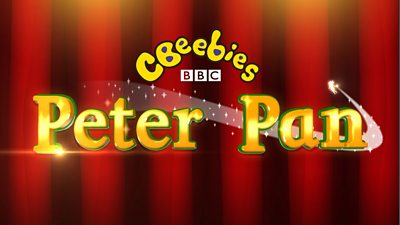 Peter Pan is a classic and enduring children's story and we're delighted to bring this special adaptation to The Lowry with so many of our CBeebies favourite stars.
Many of the channel's favourite faces will be appearing including: Justin Fletcher (Gigglebiz / Justin's House / Something Special); Ben Faulks (Mr Bloom); Katrina Bryan (Nina And The Neurons); Chris Jarvis (Show Me Show Me); Pui Fan Lee (Show Me Show Me); Katy Ashworth (I Can Cook); Andy Day (Andy's Dinosaur Adventures); and Cat Sandion along with a host of other much-loved CBeebies presenters.
The classic novel by JM Barrie has been specially adapted for the CBeebies audience but will keep many of the core ingredients that make it a favourite for both children and adults alike with high adventure, aerial acrobatics, laugh-out-loud moments and catchy songs throughout.
There are two performances of the show, both which will be filmed on Saturday 11 October, for a programme that will be the centrepiece of this year's CBeebies Christmas schedule.
Free tickets for CBeebies Peter Pan are released at midday today (10 September 2014) through bbc.co.uk/showsandtours and will be allocated via a ballot which is open for one week. The ballot will close at midday on 17 September. Performances will take place at 1pm and again at 4.30pm on Saturday, 11 October 2014, at The Lowry, Salford Quays.
Over that same weekend there will also be a host of different activities and a range of entertainment taking place outside The Lowry, all created by BBC Learning, to excite and inspire young audiences. No tickets are required for the events and the activities will run on Friday and Saturday (10/11 October) from 10am-6pm. As CBeebies Peter Pan is performed on stage there will be live streaming on a big screen for those unable to get tickets. More details of the weekend activities will be released over the coming weeks.
CBeebies Controller, Kay Benbow, says: "Peter Pan is a classic and enduring children's story and we're delighted to bring this special adaptation to The Lowry with so many of our CBeebies favourite stars."
CBeebies Peter Pan is produced by Jon Hancock and the executive producer is Tony Reed. Executive producer for BBC Learning is Moray London.
Notes to Editors
The full cast of CBeebies presenters are: Katy Ashworth, Katrina Bryan, Cerrie Burnell, Andy Day, Richard David-Caine, Joseph Elliott, Justin Fletcher, Phil Gallagher, Gemma Hunt, Chris Jarvis, Rebecca Keatley, Ella Kenion, Steven Kynman, Pui Fan Lee, Cat Sandion, Sid Sloane and Alex Winters.
Tickets are available from www.bbc.co.uk/showsandtours and will be allocated via a ballot which is open from Wednesday 10 September to Wednesday 17 September. Tickets will be issued after the closing date and successful applicants will receive an email. There is a maximum of 6 tickets per application and e-tickets for successful applicants will be sent out by the end of September.
Tickets are for families or groups only – attendance is not permitted for adults without children. All children must be accompanied by a responsible adult and the show is recommended for children aged 4 upwards.
There will be CBeebies activities happening in the spaces around The Lowry on 10/11 October, including a large screen showing the performances. These activities will be free and will not be ticketed. Full terms and conditions are available on the BBC Shows and Tours website.
CBeebies is dedicated to delighting and surprising its pre-school audience and it remains the UK's most-watched and most-loved channel for the under-sixes. Just under half of the target audience tune in every week (parents and carers with children aged 0-3 and four- to six-year-olds in digital homes) and our reach is over double that of our nearest competitor.
Our most popular shows include In the Night Garden, Something Special, Octonauts, Justin's House, Mr Bloom's Nursery and Tree Fu Tom together with new shows Swashbuckle and Old Jack's Boat.
Building on our programmes by creating entertaining, educational and interactive digital content such as apps and games is something we're very passionate about. The CBeebies website is hugely popular with our young audience and their parents and helps extend the 'learning through play' philosophy with an average of 1.2 million unique browsers. Last summer, we launched our first app – CBeebies Playtime - which has seen almost 3m downloads. Following the success of Playtime, we recently launched our CBeebies Storytime app, which is all about making reading fun, and it is designed to help improve reading and listening skills whilst encouraging 'family learning'.
CBeebies is Bafta's Children's Channel of the Year.
BBC Learning plays a central part in meeting the BBC's purpose of promoting education and learning. Utilising the power of the BBC's big brands and key talent, the department puts learning right at the heart of the BBC and provides a variety of resources and learning opportunities for children, teachers, parents and adult learners. Working with partners and in local communities, BBC Learning aims to stimulate interests and encourage engagement through a variety of campaigns across all BBC genres and platforms.
JC4
Related BBC Links
Tagged: