First glimpse of Kate Moss in The Boy In The Dress - David Walliams' book adaptation for BBC One this Christmas
Exclusive images have been released of iconic international supermodel Kate Moss as she makes an extra special, exclusive appearance on BBC One this Christmas in David Walliams' book adaptation The Boy In The Dress.
Published: 5 December 2014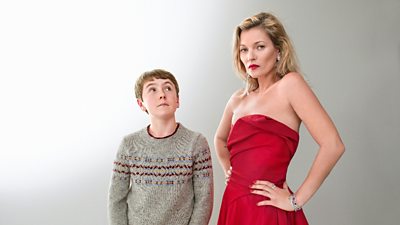 Kate Moss last appeared on BBC TV screens in 2013 in a sketch with David Walliams for Comic Relief. She plays herself in a fantasy scene in The Boy In The Dress, which stars 13 year-old Billy Kennedy in the title role of Dennis. The pair feature in a glossy haute couture fashion shoot, which sees Kate wear a spectacular red floor length gown on loan from Vivienne Westwood, with diamonds and shoes on loan from David Morris and Manolo Blahnik.
David Walliams says: "The Boy in the Dress has an all star cast, but Kate Moss really is the icing on the cake."
Watch the trailer here
The Boy In The Dress airs on Boxing Day at 6.55pm on BBC One.
Notes to Editors
Following on from the success of Christmas TV offerings Gangsta Granny and the BAFTA nominated Mr Stink, BBC One brings viewers a one hour special of David Walliams' first children's book The Boy In The Dress.
The Boy in the Dress is the story of Dennis, a 12 year old boy who lives in an ordinary house, in an ordinary street, in an ordinary town, but he feels different. His mum has gone off with a roofer and he lives with his dad and brother - everything is boring and grey. Dennis feels like he wants to escape to some sort of magical world, and discovers it in the most unexpected place - Raj's newsagent.
A chance view of Kate Moss on the cover of a fashion magazine introduces Dennis to a whole new world of colour and creativity. Thankfully he has an ally in Lisa (Temi Orelaja), the coolest girl in school who decides to teach him everything she knows about the world of fashion and clothes. Dennis is enthralled, and after a little persuasion from Lisa tries on a dress she has created, soon they decide to try and pass Dennis off as "Denise", Lisa's French pen pal. But can a boy wear a dress, and what will the Headmaster Mr Hawthorn, his Dad, best friend Darvesh (Aaron Chawla) and his school football team-mates think if they find out?
The stellar ensemble cast includes a debut from Billy Kennedy in the role of Dennis,Jennifer Saunders (Absolutely Fabulous),Tim McInnerny (Blackadder), Meera Syal(Goodness Gracious Me, The Kumars),Steve Speirs (Extras, Big School), James Buckley (The Inbetweeners), Felicity Montagu (I'm Alan Partridge), David Walliams (Little Britain, Big School) himself and an extra special cameo appearance from international supermodel Kate Moss.
Pictures are available from BBC Pictures
IV
Related
Tagged: