BBC delivering yearly savings of £1.1 billion
The BBC is now saving licence fee payers £1.1billion a year thanks to a concerted savings drive, according to a major report published today into efficiency at the Corporation.
Published: 27 November 2014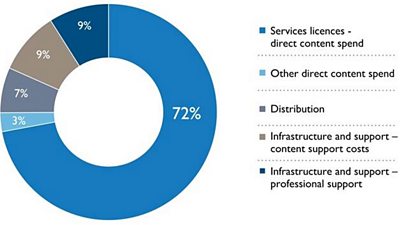 It's vital that as much of the licence fee as possible goes straight to the programmes and services audiences love, and this report shows we've made great strides in becoming more efficient.
Another £400 million a year is due to be saved by 2016/17 - taking the total to £1.5 billion a year - and the analysis shows spending is increasingly being directed onto what matters most to audiences: programmes and services.
The report, ordered earlier this year by Director General Tony Hall, concludes that the BBC's record on efficiency compares favourably with that of other organisations such as Government. Lord Hall has already set out ambitious plans to ensure even greater efficiency in the future, including increasing competition in TV production.
Today's report warns that as spending has increasingly been focused on programmes and services, it will be increasingly difficult to protect these areas from future cuts.
Anne Bulford, Managing Director, Finance & Operations, says: "It's vital that as much of the licence fee as possible goes straight to the programmes and services audiences love, and this report shows we've made great strides in becoming more efficient. We're doing far more for less.
"There's always more to do and we continue to make sure we get value for money for Licence Fee payers. The BBC remains passionate about delivering the great public service TV, radio and online content that our audiences deserve, but after a long period of delivering annual savings the challenge is to avoid having to cut content is very real."
A key objective for 2014/15 was to 'improve value for money through a more efficient and open BBC'. In February the BBC launched a review into how the licence fee is spent and the efficiency of the organisation.
Today's report reveals:
By 2016/17 the BBC will save over £1.5 billion every year thanks to savings programmes run since 2007/8. Of this, £1.1 billion a year has already been reached.
Since the licence fee freeze in 2010, the BBC has mostly used efficiency savings to meet inflationary costs and to pay around £500 million a year of obligations laid down by Government, such as funding broadband roll-out, local TV and S4C and taking over financing the World Service from the Foreign and Commonwealth Office.
The BBC will have delivered equivalent to around 36 per cent in cumulative annual net efficiencies of addressable baseline in the decade to April 2015. This compares to 27 per cent by central government.
More than 90 per cent of core controllable spend is on content, distribution and their related support costs, leaving just 9 per cent of spend on the professional support needed to run the BBC. This is a 25 per cent reduction in the proportion of the Licence Fee spent on such overheads in four years.
Although savings have so far been focused on delivering efficiencies - such as through pay restraint, fewer staff, cutting building numbers and negotiating better contract deals - already there have been some 'tough choices' for content services.
The report finds that from 2011/12 around 30 per cent of planned £800 million savings have already been made through reductions in content scope. This is expected to rise to around 50 per cent of the savings in the final years of the programmes meaning more tough choices – the most significant is the proposal to close BBC Three as a broadcast channel and move it online.
The report acknowledges there is still more to do to improve efficiency even further. Lord Hall has set out that the Corporation needs to maintain content quality whilst ensuring maximum value is delivered to licence fee payers, saying the BBC "will have a fundamental look at every pound we spend".
The BBC will embed continuous improvement by establishing a 'compete or compare' culture through market testing or benchmarking of services and changes to how the BBC commissions and produces content.
Around two-thirds of spend is already market-tested, either because it is purchased in a competitive market, such as acquisitions of film or sports rights, or because it relates to contracts subject to competitive procurement tender exercises.
Evidence of efficiency
Examples include:
Savvy procurement saved more than £70 million on goods and services this year.
Strict BBC controls have reduced talent costs by 15 per cent or £35 million.
On average in-house BBC production prices are competitive or below independent production prices.
BBC Sport saved more than £2.2 million a year moving Match of the Day, Football Focus and Final Score to Salford.
Closing BBC3 as a broadcast channel, a proposal due to be made to the BBC Trust next month, would save £50 million.
Reducing the BBC to 154 buildings from 213 and other property savings are set to save £67 million a year.
IT service contract renegotiation, combined with new ways of working will deliver almost £90 million of cumulative savings.
Pay restraint, combined with headcount reductions, has to date delivered over £150m per year of value to the BBC.
Note to Editors
1. Speech given by Tony Hall, BBC Director-General, at the Oxford Media Convention on Wednesday 26 February 2014 announcing the efficiency review here 
2. Speech given by Tony Hall, BBC Director-General, at City University in London on Thursday 10 July 2014 setting out the Compete or Compare approach here 
3. The full report Efficiency at the BBC: Delivering quality content for the licence fee payer can be found here
4. Since mid-1990 average savings of five per cent a year we delivered via efficiency– from 'Producer Choice' to 'Continuous Improvement' and 'Delivering Quality First'. This significantly improved productivity for roughly the same price in real-terms. Savings were re-invested to modernise content and services, like Online and iPlayer, helping the BBC stay relevant and accessible to its audience.
5. Key facts
The BBC now reaches 96 per cent of the UK population a week.
There is broad support that the Licence Fee as best way to fund the BBC. A nationally representative survey of UK adults found some seven in ten people are willing to pay the current level of the Licence Fee or more, while support for subscription halved over the last ten years.
A six-year licence fee settlement was agreed in 2010 which has frozen the licence fee at £145.50 until 2017. This equates to 40 pence a day
Average usage is over six hours per household per day. Or three pence an hour.
20 years ago BBC only had two national TV stations and five national radio stations. Now there are 4 times as many TV channels and twice as many national radio services plus iPlayer and a global web service.
£3,212 million of licence fee is expenditure controlled by the BBC to spend on UK public services, including TV, Radio and Online.
Over the ten years of the current Charter the BBC will have taken on a cumulative £2.5 billion of new obligations it is now required to support.
 BBC Press Office
Related Media Centre Links
Related BBC Links