BBC 6 Music Celebrates libraries
Continuing BBC 6 Music's Celebrates strand, over two weeks this November the station will turn its attention to libraries. From the Sound Archive of the British Library to exploring the influence of literature on music, broadcasting live from the incredible performance spaces of the newly refurbished Manchester Central Library and from the British Library in London, 6 Music Celebrates Libraries will open the pages and turn up the volume! There will also be additional programmes on Radio 3 and Radio Manchester.
Published: 3 November 2014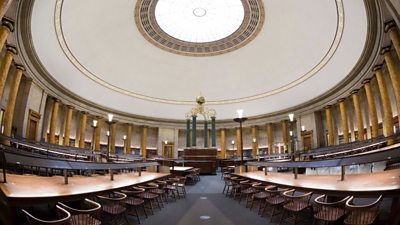 The libraries we visit are beautiful buildings... they're also important for our community today as places where people can meet, learn and share ideas.
From 8 – 21 November highlights from BBC 6 Music's Celebrates libraries include the popular duo Mark Radcliffe and Stuart Maconie, who will broadcast live from the newly refurbished Manchester Central Library on Friday 14 November. While Steve Lamacq sets up shop in the British Library to explore their incredible Sound Archive with the help of special guests. On the back of his lifelong love affair with libraries and the driving force behind this series, Guy Garvey will take listeners on a celebratory tour of Manchester's oldest libraries.
It begins with the Craig Charles Funk and Soul Show (18:00 – 21:00) on Saturday 8 November, with a little help from funky-breaks production duo Skeewiff. The show will explore the session musicians who write and play for music library labels across TV, radio and film and whilst giving listeners the lowdown on the scene, Skeewiff will also create a Library Music masterpiece of their own. Literature lovers unite on Mary Anne Hobbs (7:00 – 10:00), Sunday 9 November as the pen and the piano collide and writing and music combine. On Monday 10 November's Early Show, Chris Hawkins (05:00 – 07:00) welcomes award winning spoken-word poet, and hip-hop artist Scroobius Pip, who presents a poem about libraries written especially for the programme. And Shaun Keaveny's (07:00 – 10:00) weekday mission is to find the longest overdue book amongst the 6 Music audience and endeavour to deliver back to its host library and perhaps, using all his charm, get the fine wiped clean.
Other networks including BBC Radio 3 will also join the celebrations. On Monday 10th November, Suzy Klein presents Radio 3's drivetime show In Tune (16:30 – 18:30) from Manchester's Central Library. Guests will include Sir Mark Elder, the Music Director of the city's historic Halle Orchestra, 6 Music's own Stuart Maconie, and Salford based actress Maxine Peake, who will be reading selections from the libraries Elizabeth Gaskell collection. Plus live music from violinist Lucy Russell and harpsichordist Peter Seymour who will play two of the Vivaldi violin sonatas that were discovered in the library in the 1970s.
Radcliffe and Maconie (13:00 – 16:00) will broadcast live from the newly refurbished Manchester Central Library on Friday 14 November. Special guests include: Chaos To Order Writer-In-Residence, Emma Jane Unsworth; Elbow front man and the driving force behind the project, Guy Garvey; Joy Division guitarist and New Order singer Bernard Sumner, who will be giving an insight into his new autobiography; and Manchester Music archivist Abigail Jones.
In the midst of curating their collaborative Chaos to Order residency at Manchester Central Library, Everything Everything's Jeremy Pritchard will talk about challenging perceptions of libraries and testing the limits of what a 21st century super library can be. This will be followed by a live session with the band. Everything Everything say: "As a band we see Manchester Central Library as the brain of the city; the place where a vast collection of often contradictory interpretations reside and are presented impartially." 
Welsh actor Celyn Jones will talk to Stuart and Mark about his latest role as Dylan Thomas in the poet's biopic Set Fire To The Star, and will read a poem from Thomas' work. The film marks the centenary of the Welsh icons birth with Jones set to feature alongside Lord of the Rings star, Elijah Wood.
In addition, Radio Manchester will broadcast Phil Trow's Drivetime Show (15:00 – 18:00) as a live OB from the library.
The series continues on Sunday 16 November as Guy Garvey's Finest Hour (14:00 – 16:00) visits Manchester's libraries and Stuart Maconie's Freak Zone (20:00 – 22:00) raids the music room of Manchester Central Library. Guy visits the beautiful neo-gothic treasure trove that is John Rylands Library, the newly refurbished Manchester Central Library and the hidden gem that is the Portico Library. In each library the enthusiastic guide discovers some of Manchester's most precious artefacts and invites listeners to learn about the city's history with a great tour soundtrack. Whilst Stuart will be speaking to artists performing at the library as part of Chaos to Order, a collaborative artistic residency curated by Everything Everything. Pianist Matthew Bourne and saxophone player Christophe de Bezenac explore the audio-visual possibilities of the libraries performance space.
Guy says: "The libraries we visit are beautiful buildings, they are parts of our history, they celebrate the things that Manchester has done first and they also remind us of our gloomier hours. They're not just about old books they're also important for our community today as places where people can meet, learn and share ideas."
On Friday 21 November, Steve Lamacq (16:00 – 19:00) takes his programme to the British Library in London. The first time a radio show has ever broadcast live from the national library of the United Kingdom.
The programme will be broadcast from the Entrance Hall of the library, which houses one of the most fascinating and comprehensive Sound Archives in the world. While there, Steve will be exploring its extensive Sound Archive – home to 19th-century cylinders to CDs, Beatles' manuscripts, 2000 complete John Peel programmes, original demos by The Who - as well as a one off Capital Radio show hosted by Jonny Rotten himself, John Lydon.
Steve will be speaking to the brains behind this great British institution and taking a trip around the current exhibitions, which include modern musical artefacts such as original Beatles lyrics on the back of envelopes.
Sample supremoes, DJ Yoda and Public Service Broadcasting will create brand new tracks from the library's Sound Archive. Public Service Broadcasting will take listeners on a tour and explain how information films and archive footage inspire their music making; while DJ Yoda has the three hours of the show to produce and perform a brand new track, sampled from their extensive Sound Archive.
Over the two week series, 6 Music presenters will choose a recommended read and compile a playlist to accompany it via BBC Playlister. Mark Radcliffe has selected As I Walked Out One Midsummer Morning by Laurie Lee with supporting soundtracks from Sly and the Family Stone and Miles Davis amongst others. As part of the series, listeners will be encouraged to tweet their recommended read along with a supporting soundtrack under the banner #6MusicCelebratesLibraries
For BBC 6 Music at Manchester Central Library contact:
Sam Kershaw - sam.kershaw@bbc.co.uk / 07714 957 274
Jenny Brown - jenny.brown@bbc.co.uk / 07738 755 274
For BBC 6 Music at The British Library contact:
Andrew Francis - andrew.francis@bbc.co.uk / 07834 845 545
SK / JB
Related Media Centre Links
Related BBC Links