BBC Scottish Symphony Orchestra brings new experimental music festival to Glasgow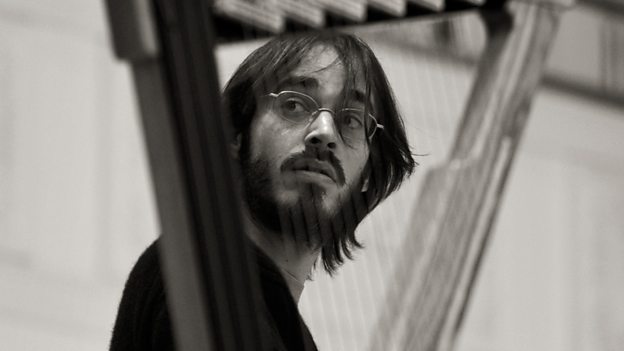 Glasgow is the perfect city for a project of this kind. The audience are open and ready for new experiences and surprises. It's important for me that Glasgow-based artists and musicians are part of the line-up."

Ilan Volkov
Date: 06.02.2013
Last updated: 18.03.2014 at 18.13
Leading figures from the worlds of experimental, rock and orchestral music will join forces at Glasgow's City Halls and Old Fruitmarket on 11 and 12 May for the UK's first Tectonics festival.
Staged by the BBC Scottish Symphony Orchestra and curated by conductor Ilan Volkov, Tectonics Glasgow aims to break down musical barriers as international and local artists collaborate and blur the boundaries between different genres of music.
American experimental composer Alvin Lucier is celebrated throughout the weekend, including a rare performance from Lucier himself, several of his most iconic performance pieces, an installation, and the World Premiere of a new work Criss-Cross. Stuart Braithwaite of Mogwai and Aidan Moffat lead a line-up of Glasgow-based musicians and composers which also includes composers David Fennessy, Martin Suckling and John de Simone, each of whom has been commissioned by the BBC to write a new work for the festival. Electric guitarist Stephen O'Malley performs the world premiere of Romanian-born Iancu Dumitrescu's guitar concerto, Elan and Permanence, and collaborates with guitarist Oren Ambarchi for the Lucier World Premiere. Performances from the festival will be recorded for future broadcast on BBC Radio 3.
Launched last year in Reykjavik by Ilan Volkov, the Glasgow incarnation of Tectonics reinforces the BBC SSO's reputation as one of the world's foremost contemporary music ensembles. Volkov's unprecedented level of commitment and support for new music during his decade-long association with the BBC SSO has seen them perform works by many leading figures, most recently the music of John Zorn and John Cage.
Volkov said: "Glasgow is the perfect city for a project of this kind. The audience are open and ready for new experiences and surprises. It's important for me that Glasgow-based artists and musicians are part of the line-up. Having worked in Glasgow for over ten years, I'm aware of the incredible range of musicians and artists in the city.
"It's also a very personal project for me as I have worked with many of the guest artists in other situations and some, like Alvin Lucier, are heroes of mine. I've also been performing contemporary repertoire with the BBC Scottish Symphony Orchestra for more than a decade, so they are the perfect partners for this radical project."
Tectonics Glasgow will utilise both main spaces in City Halls, the Grand Hall and Old Fruitmarket, as well as its other public spaces, with some of the works written or adapted specifically for the location. It has been co-curated by Alistair Campbell, who programmed the Tolbooth Theatre's ground-breaking Le Weekend Festival.
Tickets for Tectonics Glasgow are available from the City Halls box office on 0141 353 8000, or from bbc.co.uk/bbcsso from Wednesday 6 February. The Iceland Symphony Orchestra will present Tectonics at the Harpa Concert Hall Festival in Reykjavik from 18 – 20 April 2013.
SD3
Scottish musician Stuart Braithwaite, guitarist of post-rock band Mogwai
Notes to Editors
Tectonics Glasgow, City Halls and Old Fruitmarket, Glasgow, 11-12 May 2013
bbc.co.uk/orchestras/events/series/tectonics_glasgow
FESTIVAL PASSES: £20/£15 (concession)
A limited number of Festival passes allowing access to all events in the Grand Hall and Old Fruitmarket are available until Friday 3 May 2013. Passes allow entry to all events across both days
DAY PASSES: £12/£8 (concession)
Day passes allow access to all events in the Grand Hall and Old Fruitmarket on either Saturday or Sunday.
Concession prices are available to Students, Unemployed and Registered disabled only. Proof of status necessary.
Seating: All performances in the Grand Hall are unreserved seating.
Most performances in the Old Fruitmarket are standing only.
Tickets are available from the City Halls box office on 0141 353 8000, or from bbc.co.uk/bbcsso
Performances from Tectonics Glasgow will be recorded for future broadcast on BBC Radio 3's Hear and Now and Late Junction
Ilan Volkov
Principal Chief Conductor of the BBC Scottish Symphony Orchestra and curator of Tectonics Glasgow, Ilan Volkov
Born in Israel in 1976, Ilan Volkov began his conducting career at the age of 19. He was appointed Principal Conductor of the BBC Scottish Symphony Orchestra in 2003 and became its Principal Guest Conductor in 2009. He took up his current appointment as Music Director and Principal Conductor of the Iceland Symphony Orchestra at the beginning of the 2011/12 season.
Ilan Volkov's arrival in Iceland coincided with the opening of Harpa, Reykjavík's visually striking new concert hall. In March he curated and directed a three-day festival of contemporary music, 'Tectonics', celebrating the centenary year of John Cage. This series combines contemporary classical music with other new music genres, such as improvisation, electronics and rock. In 2013, 'Tectonics' will take place in both Reykjavík (April) and Glasgow (May), featuring the Iceland Symphony Orchestra and BBC SSO respectively.
A frequent guest with leading orchestras worldwide, Ilan Volkov works regularly with a wide range of ensembles, including the Israel Philharmonic, the Orchestre de Paris, the BBC Symphony Orchestra, the City of Birmingham Symphony Orchestra, Orchestre National de Lyon, the SWR Sinfonieorchester Freiburg and Ensemble Modern.
His many recordings with the BBC SSO include two CDs of Stravinsky's ballet scores, a Gramophone Award-winning disc of Britten's complete works for piano and orchestra with Steven Osborne, and a survey of Liszt's three Funeral Odes. His CD of works by Jonathan Harvey, Body Mandala, received a Gramophone Award in 2008, and the release of Harvey's Speakings won the Monaco Prize and the Prix Caecilia de l'Union de la Presse Musicale Belge in 2001.
Ilan Volkov is one of the guiding forces behind Levontin 7. This performance venue, among the most adventurous in Tel Aviv, brings together diverse genres, including classical, jazz, electronic and rock music. The enterprise reflects his determination to keep alive the creative spirit and sense of artistic adventure that shaped so many works composed during the opening decades of the last century.
BBC Scottish Symphony Orchestra
BBC Scottish Symphony Orchestra
The BBC Scottish Symphony Orchestra has been central to the country's musical life for over 75 years. It carries out a busy schedule of broadcasts and concerts for BBC Radio 3, BBC Radio Scotland and BBC television, and performs to large and enthusiastic audiences in venues throughout Scotland. Under the artistic leadership of its Chief Conductor, Donald Runnicles, and Principal Guest Conductor Ilan Volkov, it is defined by its wide and distinctive repertoire and a spirit of musical adventure that make it Scotland's leading champion of new music.
Based at City Halls since 2006, the BBC SSO has established strong links with local communities through innovative learning programmes. A past recipient of the Royal Philharmonic Society Award for best orchestra, its commercial recordings have received numerous prizes, including four Gramophone Awards. The orchestra is an important contributor to the BBC Proms, appears annually at the Edinburgh International Festival and is in demand at other major festivals throughout the world.
For further information please visit: bbc.co.uk/bbcsso
Connecting with Tectonics Glasgow
Join in the conversation and find out more about the festival with our social media sites:
Aidan Moffat
Search the site
Can't find what you need? Search here