Secret life of domestic cats revealed in Horizon on BBC Two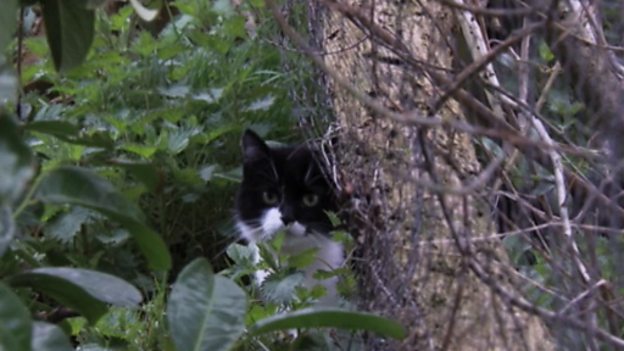 In many ways, scientists know more about the roaming behaviour of big cats in Africa than they do about our own pets which is why Horizon was so excited to work with the Royal Veterinary College on this ambitious experiment."

Helen Sage, Producer, Horizon
Date: 13.06.2013
Last updated: 18.03.2014 at 17.55
The secret life of the domestic cat is revealed at 9pm tonight on BBC Two in a remarkable experiment by BBC Horizon and the UK's leading cat scientists.
There are over 10 million pet cats in the UK, but what they really get up to when they leave the home has been something of a mystery.
So 50 cats in the Surrey village of Shamley Green were put under 24-hour surveillance using GPS collars and specially designed cat-cams providing a moggie-eyes view of the world.
"In many ways, scientists know more about the roaming behaviour of big cats in Africa than they do about our own pets which is why Horizon was so excited to work with the Royal Veterinary College on this ambitious experiment," Horizon producer Helen Sage explained.
Using miniaturised lion GPS collars scientists from the Royal Veterinary College were able to track the cats' secret journeys day and night, to find out exactly where they go and what they get up to.
As well as the satellite view, the specially adapted cat-cams, strapped beneath their chins, gave a fascinating view from the animal's perspective.
The findings revealed that some of the cats in the village had complex time-sharing systems which helped them avoid confrontation; they spent more time in each other's houses than any of the owners were aware of and for some their roaming territories were much wider. Another surprise was that during the week of the experiment the cats seemed to be hunting less than expected, preferring to spend more time in each other's houses eating other cats' food.
Cat behaviour expert Dr John Bradshaw believes that cat behaviour may be changing or evolving. The cats are no longer kept to hunt rodents and so choose to find easier pickings elsewhere.
"Cats are still evolving and probably will still evolve into the future. They are becoming much more pet-like animals and will lose some of the wild instincts because many of those things don't actually serve them very well in the 21st century," he explains.
BR
Notes to Editors
Dr John Bradshaw, Dr Sarah Ellis and Professor Alan Wilson
Programme experts include:
Dr John Bradshaw – probably the UK's leading expert in the behaviour and welfare of domestic cats; he is Visiting Fellow in Companion Animal Behaviour at the University of Bristol.
Dr Sarah Ellis – a leading expert in feline behaviour and welfare, Currently a Research Fellow in the School of Life Sciences at the University of Lincoln.
Professor Alan Wilson – head of the Structure & Motion Lab at the Royal Veterinary College and expert in mechanics of animal locomotion. Alan specialises in developing and apply highly innovative GPS and inertial measurement equipment to track and measure the performance of athletic animals ranging from racehorses to wild cheetahs and lions in Africa and understanding the links between anatomy and athletic performance.
Horizon spin-off, Little Cat Diaries, goes out on Friday 14 June at 10pm on BBC Two.
Horizon Cats interactive website for mobiles, tablets and desktops goes live today.
The editor of Horizon is Aidan Laverty.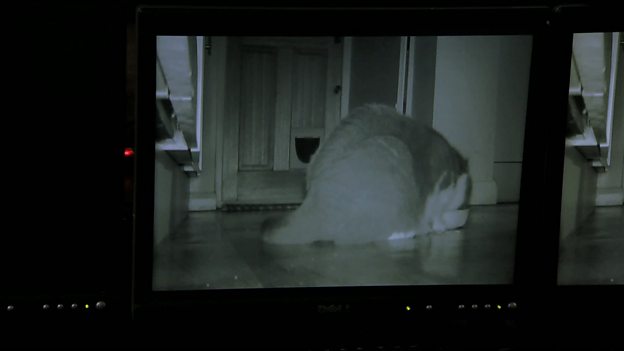 Claude's midnight secret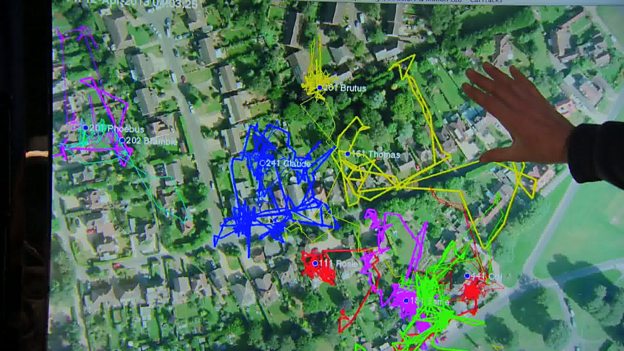 The pet cat's life outside the home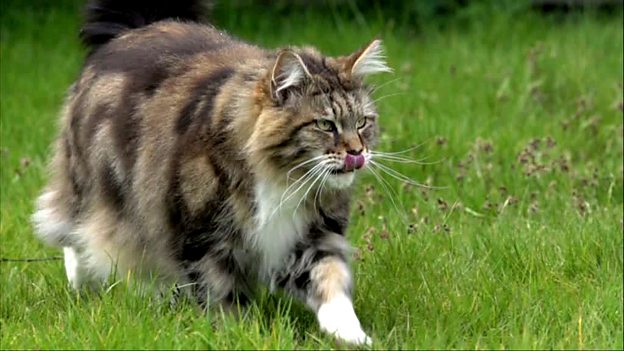 How well do we really know our cats?
Search the site
Can't find what you need? Search here