Sir Jonathan Ive honoured with exclusive gold Blue Peter Badge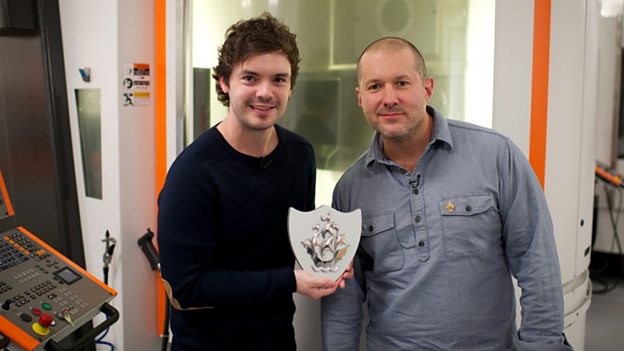 Sir Jonathan Ive is an inspiration to children around the world and we were ecstatic to hear his comments and design advice to our viewers who will remember such feedback for a lifetime."

Ewan Vinnicombe, Acting Editor, Blue Peter
Date: 15.02.2013
Last updated: 18.03.2014 at 17.52
CBBC's Blue Peter presents Sir Jonathan Ive with the show's highest accolade, the gold Blue Peter badge, in a gadget special to be screened on the CBBC channel at 10am on Saturday 16 February.
London-born Sir Jonathan is Senior Vice President of Industrial Design for Apple and a life-long Blue Peter fan. When interviewed by presenter Barney Harwood he vividly remembers the makes from the show, and loved that they reused products that you thought were no longer useful.
In the special episode, Sir Jonathan reviews several product designs sent in by Blue Peter viewers through a series of video messages from the children behind the designs. On receiving his gold badge, he called the honour "absolutely incredible".
As a mark of honour for the programme, Sir Jonathan and his team made 'something very special', a unique Blue Peter badge crafted from solid aluminium through a 10-hour process, and presented it to Barney in true Blue Peter style saying, "Here's one that we made earlier."
Only around 1,000 gold badges have been presented in history and Sir Jonathan Ive joins an illustrious list including David Beckham, JK Rowling, Tom Daley, Damian Hirst and The Queen.
Ewan Vinnicombe, Acting Editor of Blue Peter, comments: "Sir Jonathan Ive is an inspiration to children around the world and we were ecstatic to hear his comments and design advice to our viewers who will remember such feedback for a lifetime."
To see the Blue Peter gadget special featuring Sir Jonathan Ive, tune in to CBBC, Saturday 16 February at 10am.
FM
Search the site
Can't find what you need? Search here