Discover a suite of piano programmes on the BBC this Autumn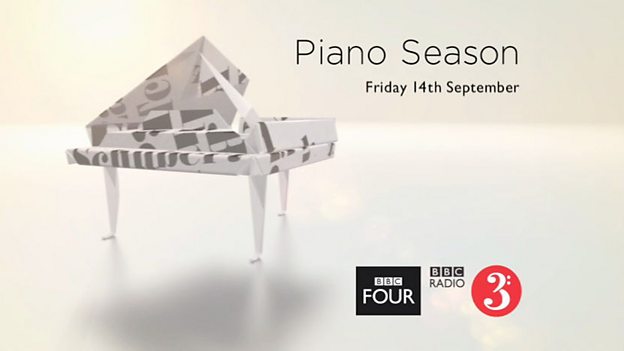 Over six weeks we will be exploring this remarkable instrument: its history, mechanics and influence, as well as delving into the lives of the people behind the instrument and the music created for it."

Roger Wright, Controller, Radio 3
Date: 05.09.2012
Last updated: 18.03.2014 at 17.50
This Autumn, Saturday 15 September until Tuesday 6 November, the BBC will be dedicating a suite of programmes to the music, history and beauty of one of the world's most iconic instruments, the piano.
Piano Season on the BBC is a major six-week season celebrating a single instrument. The season will explore the piano's wide-ranging influence from the 1700s to the present day, as well as delve into the lives of the people behind the piano and the music created for it.
Highlights of the season include an in-depth insight into The Leeds International Piano Competition, a Jazz Battle live from Trinity Laban College Greenwich, a downloadable A-Z of the piano, Peter Donohoe's 50 Greats, an online masterclass for budding pianists and well-loved personalities from around the UK, such as Woman's Hour's Jane Garvey, Radio 1's Dev and Olympic medal winner Samantha Murray, taking up the challenge of learning the piano for the first time, with eight of them taking part in the season finale, Gala Concert in Cardiff on the 29 October 2012.
The season begins with extensive coverage of the Leeds International Piano Competition with live broadcasts of the final on BBC Radio 3 and a six-part series about the finalists on BBC Four. The season will culminate on 6 November with a special episode of Imagine on BBC One focusing on Lang Lang as he turns 30.
Roger Wright, Controller of BBC Radio 3, comments: "The piano is a single instrument that has the ability to convey a range of emotions and the power of a whole orchestra. Over six weeks we will be exploring this remarkable instrument: its history, mechanics and influence, as well as delving into the lives of the people behind the instrument and the music created for it. Piano Season on the BBC embodies everything that makes Radio 3 unique, offering listeners a distinctive range and depth of classical music, jazz and discussion."
Richard Klein, Controller BBC Four, comments: "As the gold card channel for arts and culture, BBC Four is delighted to give our viewers an insight in to the Leeds Piano Competition through a series of six documentaries focussing on the finalists of this world class competition. The BBC is committed to partnering with arts and music organisations and BBC Four is delighted to be continuing the relationship with the Leeds Piano Competition to bring such a high calibre of classical music, performances and artistry to viewers as part of Piano Season on the BBC."
The Leeds International Piano Competition on BBC Four will be presented by Suzy Klein, herself a pianist, and will showcase the six finalists and their concerto performances in full. The series will also take viewers behind the scenes to discover why 'The Leeds' is admired worldwide, take a closer look at the mechanical marvel that is the piano, speak directly to the woman behind the competition, Dame Fanny Waterman, who has inspired a generation of young musicians and delve into what makes a world-leading concert pianist. With arguably one of the piano world's biggest stars taking an ambassadorial role with the competition, we'll also hear from Lang Lang on why 'The Leeds' still matters as it approaches its 50th birthday.
Radio 3 listeners can follow the competition live with both Concerto Finals nights and the Sunday Afternoon Gala Concert broadcast live from Leeds. Piano Season on Radio 3 continues with artists such as Lang Lang, the Labeque Sisters and Malcom Martineau sharing their musical inspirations, as well as hearing from experts such as David Owen Norris and Peter Donohoe. Programmes will feature some of the greatest piano music ever written by composers who themselves loved and played the piano; including Mozart, Beethoven, Schumann, Liszt, Beethoven, Debussy and Chopin alongside late night jazz programming exploring some of the greatest names in jazz pianism.
Monday nights will be 'Piano Night' when Radio 3's Live in Concert will offer listeners a series of unique piano recitals, from different corners of the nation, given by an array of international artists. Past Leeds finalist Sunwook Kim will play Beethoven and Schubert and Russian Evgenia Rubinova presents a programme of music from her native country; Ukrainian Alexei Grynyuk plays Chopin and Liszt; Pascal and Ami Rogé play French music for two pianos; while Radio 3 New Generation Artist Igor Levit performs Rzewksi's celebrated and fiendishly difficult Variations on "The People United Will Never Be Defeated"; Ashley Wass and Huw Watkins team up to perform Robin Holloway's pianistic tour-de-force "The Gilded Goldbergs".
In Radio 3's morning programmes, listeners will have the chance to hear the 50 Great Pianists – a short daily focus on one of the 50 greatest names from the world of pianism as selected by Peter Donohoe, while regular programmes such as Composer Of The Week will explore the lives of composers who wrote for the instrument, from Clementi to Rachmaninov.
Special guests and piano lovers, including Kathryn Stott, Valentina Lisitsa, James May, Alan Rusbridger and Benjamin Frith, will be joining the regular Radio 3 presenters through the season to talk about their passion and experiences with the iconic instrument. David Owen Norris presents an online piano masterclass recorded in partnership with the ISM. There will be exploration of the historical and social history of the piano and an entertaining A-Z of the piano in Radio 3's late afternoon programme In Tune.
Trinity College London and the ABRSM [Associated Board of The Royal Schools of Music] will be helping budding pianists hone their skills in '110%' on Friday nights. We'll be treated to great performances of Piano Syllabus pieces and hear from the experts on what make them so special and how to get 110% in their exams.
Later on in the Autumn, BBC One's Imagine will return with a special documentary presented by Alan Yentob on Lang Lang, arguably one of the greatest pianists of his generation, as he turns 30. Lang Lang's dazzling technique and musicality have inspired a generation of young pianists and delighted audiences throughout the world.
Imagine follows him on an impressive schedule of concerts in Shanghai, New York, London and Berlin and reveals a personal story that began with great hardship and a family dream that nearly ended in tragedy. In this auspicious 'Year of the Dragon' Lang Lang celebrates his 30th birthday at a concert in Berlin with Herbie Hancock, opens his own piano school in China, plays for the Queen at the Diamond Jubilee, performs sell-out concerts at the Royal Albert Hall, and becomes the first classical musician to headline at a British pop music festival.
BBC Four will also celebrate Lang Lang being appointed as the Global Ambassador of the Leeds International Piano Competition with two one-off documentaries on Friday 2 November. Lang Lang At The Roundhouse will give viewers an opportunity to see this stunning performance at London's legendary Roundhouse, recorded at the iTunes festival in July 2011. Lang Lang performs a remarkable Liszt recital as the only classical music artist in a true rock-star surrounding, next to international pop stars like Coldplay, Adele and Linkin Park. And Lang Lang: The Art Of Being A Virtuoso follows Lang Lang through China, the US and Europe and offers a glimpse into life on tour with the superstar.
Notes to Editors
Piano tuition will be provided by European Piano Teachers Association (EPTA)
BBC Radio 3 is the home of classical music. The station also broadcasts a wide range of cultural programming including jazz, world music, arts and over 30 new drama programmes a year. BBC Radio 3 features more live classical music programming than any other and is the home of the BBC Proms, broadcasting every Prom live and over 600 complete concerts a year. The station is also the most significant commissioner of new musical works in the country and is committed to supporting new talent; composers, writers and new young performers through schemes such as World Routes Academy, New Generation Artists and New Generation Thinkers.
The BBC aims to provide the broadest range and depth of music and arts programmes across television and radio.
The BBC aims to provide context through original, fresh discussion and perspectives.
As the gold card channel for arts, BBC Four features the most music programming on television and is the home of classical music on television which features in the heart of the schedule.
ABRSM is the exam board of the Royal Schools of Music, delivering over 650,000 exams and assessments every year in 93 countries. ABRSM is committed to supporting high-quality music-making, learning and development throughout the world, and to producing the best possible resources for music teachers and students.
The Incorporated Society of Musicians (ISM) is the UK's professional body for musicians, providing a distinctive range of services to its membership of performers and music professionals. The ISM aims to promote the art of music and champion the interests of musicians, raising professional standards, and providing legal advice and other benefits to its members. Its members include performers, composers, music teachers and industry professionals, and its corporate membership of over 100 bodies stretches across the music sector.
Trinity College London is an international exam board, offering qualifications in music, drama, dance and English language. We run Arts Award, a series of qualifications that develop young people as artists, and deliver Artsmark, a certification scheme that recognises high-quality arts education. We have been offering exams since 1877 and our assessments are now taken in over 60 countries. Every year we deliver half a million assessments across the world. Our exams are recognised by regulatory authorities, universities and employers as evidence of people's achievements.
ER/EH
Search the site
Can't find what you need? Search here
Related Media Centre Links
Related Programme Information