Behind the Headlines: BBC North and the move to MediaCityUK
Our move to MediaCityUK in Salford Quays is regularly scrutinised in the media. BBC North is one of the most ambitious projects in our history and will create a new centre of excellence outside London for production, technology development, training and digital media. The move starts in May 2011 and the project is on time and on budget.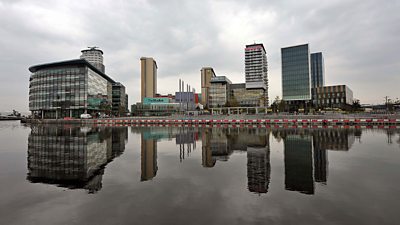 The BBC is paid for by the whole of the UK and needs to better reflect the breadth and depth of our culture and be representative of all those who fund it. BBC North will help meet the commitment to our audiences to get as close to them as possible.
Twenty-five per cent of licence fee payers live in the North – from Liverpool to Newcastle – yet currently only 8% of network programmes are made in the region. Our audiences in the North have told us that they feel less well served and represented and a new creative hub in the North will help redress this balance.
From our base at MediaCityUK and our regional offices in Leeds, Hull, Sheffield and Newcastle, BBC North will support locally produced, high quality content for every platform using the latest innovations in technology. We will also create new content that will be enjoyed by audiences across the UK in the same way that BBC Wales makes great drama like Doctor Who or BBC Bristol produces landmark natural history series from the South West.
The move facilitates the creation of new partnerships with organisations including independent producers, cutting edge digital companies and universities across the North of England.
Jobs and training
There will be up to 2,300 BBC jobs in MediaCityUK including hundreds of new vacancies. BBC North will lead the way in training and developing talent, building on the rich mix of skills and experience already available in the North of England.
The benefits
BBC North will provide four key benefits:
Creative Dividend: increasing the quality of all the BBC's content using the latest technology for the benefit of all audiences on all platforms
Reputational Benefit: driving up approval for the BBC in the North of England
Economic Benefits: creating a world-class talent pool in the North, strengthening and supporting the region's independent production and media companies and making a positive contribution to the regional and national economy
Value for Money: making BBC North one of the BBC's most efficient and cost effective centres and demonstrating Value for Money to the licence fee payer
Since 2009, BBC North has invested in a series of initiatives:
@North: £500,000 investment in digital content for CBeebies and CBBC, working with five companies across the North of England. The companies awarded the commissions were Numiko (Leeds), Brass (Leeds), The Workshop (Sheffield), Amaze (Manchester) and Th_nk (Newcastle)
Radio 5 live Kicker Fund: seven potential commissions from Northern radio independent production companies funded by a £40,000 creative Kicker Fund. As well as the new commissions covering news, drama and comedy, it has resulted in the creation of a new production company in Yorkshire, Pearl Works Productions. An additional £40,000 has been committed for 2011/2012
BBC North Sport Kicker Fund: a £150,000 fund for new Inside Sport programmes specifically from Northern-based independent production companies
Digital Fiction Factory: a partnership between BBC North and Conker Media that will be based at MediaCityUK and focus on creating contemporary digital fiction for drama, comedy and factual-fiction hybrids
And already the local community is beginning to see some tangible results of our presence in the area. The BBC Philharmonic Orchestra continues its work with the Salford Family Orchestra, Doctor Who and BBC News School Report have worked with over 3,000 local school children.
The costs
The cost of the move to MediaCityUK is £200m which includes the recent additions such as BBC Breakfast. This figure represents the cost of the transition project, relocation and redundancy packages for staff, and the installation of new technology.
We have committed to recouping the cost over twenty years and if possible will reduce the payback period significantly by fully occupying our more cost-effective buildings and introducing more efficient ways of working.
The National Audit Office report on BBC Estates quoted a figure of £877m. However, this covers the 20-year running costs of the five departments moving to Salford Quays and includes lease costs and ongoing operational and technology costs. If these departments remain in London their running costs will be higher. The costs of running Salford Quays are lower because there are significant savings in sharing studios, phasing out London Weighting, occupying energy-efficient buildings and selling existing properties. These savings will be invested in programme making.
The relocation
BBC North wants to attract the right mix of existing expertise and new talent. Staff moving from London have been offered basic costs to reflect the fact that their departments are compulsorily moving, rather than them moving through personal choice. This is common practice.
The rules for relocation apply equally to all and a number of staff have already chosen this option
For all staff:
Removal services using an approved supplier
Taxable relocation payment of £5,000. (except for those choosing a monthly payment towards temporary rental accommodation)
For staff who are buying and selling a property, reimbursement of essential expenses as defined by HMRC including:
Legal costs
Stamp Duty
Reasonable estate agency fees up to 1.5% of the sale price
A contribution of up to £3,000 towards fixtures and fittings
Where staff have specific circumstances which require them to keep their family home in the South East, they are eligible for a maximum monthly payment of up to £1,900 a month for up to two years to rent a property. This amount is taxable, paid against specific receipts and covers rent, council tax, utilities bills and weekly travel to London. Staff who take up the rental option are not eligible for the £5,000 relocation payment.
BBC North Director Peter Salmon is leading the move. He will initially rent close to MediaCityUK whilst his children are doing exams and will subsequently buy a property in the area by the time the move to MediaCityUK is complete.
Last year when we asked staff to make their decisions about moving 46% chose to relocate which is an excellent response. Not only is it higher than average for a relocation of this scale but it will help to minimise redundancies.
The timetable
Between May and December 2011 BBC Sport, BBC Children's, BBC Radio 5 Live, BBC Learning and part of the Future Media & Technology (FM&T) division will move to Salford Quays from London.
Manchester based staff including the BBC Philharmonic Orchestra, the Religion & Ethics team and North West Tonight will also move to Salford Quays in 2011.
They will be followed in 2012 by BBC Breakfast, part of the Marketing, Communications & Audience division, and more FM&T staff such as those working on mobile apps and web design.
The site
With our partners the BBC is creating the most technologically advanced media centre in Europe. The MediaCityUK site is owned by Peel Media and the BBC will occupy about 10% of the 200 acres being developed. We do not own the buildings we are moving into, but we have had input into the specification. The rest of the site will be occupied by other creative and Media companies.
Related BBC Links
Related Web Links