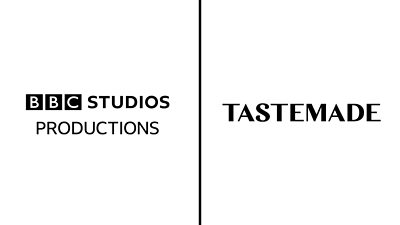 Authentic storytelling is at the heart of both Tastemade and BBC Studios Productions."
Modern media company, Tastemade, and BBC Studios Productions have announced a first-of-its-kind development and production partnership to bring long- and short-form branded content to young and diverse audiences on social and streaming platforms. The collaboration pairs BBC Studios' premium TV production prowess with Tastemade's social and streaming distribution capabilities, and will include premium factual entertainment and lifestyle formats. Tastemade offers BBC Studios Productions a platform to reach a young, diverse, and highly engaged audience with 82 percent of global social followers being within the ages of 18 to 49.
Under the terms of the deal, BBC Studios Productions will serve as the lead producer of mid- and long-form series. All content will be distributed on Tastemade's social and streaming networks, which reach over 300 million monthly viewers around the world. The global collaboration will give BBC Studios Productions access to an international distribution network across social and streaming, and gives Tastemade a trusted, world-renowned production partner.
"Authentic storytelling is at the heart of both Tastemade and BBC Studios Productions," says Mohammed Ali Salha, Managing Director, EMEA, Tastemade. "For us, this collaboration unlocks unprecedented value for our brand partners by giving them access to premium programming created for social and streaming television with shorter timelines and more flexibility than ever before. I'm certain that the content we produce and the stories we tell as a part of this endeavour will be enjoyed by diverse audiences across the globe."
"Combining BBC Studios Productions' track record of producing premium factual entertainment content with Tastemade's impressive global distribution capability is a no-brainer for us," says Helen Pendlebury, Director, Digital & Business Development, BBC Studios. "Brands will now get the chance to work with many of the award-winning creative executives behind some of BBC Studios Productions' best known global formats. We can't wait to work with Tastemade to originate and deliver innovative and impactful campaigns that will resonate with audiences around the world."
BBC Studios Productions is an award-winning and world-renowned producer of shows like Doctor Who, Top Gear, Luther, Hey Duggee, and many more. The company produces 2500 hours of original content each year and has seven production bases in the UK alone with nine others in countries around the world. BBC Studios Productions has built impressive credentials in branded content since 2019 with projects such as Cook Clever and Waste Less AFP for Hellmann's and Channel 4, which won two UK Sponsorship Awards 2022; Foxy's Fearless 48 hours AFP for Jaguar Land Rover and Channel 4; The Great Home Transformation AFP for IKEA and Channel 4; 2045: Memories of the Future for BBC World News; and Abu Dhabi Through Art for BBC World News.
Tastemade is a modern media company creating award-winning original programming in the categories of Food, Travel, and Home & Design for an engaged, passionate, and global community across the brand's social and streaming channels which are available in the Americas, EMEA, and Asia and the Tastemade+ app. The company has more than 160 million followers across social platforms globally and is available in more than 140 million television homes around the world.
TASTEMADE
Tastemade is a modern media company that engages a global audience of more than 300 million monthly viewers on all major digital, mobile, and streaming television platforms, garnering 700 million minutes watched each month. We create award-winning video content and original programming in the categories of Food, Travel, and Home & Design that we share with an engaged, passionate, and global community. Tastemade has won a host of awards and accolades for its innovation and original programming, including two James Beard Awards and Fast Company's "Most Innovative Companies" list. For more information, visit Tastemade at: www.tastemade.com.
Tastemade on Facebook | Instagram | YouTube | Twitter | Pinterest | TikTok
About BBC Studios
BBC Studios is a commercial subsidiary of the BBC Group with profits (EBITDA) of £226 million on sales of £1.6bn (21/22). Able to take an idea seamlessly from thought to screen and beyond, its activities span content financing, development, production, sales, branded services, and ancillaries across both its own productions, and programmes and formats made by high-quality UK independents, with three-quarters of its revenues from non-BBC customers including Discovery, Apple and Netflix. Around 2,400 hours of award-winning British programmes made by the business are internationally recognised across a broad range of genres and specialisms, with brands like Strictly Come Dancing/Dancing with the Stars, Top Gear, Bluey and Doctor Who. BBC.com, BBC Studios' global digital news platform, has 139 million unique browser visits each month.
BBC Studios | Website | Press Office | Twitter | LinkedIn | Instagram |
Search by tag: