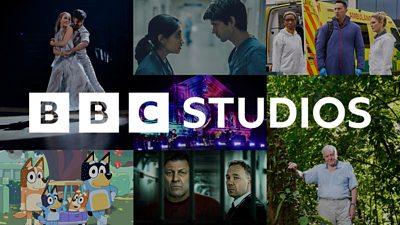 Last year was stellar for BBC Studios, thanks to continued strong demand for our brands like Strictly/Dancing with the Stars, Time, Bluey, and the Planet series."
Highest-ever sales (£1.6bn) and profit (£226m) in 21/22
Production sales up 56%; content sales over £400 million; UKTV profit up 105%
2400 hours of content made; a quarter for third parties
Pay gap report shows progress in reducing gender pay disparity
BBC Studios, the BBC's principal commercial subsidiary, today publishes a record set of results which positions the business well for future growth, as part of a summary of its strategic and financial performance for the year 2021/22.
Overall sales were £1,630 million (2020/21: £1,255 million), a jump of 30% thanks to a very healthy year for production and UKTV. Profit (EBITDA) up 50% year-on-year to £226 million (2020/21: £151 million), the first time the business has exceeded £200 million, with a £135 million cash dividend (2020/21: nil) going back to the BBC.
Tom Fussell, CEO of BBC Studios, said: "Last year was stellar for BBC Studios, thanks to continued strong demand for our brands like Strictly/Dancing with the Stars, Time, Bluey, and the Planet series. Our creative and financial success is clear for all to see and I am so proud of our teams across the world who worked so hard to achieve this in extremely challenging conditions. With new freedom to invest, and a new commercial board, now is the time for the business to step up a gear. Despite an uncertain economic climate, we're hugely confident about the opportunities ahead: and while this investment in future growth might impact on our profits over the short term, we know that we are building a business which can play a more significant role in the future of the BBC."
This performance was driven by a rise in production sales, which were up 56%, with a quarter of all new commissions from third parties. With 2,400 hours of content made worldwide, BBC Studios was the most awarded UK producer, with 288 nominations and 55 awards for creativity and craft in the year, including multiple awards for Rose and Giovanni's silent dance as part of their winning performance on Strictly Come Dancing.
UKTV also had a record year, with profit (EBITDA) up 105% as the advertising market bounced back to boost revenues, and thanks to increased audience share (and share of commercial impacts) at record levels. Its channels performed very well, with Drama, Gold and Alibi increasing their share by 11%, 7% and 5%, respectively, in the 2021 calendar year, and Dave upping its share of 16-34 year olds by 14% as audiences responded enthusiastically to investment in new original content, while streaming service UKTV Play added 1m registered users.
Content sales were strong at over £400 million, thanks to key brands like Doctor Who and Top Gear, unscripted landmarks The Universe and Green Planet, alongside hits from our indie partners including The North Water, This is Going To Hurt and The Outlaws.
BBC Studios continued to transform, welcoming Global News, Kids & Family and scripted label House, maker of hit drama Sherwood, to its production business to drive opportunities for global customers. In the year, BBC Studios as part of the BBC, committed to science based Net Zero targets, signed the Climate Content Pledge, plus an impressive 98% of BBC Studios UK productions received albert certification.
Looking ahead, the business has stretching targets to grow by 30%. With these results, and new headroom in the business' ability to borrow opening up opportunities to invest, BBC Studios is in a strong position to build commercial income in line with BBC Group priorities.
Returns more than doubled to £353 million (2020/21: £137 million), as the business achieved its target of £1.2 billion over the first five years of the current Charter, helped by strong cash generation and a dividend of £135 million. Investment in high quality content was up 67% year on year.
BBC Studios also published today its annual pay gap report, with details of pay gaps for gender, ethnicity, disability and LGBTQ+ employees broken down by career level band, as well as global analysis for the first time. The majority of career level bands show median pay gaps of within +/- 5%, while the overall median gender pay gap is now below 10%. In entry level roles (career level band A), new schemes to increase diversity are impacting some pay gap metrics, but this is important work for improving diversity across the business.
Tom Fussell added: "We're amongst the most transparent in the media sector for pay gap disclosures, with breakdowns for gender, disability, ethnicity and LGBTQ+ across all levels of the business, as well as new data this year for our global staff. While there is much to be proud of as our gender pay gap continues to fall, inevitably these figures paint a picture of a work-in-progress, especially where we are investing in the talent of the future. We know there is work to do to achieve the equality we seek across the board, and we will work tirelessly to make this happen."
-Ends-
For more information, please contact:
Hannah Bailey/Gwen Eluned - hannah.bailey@bbc.com; gwen.eluned@bbc.com
BBC Studios Corporate Communications
NOTES TO EDITORS
About BBC Studios
BBC Studios is a commercial subsidiary of the BBC Group with profits (EBITDA) of £226 million on sales of £1.6bn (21/22). Able to take an idea seamlessly from thought to screen and beyond, its activities span content financing, development, production, sales, branded services, and ancillaries across both its own productions, and programmes and formats made by high-quality UK independents, with three-quarters of its revenues from non-BBC customers including Discovery, Apple and Netflix. Around 2,400 hours of award-winning British programmes made by the business are internationally recognised across a broad range of genres and specialisms, with brands like Strictly Come Dancing/Dancing with the Stars, Top Gear, Bluey and Doctor Who. BBC.com, BBC Studios' global digital news platform, has 139 million unique browser visits each month.
BBC Studios | Website | Press Office | Twitter | LinkedIn | Instagram |
Search by tag: