It's a date! Meet the cast of First Dates South Africa
BBC Lifestyle reveals the cast of First Dates South Africa, the hit dating format which will premiere on DStv channel 174 from Wednesday 16th October at 8pm.
Published: 23 September 2019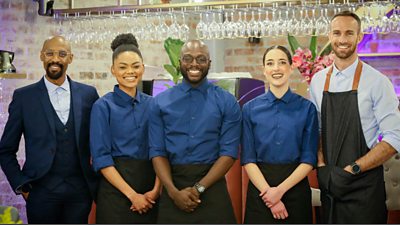 It has been such a privilege to welcome and meet so many incredible people at the restaurant, to hear their life stories and what has brought them through our doors in the first place.
BBC Lifestyle reveals the cast of First Dates South Africa, the hit dating format which will premiere on DStv channel 174 from Wednesday 16th October at 8pm. With the cool, calm and collected maître d' Batsile, charming bartender Travis and hilarious waiting trio, Ash, Joey and Tamara now confirmed, this group work together to create the ultimate dating environment for 120 people as they step through the First Dates restaurant doors looking for love.
Produced by the multi-award-winning Rapid Blue, First Dates South Africa will provide audiences with front row seats as South Africans put their best selves forwards and go on a blind date at the First Dates restaurant in Greenside, Johannesburg. From initial nerves to flirty smiles and sparks of chemistry, discreetly placed cameras capture every moment of the action as it unfolds. Packed with a diverse cast of authentic characters all looking for love, each episode plays out like the funniest of romantic comedies. First Dates is a heart-warming, heart-stopping and laugh out loud dating show, which ends with a trip to the First Dates booth, where each couple reveals what they really thought, and we discover if true love has blossomed. Will this unique first date lead to a second?
Meet the team:
Batsile Ramasodi
Maître D'
An all-round entertainer, Batsile is perfectly suited to be the Maître d' at the First Dates South Africa restaurant. As a father and husband, Batsile is a self-proclaimed romantic and well positioned to aid daters along their first dates and open them up to the prospect of finding love.
Batsile, on joining the First Dates South Africa team said, "My wife and I love watching dating shows together so when the opportunity came to audition for the SA version of First Dates – I leapt at the chance. It has been such a privilege to welcome and meet so many incredible people at the restaurant, to hear their life stories and what has brought them through our doors in the first place. I can't wait to watch it and relive it all over again, as it was such a fun experience!"
Travis Kuhn
Bartender
Travis is South Africa's current Bartending Accolades and Recognition (BAR) Awards Bartender of the Year and has been bartending for over 20 years. A romantic at heart, Travis has been married for 12 years and has three children. After getting the call to be the bartender for the First Dates restaurant, Travis set himself the personal challenge of wanting to be able to make any cocktail ordered by a dater – and describes his drinks as "out of this world".
Travis, on joining the First Dates South Africa team said, "It has been so much fun joining the team and making the show. I have been blown away by the amazing people who have put themselves out there and signed up to come for a first date and have it filmed – as they are nerve-racking enough. We had such a variety of people, old and young, come and sit at the bar and I've loved chatting to them all and seeing how they approach a blind date – for many, a shot of tequila seems to do the trick!"
Ash Daniel
Waiter
An experienced waiter, Ash loves how the job introduces her to a wide variety of people. In fact, she often forms such a great dynamic with her customers that she becomes friends with them! Currently single, Ash admits to being slightly cynical about romance and love – but deep down she is a total sucker for big romantic gestures. She thoroughly enjoys watching dating shows, as they calm her nerves about going on first dates, by watching other people sit through the awkwardness and survive.
Joey Mathe
Waiter
Joey is a man with many tricks up his sleeve and has worked as a model, salesman and a waiter; he can also speak 13 African languages. Joey is currently single and describes himself as a romantic. Joey wanted to join the First Dates South Africa team as he is a huge fan of the UK version. He enjoys watching dating shows and romantic films and his all-time romantic film is The Notebook.
Tamara Lesabe
Waiter
Tamara is multitalented - in addition to being a genetics and medical cell biologist she is also a model, a blogger, an artist and former waiter. Tamara is currently single and would 100% describe herself as a romantic and an old soul through and through. It was her romantic nature that encouraged her to audition for the series. She loves love and any chance to facilitate it is a win for her.
The popular UK version of First Dates will be airing every weeknight on BBC Lifestyle at 10pm from Monday 7th October to get audiences excited ahead of the SA version which premieres from 16 October at 8pm.
To stay up to date on all the recent and upcoming shows on BBC Lifestyle (DStv channel 174), featuring the very best in dating and romance, visit https://www.bbcsouthafrica.com/channels/lifestyle/ or follow @BBCLifestyleSA on Facebook and @BBCStudiosZA on Instagram.
The production team from Rapid Blue has shared some detail around what it takes to produce a show of this magnitude:
It took a team of 20 people, 4 weeks to design, build and make-over the First Dates SA restaurant, in Greenside.
It took 4 days to strike the set.
There are 30 cameras placed discreetly in the First Dates restaurant to capture every detail of each couples first date - the biggest fixed rig set ever built in SA
A total of 60 dates were filmed for this series. Each one taking on average 2 hours.
It takes on average 140 hours to edit one episode
Each episode aims to showcase 4 to 5 dates
2.5 kilometres of cabling was used to install the cameras in the restaurant
70 people were needed on set every day to film the series. These included chaperones, logistics, technical crew, medic, health & safety, catering and production team.
-Ends-
For more information, please contact:
South Africa – BBC BRIT and BBC Lifestyle
Debbie Halliday
Email: Debbie@atmosphere.co.za
United Kingdom
Amy Dawson
Email: Amy.Dawson@bbc.com
NOTES TO EDITORS
About BBC Studios
BBC Studios, a global content company with British creativity at its heart, is a commercial subsidiary of the BBC Group. Able to take an idea seamlessly from thought to screen, it spans content financing, development, production, sales, branded services, and ancillaries from both its own productions and programmes and formats made by high-quality UK independents. Award-winning British programmes made by the business are internationally recognised across a broad range of genres and specialisms, including factual, drama, entertainment and comedy. BBC Studios has offices in 22 markets globally, including six production bases in the UK and production bases and partnerships in a further nine countries around the world. The company, which makes around 2,500 hours of content a year, is a champion for British creativity around the world and a committed partner for the UK's independent sector. Created in April 2018 by the merger of two existing commercial subsidiaries, BBC Worldwide and BBC Studios, the company has revenue of around £1.4bn. In the year to March 2019, it returned £243m to the BBC Group, complementing the BBC's licence fee and enhancing programmes for UK audiences.
bbcstudios.com
twitter.com/bbcstudios
twitter.com/bbcstudiospress
About BBC Lifestyle
BBC Lifestyle, DStv channel 174, is the home of the best dating, weddings, food and home design shows for audiences to sit back and binge on. From premiering the shows of the world's most renowned and loved chefs including Nigella Lawson, Jamie Oliver and Gordon Ramsey to grimacing at the decisions of couples planning to say their nuptials to each other, there is no stone in life left unturned which audiences cannot delve into with the help of BBC Lifestyle.
bbcsouthafrica.com/channels/lifestyle/
twitter.com/bbcsouthafrica
facebook.com/BBCLifestyleSA/
Tagged: