The Daleks' Master Plan comes to vinyl in a first for Doctor Who
Following the recent popularity of Hitchhiker's Guide to the Galaxy and League of Gentlemen releases on vinyl, Demon Music Group presents The Daleks' Master Plan, a narrated full-cast TV soundtrack adventure.
Published: 14 January 2019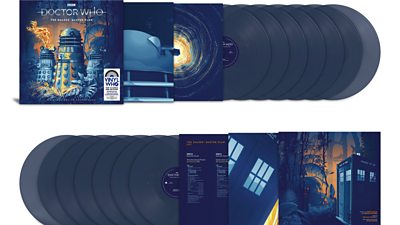 We're very excited about the first release in our 'Vinyl Who' collection - it's a new way for fans to discover lost episodes of Classic Doctor Who.
Starring William Hartnell as the First Doctor, in a battle against his archenemies, the vinyl will be released on 15th February 2019 and is now available for pre-order. RRP £99.99.

'We're very excited about the first release in our 'Vinyl Who' collection - it's a new way for fans to discover lost episodes of Classic Doctor Who.' Ben Stanley, Head of Product & Marketing, Demon Music Group
Standard edition: 7LP x 12" Heavyweight Translucent Blue
Amazon exclusive edition (limited to 1000 units): 7LP x 12" Heavyweight Splatter Vinyl
In this classic 12 part 'lost' adventure, first shown on TV from October 1965 to January 1966, the Daleks threaten to destroy the fabric of time itself. In their quest to control the Solar System, they have taken possession of the devastating Time Destructor. Determined to stop them, the Doctor steals the core of the weapon before he and his friends are pursued across time and space by his ruthless, powerful nemeses.

From the eerie sonics of Ron Grainer & Delia Derbyshire's original theme tune and the familiar 'wheezing, groaning' of the TARDIS, to soundscapes illustrating the jungles of Kembel and alien spacecraft, the story is brought to life by the unique sounds produced by the BBC's Radiophonic Workshop.

Written by Terry Nation and Dennis Spooner, this is the longest single Doctor Who adventure ever made for television. Linking narration is provided by Peter Purves (Steven) and the cast includes Kevin Stoney as Mavic Chen, Nicholas Courtney as Bret Vyon, Jean Marsh as Sara Kingdom and Peter Butterworth as the Meddling Monk. The film recordings of all but three episodes of this story are lost from the BBC archives.

The prelude episode Mission to the Unknown is presented on its own single-sided disc with a unique Dalek (exclusive edition) or TARDIS (standard edition) etched reverse.

-Ends-

For more information, please contact: kate.hunter@bbc.com
For images please click HERE

NOTES TO EDITORS

About BBC Studios
BBC Studios, a global content company with British creativity at its heart, is a commercial subsidiary of the BBC Group. Formed in April 2018 by the merger of BBC Worldwide and BBC Studios, it spans content financing, development, production, sales, branded services and ancillaries. BBC Studios' award-winning British programmes are internationally recognised across a broad range of genres and specialisms. It has offices in 22 markets globally, including seven production bases in the UK and production bases and partnerships in a further nine countries around the world. The company, which makes 2500 hours of content a year, is a champion for British creativity around the world and a committed partner for the UK's independent sector. BBC Studios has revenue of £1.4bn, and returns around £200m to the BBC Group annually, complementing the BBC's licence fee and enhancing programmes for UK audiences.

bbcstudios.com
twitter.com/bbcstudios
twitter.com/bbcstudiospress
Tagged: