Next phase of changes to some local BBC radio Medium Wave services
Kieran Clifton
Director, BBC Distribution & Business Development
Published: 4:00 pm, 14 April 2021
Updated: 4:18 pm, 14 April 2021
As I have written about in previous blog posts, we have been closing some Medium Wave (MW) transmitters across the UK which no longer offer sufficient value for money for licence fee payers.
A large and increasing share of radio listening in the UK - including to the BBC - is digital, and the BBC is committed to a digital future for radio. In recent years we have made significant investment in local DAB expansion, all of our local radio stations are available on digital terrestrial TV (such as Freeview), and we have transformed our online and mobile offering with BBC Sounds.
The BBC's intention to close MW transmitters was first announced ten years ago in 2011. In 2018 we commenced with these and continued them in 2020 across Scotland, Wales, and England. We are now moving onto the next phase with a further set of closures across England, Wales, and Northern Ireland in May and June 2021.
The stations moving off MW in the next phase are:
BBC Essex
Available on 103.5 FM across Essex, and in Southend and Basildon on 95.3 FM
BBC Radio Cambridgeshire
Available on 96.0 FM in and around Cambridge, and 95.7 FM in and around Peterborough
BBC Radio Devon
Available on 103.4 FM across Devon, 95.8 FM in Exeter and 94.8 FM in North Devon
BBC Radio Leeds
Available across West Yorkshire on 92.4 FM, 103.9 FM in West Leeds, and 102.7 FM in the Aire Valley
BBC Radio Sheffield
Available on 88.6 FM in Sheffield, 94.7 FM in Chesterfield, and across South Yorkshire on 104.1 FM
BBC Hereford & Worcester
Available on 104.0 FM in Worcestershire, 94.7 in Herefordshire, 104.4 FM in Redditch, and 104.6 FM in Kidderminster
BBC Radio Stoke
Available on 94.6 FM across Staffordshire and 104.1 FM in Stafford
BBC Radio Lancashire
Available on 103.9 FM across Central Lancashire, 95.5 FM in Blackburn, and 104.5 FM in Lancaster
BBC Radio Ulster and BBC Radio Foyle. Available on 92–95 FM. Also available on all TV platforms (Terrestrial, Satellite, and Cable)
All local BBC radio stations impacted will still be available on FM (or displayed as MHz on your radio), DAB, Digital TV, and online (through a smart phone, computer, or smart speaker).
In addition, the following stations will have reduced MW coverage:
Radio Wales
Impacted areas including North of Snowdonia, Anglesey, Bangor, Caernarfon, Conwy, and Betws-y-Coed and Areas around Wrexham and east of Snowdonia
Still available on, FM, DAB, and online and on all TV platforms (Terrestrial, Satellite, and Cable)
Radio Gloucestershire
With areas around Stow-on-the-Wold being impacted DAB will likely be the best option for most listeners
Available on 104.7 FM around Gloucester, 95.0 FM around Stroud and 95.8 FM around Cirencester
Still available on Freeview/Youview and online (through a smart phone, computer, or smart speaker)
We understand these changes will affect some listeners, but for the vast majority the easiest solution will be to re-tune to the appropriate FM frequency as given above.
You can visit https://www.bbc.co.uk/reception/ and use our coverage checker tool to get more information on how to access all the BBC services in your area.
Listeners can also call the BBC MW Helpline on 03700 100 700 or for reception advice 03700 100123.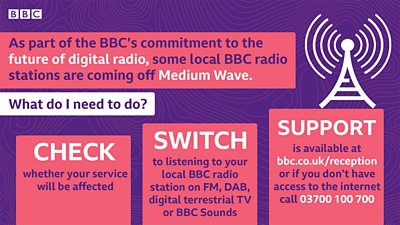 Tagged: