The BBC and Sophia Smith Galer named in TikTok's Top 100 of 2020
The BBC's accounts have joined the World Service's Sophia Smith Galer in the social media site's 'Top 100' review of 2020.
Published: 12:00 pm, 3 December 2020
Updated: 3:09 pm, 3 December 2020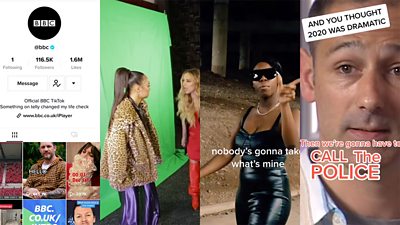 It's incredible to be featured on this list, especially so soon after launching.
The BBC launched four accounts this year - @bbc, @bbcr1, @bbcbitesize, @bbcsport joined @bbcstrictly – amassing 1.4 million followers and gaining more than 7 million likes. It has been chosen in the app's top 10 'Breakthrough Accounts' list.
Posts have featured a wide range of content, from Barack Obama to Danny Dyer, and from Little Mix as EastEnders to Louis Theroux as a freestyle rapper.
Some of the top videos this year included:
Dave Gibson, Senior Social Content Producer for the BBC, says: "It's incredible to be featured on this list, especially so soon after launching. It's been so inspiring over the past few months to hear from so many people across the BBC willing to be a part of such an exciting and creative way of reaching young audiences.
"It's been a gargantuan effort from both my team, as well the other teams on the accounts, and I know we have some amazing campaigns coming which will help cement the BBC as an authentic voice on the TikTok platform."
In addition, Sophia Smith Galer, an award-winning journalist with the BBC World Service, was named as one of the top 10 'Voices of Change' on the app.
Her personal account has more than 142,000 followers and has received 3.1 million likes since her first video in November 2019.
In the run up to the US Election, Sophia produced and presented an investigation into the influence of the app on politicians keen to win over Gen Z audiences. The Weekend Documentary: The TikTok Election, which covered everything from 'hype houses' to misinformation, is available to listen to on BBC Sounds.
Sophia says: "I'm very flattered. I have held TikTok to account several times this year in my reporting, all the while using it as a platform to newsgather and promote my stories on as well as my personal life.
"Whether it's just sharing my love of languages and music or using it directly to promote my journalism, my followers have been at the heart of everything I've done on there and their unending curiosity and enthusiasm for my work has made this year a real delight."
AM3