BBC Radio 3 illuminates midwinter with Light in the Darkness for the seasonal period
In the darkest days of winter and at the end of year when the pandemic has brought uncertainty to our lives, BBC Radio 3 presents Light in the Darkness during two weeks in December.
Published: 8:30 am, 1 December 2020
Updated: 2:27 pm, 1 December 2020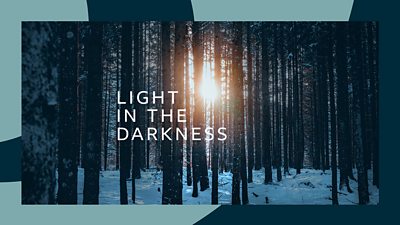 As the darkness of winter is at its height, made more profound by the pandemic and the resulting challenges we have all faced, BBC Radio 3 celebrates light in music and culture.
13-27 December
Across all BBC Radio 3 programming
Beginning on St Lucy's day (Sunday 13 December) - celebrated in Scandinavian countries as the turning point of winter, when days are reaching their shortest - Light in the Darkness celebrates the glory of candlelight, starlight and the fireside, across all cultures and ages, aiming to provide listeners with comfort and inspiration through music and words which highlight the beauty, hope and the solace of light.
From Northern Lights; resplendent Byzantine mosaics; immersive walks at sunrise; essential music for starry nights and ethereal dawns; shimmering choral works; luminous orchestral pieces; musical instruments played by light to explorations of candlelight and signal fires, the Light in the Darkness theme weaves through the schedule as an antidote to the long nights and bleak mood of the nation.
Season highlights include:
Afternoon Concert: Professor Brian Cox and the BBC Symphony Orchestra with conductor Dalia Stasevska exploring the Universe through music
Between the Ears: Songs of the Sky featuring the premiere of a piece of music composed using the electromagnetic sound of the Northern Lights
Late Junction: musician and artist Leafcutter John performing with his unique light-controlled interface
Essential Classics: over two weeks, the programme presents musical depictions of sunrise and starlight
Christmas Sunrise walks with Horatio Clare: bringing to life the distinctive luminescence of two remote locations in the east coast of the UK as lit by the December sunrise
Private Passions: Judith Herrin, Emeritus Professor of Byzantine Studies at King's College London, explores the dazzling gold of medieval icons and mosaics in the Italian town of Ravenna
Words & Music: an explorations of ideas of light and darkness through literature and music - with works by John Donne, Philip Pullman, Mahler, Brian Eno and more
Slow Radio: a slow radio moment inspired by light from beacons and signal fires
Choral Evensong: a special live edition from Durham Cathedral as a precursor to the season
Alan Davey, Controller BBC Radio 3 and classical music says: "As the darkness of winter is at its height, made more profound by the pandemic and the resulting challenges we have all faced, BBC Radio 3 celebrates light in music and culture. By interlacing luminous music and illuminating words inspired by light in all its many facets, we aim to bring comfort, inspiration, companionship and a chance to reflect on the magic and power of light at a time when we most need it."
EC
Listings information
Choral Evensong: Durham Cathedral
Wednesday 9 December, 3.30-4.30pm
Heralding the start of Light in the Darkness season ahead of its initial weekend, a special edition of Choral Evensong is live from Durham Cathedral.
Introit: Hail gladdening light (Wood)
Responses: Matthew Martin
Psalms 47, 48, 49 (Marsh, Armstrong, Shephard, Walmisley)
First Lesson: Amos 9 vv.11-15
Canticles: Gloucester Service (Howells)
Second Lesson: Romans 13 vv.8-14
Anthem: Kindle a light to lighten the darkness (Richard Lloyd)
Voluntary: Toccata - Prelude on 'Wachet auf' (Francis Jackson)
Daniel Cook (Master of the Choristers and Organist)
Joseph Beech (Sub-Organist)
Producer: Ben Collingwood
---
Private Passions: Judith Herrin
Sunday 13 December, midday-1pm
As we approach the darkest days of the year, Judith Herrin - currently Emeritus Professor of Byzantine Studies at King's College London - brings to Private Passions the dazzling gold of medieval icons and mosaics.
Herrin's latest book Ravenna is an exploration of the northern Italian city of Ravenna, famous for its gold mosaics and once the centre of the Roman and then the Byzantine Empire. In Private Passions, she talks to Michael Berkeley about her passion for the Italian town, which she first visited as a teenager. The mosaics there made an unforgettable impression - an almost mystical experience. Musical choices include performances by Pablo Casals, Jacqueline du Pré, and The Doors. Herself a bassoon player, she chooses bassoon music by Mozart and by Janáček.
Produced by Elizabeth Burke
A Loftus Media production for BBC Radio 3
---
Words & Music: Light in the Darkness
Sunday 13 December, 5.30-6.45pm
From Philip Pullman's fictional north to an account of seeing the aurora borealis, the candlelight in a Hanukkah poem and John Donne's Nocturne to St Lucy to a midwinter visit to Maeshowe by poet Kathleen Jamie - Words & Music today looks at ideas about light and darkness at this time of year in nature, art, belief and traditional storytelling. With music from composers including Mahler, Ligeti, Nielsen, Hildur Gudnadóttir, Arvo Pärt, Johann Johannsson and Brian Eno.
Producers: Kevin Core and Paul Frankl
---
Breakfast
14-18 December, 6.30-9am
The programmes this week feature contributors from around the Northern latitudes offering reflections on what Light in the Darkness means to their cultures.
---
Breakfast
21-25 December, 6.30-9am
This week, the episodes celebrate the sunrise as it happens across the UK with light-inspired repertoire.
---
Essential Classics: 5 Essential Sunrise Pieces
14-18 December, 9am-midday
Celebrating the spectacular winter sunrises, Essential Classics this week features musical depictions of the dawn. The repertoire included in this week programmes - introduced by Ian Skelly - features Hannah Peel's breath-taking Sunrise Through The Dusty Nebula for brass and synthesisers, Ravel's famous sunrise in his Daphnis and Chloe, Sibelius' thrilling Night Ride and Sunrise, the first sunrise of all in Haydn's Creation, and Peter Maxwell Davies' all-night party, An Orkney Wedding, with Sunrise.
Producer: Elizabeth Funning
---
Essential Classics: 5 Essential Pieces for a Starry Night
21-25 December, 9am-midday
Following the previous week's celebration of sunrise, this week Essential Classics - as presented by Suzy Klein - turns to starlight for musical inspiration. There is music from the renaissance to the present day, from composers including Monteverdi, Wagner, Elgar, Ēriks Ešenvalds and Jonathan Dove.
Producer: Elizabeth Funning
---
In Tune Mixtape: Celebrating Light
14-16 and 18 December, 7-7.30pm
These special editions of In Tune Mixtape include half an hour of uninterrupted music full of lightness, brightness and luminosity. From shimmering choral works and radiant orchestral favourites to translucent folk interpretations and the gossamer harmonies of a muted winter palette. This is music that shines and glints, sparkles and glows in all tones and hues.
---
Night Tracks: Light in the Darkness
14-17 December, 11pm-12.30am
Sarah Mohr-Pietsch presents these special episodes of Night Tracks embracing Hygge (the Danish lifestyle concept of warmth and coziness) and looking to the dancing flames for comfort, hope and a sense of wonder.
Producer: Elizabeth Funning
---
Free Thinking: Winter Light
Wednesday 16 December, 10-10.45pm
BBC Radio 3 New Generation Thinkers archaeologist Susan Greaney and art and literature expert Alexandra Harris join Shahidha Bari for tonight's Free Thinking to look at light, from Stonehenge and Maes Howe at solstice, to the shadowy paintings of Wright of Derby and Artemisia Gentileschi, and the candlelight of Hanukkah.
Producer: Ruth Watts
An R&M Production – Factual for BBC Radio 3
---
The Verb: Christmas Lights Verb - Experiments in Living
Friday 18 December, 10-10.45pm
Ian McMillan and his guests explore the 'language' of light this Christmas. He's joined by Baroness Floella Benjamin, and the light-filled pages of her book for children, which tells the story of leaving Trinidadian sunshine for the very different light in the South of England; one of our best-loved lexicographers, Susie Dent lets us into the varied vocabulary of light, ancient and modern; poetry legend John Cooper Clarke talks about the leading lights of his childhood, and the glow of the cinema screens in Salford, which he spent so much time bathing in; and Ian rejoices in the glow of the screens that have connected so many of us this year - with a celebration of Edwin Morgan's famous poem The Computer's First Christmas Card.
---
This Classical Life: Jess Gillam with… Eric Whitacre (This Classical Christmas)
Saturday 19 December, midday-1pm
Jess Gillam and composer Eric Whitacre get all Christmassy and share their favourite festive sounds including music from Prokofiev, Darlene Love, Danny Elfman and Nat King Cole.
---
Music Matters
Saturday 19 December, 11.45am-12.30pm
As Christmas approaches Tom Service reviews the new book Arvo Pärt: Sounding the Sacred, a collection of essays exploring the spiritual dimension of the celebrated Estonian composer and how his music has been represented by musicians and academics.
The programme also explores luminosity in music.
Producer: Juan Carols Jaramillo
---
New Music Show
Saturday 19 and Saturday 26 December, 10pm-midnight
The experimental vocalist, movement artist and composer, Elaine Mitchener curates and presents two Christmas editions of the New Music Show.
---
Freeness: A Revelation of Light
Sunday 20 December, midnight-1am
Corey Mwamba presents music that brings light in times of darkness. Night turns into day with a ritualistic awakening from the Mexican group Produtziones Aldabar and the Peruvian artist Miguel Flores explores pachacuti - an Andean concept of renewal, rebirth and reversal - on his 1983 album Primitivo. We couldn't programme a show on this theme without including the greatest giver of light, Sun Ra. Corey selects something from his symphonic jazz album The Pleiades, which is dedicated to the nearest star cluster to Earth, the constellation Taurus.
Producer: Rebecca Gaskell
A Reduced Listening production for BBC Radio 3
---
Afternoon Concert: The Symphonic Universe
Wednesday 23 December, 2-3.30pm
Recorded at the Barbican earlier this month and presented by Hannah French, Professor Brian Cox and the BBC Symphony Orchestra, led by Principal Guest Conductor Dalia Stasevska, carry us across the universe with music by Sibelius, Ives and Mahler
Producer: David Gallagher
---
Slow Radio: Sunrise Sound Walk with Horatio Clare
Horatio Clare brings to life the unique luminescence of the East Coast of the UK and experiences the December sunrise as he walks in two stunning and remote locations.
Chasing the sunrise along the Pilgrim's Path to Holy Island
Christmas Day, 3-4pm
At first light, as winter touches Northumberland, Horatio Clare sets out on the Pilgrim's Path to the Holy Island of Lindisfarne. With a falling tide and a rising sun he walks east across the tidal flats from the mainland to the island, once home to Cuthbert - monk and abbot of the island's priory and patron saint of Northumbria.
A Lincolnshire Sunrise across The Wash
Boxing Day, 3-4pm
Starting his walk at Gibraltar Point in Lincolnshire, as the sun rises in the east across the North Sea, Horatio Clare hikes around the largest nature reserve in England – the stark, remote, unspoilt beauty of the mudflats and saltmarsh of The Wash. One of the UK's great wildernesses, internationally renowned for its wildlife, the vast skies and shimmering waters of this great tidal inlet are one of the most important sites for wintering birds in the whole of Britain.
As the rising December sun brings warmth and light to the coast in the depths of winter, Horatio takes delight in the minute detail of the plants, the wildlife, the sounds and wide East Coast vistas he experiences on the walks. These two programmes are suffused with music reflecting the feel and mood of the coastline, capturing the ever changing light and shifting seas and sands of these liminal places.
---
Late Junction: Late Junction's Christmas by the Fireside
Christmas Day, 11pm-1am
On Christmas Day evening by the fire Verity Sharp is joined by special guest acclaimed poet, actor, and musician Saul Williams. Saul dives deep into the outer recesses of his far-ranging tastes, to curate a late-night Christmas playlist unlike any other - and to share fireside stories from a life lived at the intersection of music, art and activism. As Christmas draws to a close, we'll hear an intimate spoken word performance from Saul, who is revered for blurring the line between hip hop and poetry.
Elsewhere Verity shares sounds that celebrate light, from Appalachian rising sun melodies to Norwegian jazz inspired by chiaroscuro, the Italian term for the balance of light and dark in art.
For the occasion, the artist Leafcutter John will perform on his homemade light-controlled instrument, a musical interface which is triggered by light. Sounds are created when light is shone upon the interface, sending information from the sensors to his computer and modular synth. He demonstrates his invention with a piece from his recent album but with a seasonal twist: he plays it with Christmas lights.
Producers : Katie Callin and Frank Palmer
A Reduced Listening production for BBC Radio 3
---
Between the Ears: Songs of the Sky
Boxing Day, 11.45am-12.30pm
Radio 3 travels to the snowy depths of Alaska to hear how aurora borealis, the Northern Lights, can be turned into music. Biologist Karin Lehmkuhl Bodony from a small native Alaskan village within the Arctic Circle, and Alaskan composer Matthew Burtner - whose work draws on environmental change in his native country - capture the magical electromagnetic sounds of the Northern Lights in the sky above them - and create a new composition.
As the natural environment is visibly modified by the impact of climate change, the northern lights remain the one constant - because they come from the sun's solar, they will always remain. As well as witnessing the Aurora Borealis, Karin also turns the lights into sound, using a very low frequency radio recorder. She takes us deep into the forest on her dog sleigh to capture - in sound- the swirls and whistles generated by the solar shower as it interacts with earth's electromagnetic field. Matthew Burtner uses captured sound and music to reflect environmental change: he listens to the lights out in the Alaskan wilderness for the first time using a Very Low Frequency recorder and uses these sounds to compose a piece of music.
Producer: Kate Bissell
A Scotland - Features, Arts & Religion production for BBC Radio 3
---
J to Z
Saturday 26 December, 5-6.30pm
Jumoké Fashola presents a special edition of J to Z full of warmth and winter light. She's joined by Danish bassist Jasper Høiby, of the acclaimed trio Phronesis, who shares some pieces from his own collection - music that fires his imagination and brings him comfort in the winter months.
Producer: Thomas Rees
A Somethin' Else production for BBC Radio 3
---
Slow Radio: Lighting the Beacon
Sunday 27 December, 11.30pm-midnight
A slow radio journey into illumination, drawing inspiration from light beacons and signal fires. Used across the centuries as alerts and warnings, but also for celebrations and as emblems of hope, this programme lights up the darkness, conjuring a chain of signal fires and beacons out of sound and reflecting on their meaning and purpose. Drawing on short quotes from literature from Ancient Greece to the present day, we move from the lighting of a match, to the creation of a chain of beacons, and end next to the coast at a lighthouse casting its warning light out over the sea.
Producer: Catherine Robinson
A BBC Wales production for BBC Radio 3