Al Mirbad: an independent media outlet in southern Iraq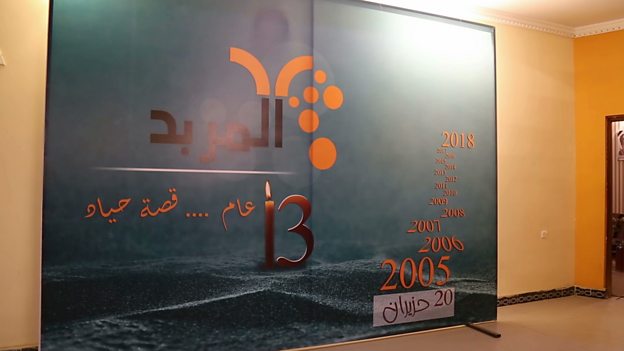 Watch: Al Mirbad - Iraq's public sector broadcaster
You need to do a good job, otherwise you'll never hear the end of it from Al Mirbad

Jabar Amin, former chairman of the provincial council of Basra, addressing officials before his departure
Al Mirbad is southern Iraq's steadfast public service broadcaster. Launched by BBC Media Action in 2005 after the fall of Saddam Hussein's regime, it is now a household name providing news, investigative journalism, political comedy and social content to its ever growing audiences on radio and digital media.
Al Mirbad is a not-for-profit organisation owned by its staff, and remains BBC Media Action's longest-standing commitment to supporting independent media in transitional countries. It broadcasts in the southern region of Iraq, home to ten million people, to give communities a voice and hold officials to account.
The radio station plays an important role in improving the accountability of local government. Through its community engagement and its investigative approach to covering news, it brings important issues to light – from local corruption cases and damaged infrastructure, to the impact of extreme weather.
Reach and Impact
Audience research carried out by BBC Media Action in July 2018 shows that Al Mirbad's content resonates with its audiences, with 48% of respondents in Basra saying they are weekly listeners of the show. And even more people follow it online – Al Mirbad's Facebook page has around 2 million followers and its daily engagement figures stand at an average of 230,000 (as of May 2019).
Among regular users of Al Mirbad's news and information service on radio and online:
86% agree that it provides an important public service to Iraqi citizens
81% agree that it follows up and monitors the work of government and its failings
86% agreed that it gives citizens a voice / speaks for Iraqi citizens
Learning through laughter
In addition to factual content, Al Mirbad also produces a hugely successful satirical comedy video series that has attracted more than 4 million subscribers on YouTube. These skits have been viewed almost 1 billion times (as of May 2019), and there is evidence they are reaching those who have become disaffected with traditional news content:
"We are tired of political programmes because they all lie to us, whereas the comedy keeps things closer to our hearts." – (Older, higher educated female, Basra – during focus group research in 2017)
81% of regular viewers of the satirical comedy agree that it carries messages to the officials that make them feel ashamed of their actions, and 82% agreed that it is targeted comedy that contributes to changing bad practices in society.
Scene from an Al Mirbad satirical video skit
Public service in a fragile country
The fall of Saddam Hussein's regime in 2003 brought an end to the state monopoly on media in Iraq. But the media outlets that began to spring up were – and remain – largely partisan, reflecting political and ethno-sectarian differences.
Since 2005, Al Mirbad has seen the governorate of Basra through its first elections, militia control, political assassinations and sectarian violence. Its work remains crucial as Iraq's fledgling democracy struggles through political and sectarian divisions, internal displacement and migration, the destructive presence of IS and widespread administrative corruption and civilian protests.
BBC Media Action is partnering with Al Mirbad and with Radio Nawa in the north of Iraq to support the production of programmes that provide accurate and useful information in the face of rumours and sectarian narratives. We're also supporting the creation of new content to improve local and central government accountability – namely a 'Pop-Up Platform' which allows people to have their say, wherever they are. Issues are then taken up with the relevant official who uses the platform to reply.
Funding and sustainability
Since its establishment, Al Mirbad has been funded through donor grants, supplemented by advertising revenue and other small sources of income. In an economy with an underdeveloped private sector, independent public interest media like Al Mirbad struggle to become commercially sustainable. Donors have shown continued faith in Al Mirbad's editorial stand, and under these circumstances their support will remain imperative. BBC Media Action is committed to supporting Al Mirbad to continue its critical contribution to Iraq's development.
Search the site
Can't find what you need? Search here
External links