Helping save lives through radio in Nepal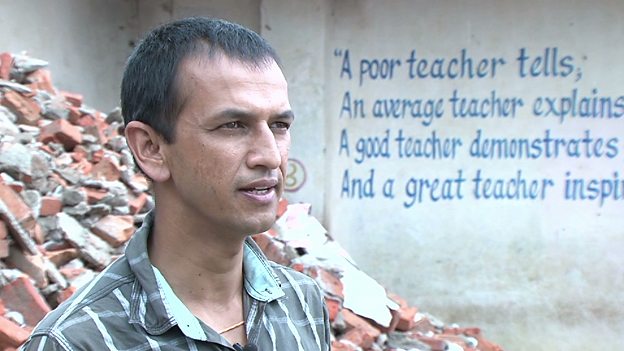 Because we listened to Milijuli Nepali, we were able to demolish the building safely.

Headteacher
Milijuli Nepali (Together Nepal) is a radio programme providing people affected by the Nepal earthquake with practical, actionable information – on shelter, sanitation, food, water, health and employment – for survival and recovery.

A 7.8 magnitude earthquake struck Nepal on 25 April 2015 – causing mass devastation for 1.8 million people.
With such high levels of displacement and humanitarian need, people across Nepal needed accurate and trusted information to help them first survive and then to begin to rebuild their homes and their lives.
We were working with the BBC Nepali Service within hours of the earthquake to get lifesaving information to people in immediate need. Within a week, we launched Milijuli Nepali to provide earthquake-affected people with information about where to receive aid and how to stay safe and healthy. The fifteen minute programmes broadcast twice a day on the BBC Nepali Service on 103 FM in the Kathmandu Valley, Radio Nepal and on 400 other radio stations across Nepal - collectively reaching across the entire country.
Milijuli Nepali producers travel the country gathering stories of hope, resilience and community spirit to share with their listeners. Inspirational features include a local engineer from Dholaka who shared tips on building earthquake-resistant homes; a tailor from Rammechhap district who re-opened a new shop just a week after her old one was destroyed; and a mother who safely delivered her baby in a temporary shelter with the help of her mother-in-law and neighbour.
For many years, BBC Media Action has been using radio to save lives and livelihoods after disasters and in times of crisis. Pre-disaster training delivered by BBC Media Action enabled several radio partners to begin broadcasting Lifeline programming within hours of the Nepal earthquake happening.
Training remains an important part of the project, providing local radio stations and humanitarian organisations with tailored editorial and technical support to allow them to produce local level Lifeline programmes.
The project also includes the production and broadcast of a new radio drama in collaboration with the national broadcaster for Nepal, Radio Nepal, titled Katha Maala (Garland of Stories). The drama aims to encourage communities in the earthquake affected areas to prepare for and respond to the challenges of the monsoon and winter seasons.
Project information
Project name
Reconstruction Radio
Funder
Current: USAID Previous: CARE, OFDA-USAID, Norwegian Embassy
Dates
2015 – ongoing
Themes
Resilience and humanitarian
Outputs
Milijuli Nepali (Together Nepal)
Broadcast partners

BBC Nepali Service (World Service), Radio Nepal, 272 FM partner stations (ACORAB) Network and the BAN (Broadcasting Association of Nepal) network.
Search the site
Can't find what you need? Search here