Empowering community health workers in India: Mobile Academy and Mobile Kunji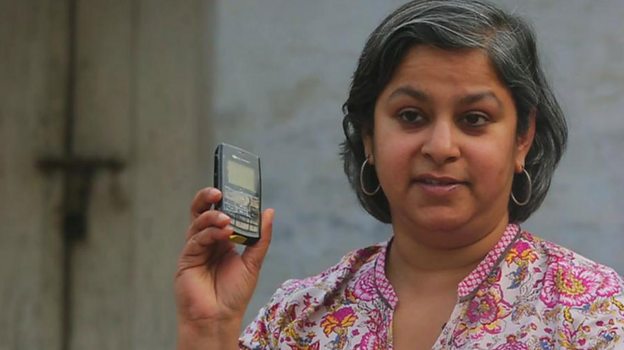 Mobile Kunji and Academy are accessible from any mobile phone handset.
As part of the Ananya programme, BBC Media Action worked with the Bill & Melinda Gates Foundation and the Government of India to reduce child mortality, improve maternal health and reduce infectious diseases in India.
Community Health Workers (CHWs), one million strong, are key influencers in helping millions of families take advantage of government health services, and to adopt healthier behaviours. BBC Media Action research showed that all CHWs either own, or have access to, a mobile phone.
Mobile training
BBC Media Action developed a training course, called Mobile Academy, to expand and refresh CHW knowledge of 10 life-saving health behaviours and to enhance their communication skills – a service which initially launched in Bihar. In 2016 – the initiative was scaled up across the country by the Government of India – with the objective of helping 10 million new and expectant mothers lead longer, healthier lives.
The audio course is delivered via Interactive Voice Response (IVR) – a technology that can be accessed from any mobile handset. Mobile Academy enabled CHWs to complete the course anywhere, any time at a fraction of the cost of face-to-face training.
A mobile 'key'
BBC Media Action also developed a multimedia service to enhance the immediate impact of CHWs' counselling of families. This service, called Mobile Kunji (which means 'guide' or 'key' in Hindi), brings together an IVR-based mobile service and a printed deck of cards on a ring. The Kunji cards were designed to look like a mobile phone, with illustrations, supporting arguments and key messages about maternal and child health.
Each card has a unique mobile shortcode printed on it, which corresponds to a specific audio health message. When a health worker dials the number, they can play the health message – voiced by a character called Dr Anita, an engaging but authoritative female doctor – to the family via their mobile phone.
Mobile Kunji and Academy is accessible from any mobile phone handset (no special software is required). Calls to Mobile Kunji are toll free, while calls to Mobile Academy are 90% less than standard IVR rates.
Mobile messages
The community health workers' advice and counselling is further reinforced by mass media, community events and another mobile service we designed called Kilkari (which means a baby's gurgle in colloquial Hindi).
Kilkari delivers free, weekly, time-appropriate audio messages about pregnancy, child birth, and child care directly to families' mobile phones from the second trimester of pregnancy until the child is one year old. The project complements Mobile Academy by reinforcing health workers' counselling of families, and communicating directly with new and expecting mothers and their families to increase the uptake of healthier behaviors.
Project information
Project name
Shaping Demands and Practices
Funder
Dates
2011-2015
Theme
Health
Outputs
Mobile services Mobile Academy, Mobile Kunji; radio show Khirki Mehendiwali (Mehendi Opens A Window), and multiple TV adverts.
Partners

Pathfinder International, the GSMA Development Fund and Madison World, Government of Bihar