Digital Women's Empowerment
Through research and pilot initiatives, we are working with women's collectives in India to learn how digital technology can further empower women.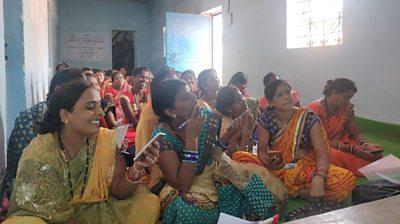 Empowering women is critical to achieving social and economic gains - for women themselves, for communities and for societies. Women's Empowerment Collectives and the Power of Digital: A Research and Learning Agenda is a three-year project to identify how technology can enhance pathways to empowerment in women's collectives, without worsening inequalities.
Organising women into empowerment collectives, including self-help groups, has shown promise of progress. In India, where women in 124 million households have been mobilised into 10.2 million self-help groups since 2011, the scale of this opportunity is significant.
The exponential growth of mobile phone use also holds potential for helping women to gain employment, obtain cost-effective health services and education and increase their income. By 2025, India is predicted to overtake the US as a "smartphone superpower", second only to China, with more than 1.1 billion smartphone connections.
But this digital growth is also exacerbating inequalities. Although more than 93% of households now own a phone in India, only an estimated 52% of women have access to these phones. In 2019, only 14% of adult women in India owned a smartphone and in 2020, only 9% of adult women in India had used social media. Wealth, education and gender norms all prevent women from accessing these phones.
The Digital Women's Economic Empowerment project is collaborating with grassroots women's collectives in several Indian states to answer research questions establishing how technology can enhance empowerment, how private sector drivers might be leveraged to deliver digital solutions to these collectives at scale, and how we can apply learning from digital social movements and campaigns to women's collectives in low-resource settings. 
We are also applying research insights to co-create and test digital solutions with the collectives.
Our research: Increasing women's digital literacy
Publication: May 2021
Authors: Alexandra Tyers, Catherine Highet, Sara Chamberlain, Arjun Khanna
Overview: There are many initiatives to increase women's digital literacy in India - but no body of knowledge establishing evidence for which are most effective. Our first report, Increasing women's digital literacy in India: what works, shares the results of our landscaping study to:
Review digital literacy definitions and frameworks to identify those most relevant to women's empowerment in India
Review key initiatives that aimed to improve women's digital literacy in India (and where useful, in other countries), to identify what has worked and what has not, and what gaps in evidence exist
Identify implementation approaches and business models that show promise of sustainability at scale.
Project information
| | |
| --- | --- |
| Project name | Women's Empowerment Collectives and the Power of Digital: A Research and Learning Agenda |
| Funder | The Bill & Melinda Gates Foundation |
| Dates | September 2019 to July 2021 |
| Theme | Digital/gender |
| Outputs | Five landscaping studies and three large scale pilots |
| Partners | Chaitanya WISE, PRADAN, the University of Southern California at Los Angeles, the University of Denver, Colorado |
External links
Learn about our projects in