Inspiring young people through drama and discussion in India
AdhaFULL (Half Full) is a national 78-episode 'whodunit' television drama, revolving around three young people, Kitty, Tara and Adrak.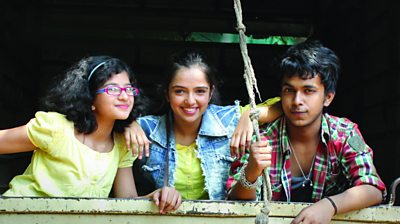 Unicef-funded, youth-focused AdhaFULL was a multi-platform media project, designed to help young people engage with the growing pains of adolescence, particularly issues of gender.
We developed and produced a 78-episode television series, AdhaFULL (HalfFULL), radio series (Full On Nikki), a smartphone game called Nugget, and a communication toolkit consisting of graphic novels, games and video content from the TV series, designed for audiences without access to media, and shared nation-wide.
Our gang of characters worked together to set things right in their small town, solving a new case each week and dealing with issues including underage marriage, sex-selective abortion, stereotyping of women and girls, sexual health, financial dependence, education for girls, hygiene and sanitation, drug and alcohol abuse, mental health, and gender-based violence. It was designed to break the silence surrounding sensitive issues affecting young people, challenge traditions that perpetuate gender stereotypes and boost the ability of teenagers to take action to improve their lives.
Our rigorous evaluation showed that watching AdhaFULL had a significant positive influence on attitudes and confidence related to coming of age issues, and the rejection of traditional gender norms among young men.
Project information
| | |
| --- | --- |
| Project name | AdhaFULL |
| Funder | |
| Dates | 2015-2018 |
| Theme | Health |
| Outputs | TV, radio, mobile games, audio content, interpersonal communication toolkit. |
| Partners | |
External links