Cambodia
Our work in Cambodia focuses on adapting and coping with extreme weather and climate change, and on reaching and supporting young people on issues that matter most.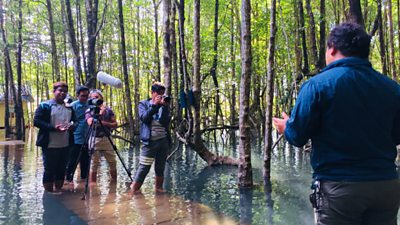 Our office: Phnom Penh
Our areas of focus: Climate action and resilience, youth empowerment and skills-building
Our partners: Cambodia Climate Change Alliance (CCCA), Swedish International Development Cooperation Agency (SIDA), UN Women
About our work
We've delivered creative communication projects in Cambodia since 2003 in areas including health, sexual and reproductive rights, and youth participation. In recent years, we've focused strongly on perhaps the most pressing issue facing the country: climate change and extreme weather.
We conducted research in 2018 to understand how Cambodians are experiencing these weather changes and found they reported perceived impacts on their health, food security, and livelihoods. The findings informed our 2019 television series, Don't Wait For Rain, which improved knowledge of climate risks and encouraged audiences to make easy, affordable changes to cope with extreme weather.
We are also working with UN Women on research  examining the impacts of climate change and extreme weather on women and girls – believed to be more vulnerable due to increased care burdens and workloads. And we're conducting further research into attitudes and practices around climate change, to inform future programming.
Beyond climate, since 2014 our vibrant, energetic and digitally savvy team have been delivering an innovative multimedia project helping young Cambodians improve their job prospects. Klahan9 combines a popular youth-led TV show, outreach events and interactive, popular social media content to provide 15-30 year olds with informative and entertaining content on training and career options. Reaching millions, our research shows Klahan9 has provided inspiring role models and motivated young people to plan for their future.