On 22 June, Afghanistan's humanitarian crisis took a dramatic turn for the worse with a deadly earthquake, centred in Paktika province.
The earthquake is believed to have killed over 1,000 people; thousands more are injured, homeless and facing the risk of cholera.
Our team responded fast to deliver Lifeline programming - which provides essential information about accessing shelter, medical help and humanitarian aid in a crisis, and ensures media are broadcasting *for* the people affected and not just about them.
Our Lifeline programming will air on BBC Afghan services; we are also training local radio stations in more effective programming in crisis so that they can better serve their communities' needs.
Please support us on JustGiving (leads to third-party site*). Your donations will support our work in Afghanistan and elsewhere around the world.
*The link (above) will redirect you to JustGiving's website and it's use is subject to their terms & conditions and privacy policy.
We lost our village and our home, our home is so damaged. We will face trouble and an even worse situation because winter is coming, and the sun is so hot, we need our home,"
The earthquake killed eleven of his family members and destroyed his house.
Our team are on the ground supporting people affected by the earthquake. Lifeline programming seeks to find out what people need and enable two-way communication between the communities most affected and humanitarian aid providers.
We are providing life-saving information and training local media to make life-saving content for these desperate communities right now.
We are the BBC's international charity - you can support us on JustGiving here*.
*The link (above) will redirect you to JustGiving's website and it's use is subject to their terms & conditions and privacy policy.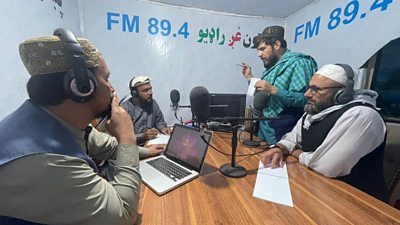 Learn about our projects in