South Sudan
Education helps build nations - our work in South Sudan focuses on keeping girls in school and empowering women to improve their financial futures.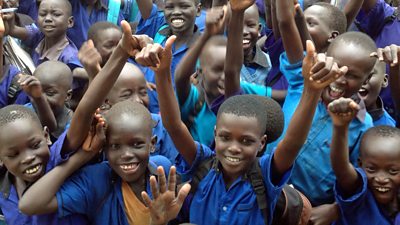 Our office: Juba
Our areas of focus: girls' education, health, the rights of girls and women, economic empowerment, non-violent conflict resolution
Our partners: European Union, UK Foreign, Commonwealth and Development Office, Global Affairs Canada, Girls' Education South Sudan  consortium (Mott McDonald, Leonard Cheshire, Montrose, Windle Trust International)
About our work
BBC Media Action began working in South Sudan in the lead-up to its historic 2011 independence referendum, training journalists to provide impartial coverage and help audiences exercise their voting rights. Since then, our work has expanded to support one of the world's youngest countries on its journey towards sustainable development.
Upon independence, South Sudan had the highest maternal mortality rates in the world – with people either distrustful of, or lacking basic knowledge about, health care. Our two national multi-language radio shows, magazine-style Our Tukul and drama Life in Lulu, helped listeners improve their knowledge of maternal and child health and adopt healthier behaviours to protect the lives of mothers and newborns. Life in Lulu has now shifted to address resolving conflict without violence, and recent research indicates the show is opening these discussions in the community.
Our radio show Building Futures has helped to address negative perceptions around vocational education and training programmes, and encouraged women to enrol, by sharing success stories of young people who have found jobs thanks to the practical skills acquired on these courses.
Our popular weekly radio show, Our School, produced as part of our work with Girls' Education South Sudan, reaches almost 2 million loyal listeners with engaging content about the importance of girls' education. Girls' voices are at the heart of the programme, which helps parents and communities overcome the additional challenges girls face to achieving basic education.
And, as part of our drive to amplify women's voices, in 2020 we launched an exciting new factual radio programme, Let's Talk About Us, to build understanding about sexual and reproductive health and rights of women and girls, and tackle harmful norms and taboos.
All our shows are produced in partnership with local broadcasters, part of our commitment to strengthening South Sudan's local media during ongoing conflict and instability.