Sierra Leone
Our work in Sierra Leone helps save lives, builds communities and empowers at-risk women and girls to take charge of their futures.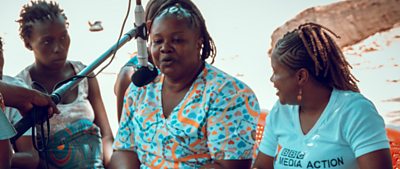 About our work
Radio is still the most important source of information in Sierra Leone, but online access is growing quickly, particularly among young people. We've been working in Sierra Leone since 2007 on projects that span radio, mobile, social media and community discussion groups. We are proud to run Sierra Leone's most popular Facebook page, which played an important role in dispelling misinformation during the country's 2018 elections.
Since 2017, our Tawa Fo Welbodi (Determined For Health) project has provided trusted information and busted harmful myths about malaria, a disease which accounts for 40% of deaths outside hospital. This project builds on the expertise and insight our team gained during the 2014-15 Ebola crisis – where we worked closely and swiftly with media and NGO partners to provide life-saving information through radio discussion and drama programming, PSAs, digital content and capacity strengthening.
In 2019 we launched a bold new girls' education and empowerment project – supporting radio stations across the country to create vibrant programming that challenges the discriminatory attitudes holding girls back from realising their dreams.
Sierra Leone is also one of three countries of focus for our flagship media development project, PRIMED (Protecting Independent Media for Effective Development) - through which we are strengthening independent media to produce trusted public-interest journalism and generating evidence around what works in strengthening media viability.