Improving family health in northern Nigeria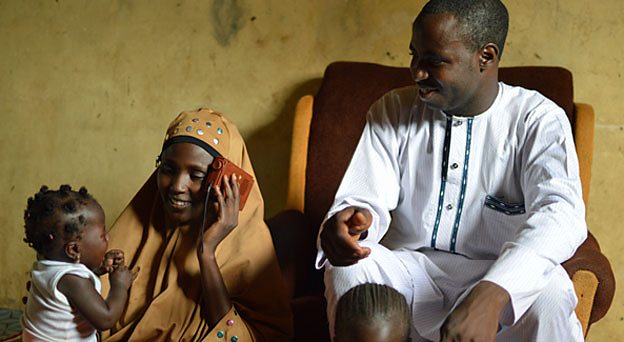 Watch: Yahaya and Salamatu talk about what they've learned from Ya Take Ne Arewa
You enlighten us on how to take care of ourselves and safeguard our lives.

A listener of Ya Take Ne Arewa
Families in northern Nigeria face some of the highest maternal and child mortality rates in the country.
Weekly radio show, Ya Take Ne Arewa (What's Happening up North), aims to improve family health by tackling health issues facing women, families and communities. The programme has been on air for over 10 years and is listened to by 8.6 million people in 15 states.
With a target audience of parents and caregivers, the 30-minute weekly show focuses on topics such as; antenatal care, diarrhoea treatment or birth spacing, exploring them from a number of viewpoints.
Guests include those affected by the topic in question, alongside medical experts, community and religious leaders and government officials.
Listener led
The programme is so popular in northern Nigeria that people have formed their own listening groups in three states to discuss the issues it covers. YTNA also has a Facebook page and listeners are also invited to participate via SMS.
One listener took the opportunity to text their appreciation, "Hakan take. Greetings to producers of YTNA. I wish you all the best because you enlighten us on how to take care of ourselves and safeguard our lives."
The producers use input from listeners to help determine the topics covered in future programmes and to identify potential guests.
The pre-recorded show is broadcast on 38 radio stations in northern Nigeria and one station in Lagos. Listening groups, for those who lack access to a radio, occur fortnightly in four states.
These groups are led by local facilitators trained by BBC Media Action to help make a difference in their community.
When Senior Project Manager, Esther Ijeaku, returned to meet the facilitators after their initial training, she already noticed a change.
"They are more confident, proactive and motivated to make a difference in their families and communities because of the knowledge and experience they have gained from being part of the listening groups. They are empowered! It's not a cliché, knowledge is indeed power."
Ya Take Ne Arewa was first broadcast in 2012 and builds on a previous Hausa-language programme called Ya Take Ne, which targeted young Hausa speakers and dealt with HIV- and AIDS-related issues.
Project information
Funder
USAID
Dates
2009-2017
Themes
Health
Outputs
Ya Take Ne Arewa (What's Happening up North)
Partners
38 broadcast partners in northern Nigeria and one in Lagos.
Search the site
Can't find what you need? Search here
External links