Improving accountability in Kenya
The TV debate show Sema Kenya (Kenya Speaks) brought officials and well-known public figures together with the public to debate the big issues of the day. Broadcast weekly, it was recorded in various locations across Kenya until 2014.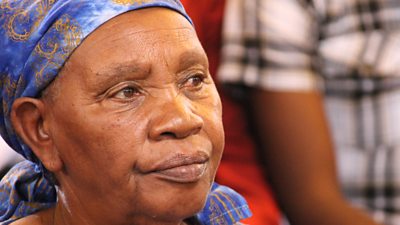 It provides a forum for people from different backgrounds and communities.
The programme was produced in Kiswahili, Kenya's national language, and presented by Joseph Warangu, former head of BBC's African news and current affairs department.
Sema Kenya stirred discussion and debate on a broad sweep of issues, ranging from; public security and unemployment to ethnicity, women's rights and land reform to name just a few. Traditionally taboo subjects – such as alcoholism – was also not off the agenda'.
Between broadcasts the show's Twitter and Facebook feeds came to life with comments from viewers and listeners describing it as "insightful", "charged" and "filled with creativity".
But what really set Sema Kenya apart is the fact that people outside the urban centres got a chance to hold public officials to account and speak directly to their leaders.
As one audience member from in Bungoma County in Kenya's Western Province, remarked. "They (leaders) never come here. Sema Kenya has brought them here."
Direct questions
Each audience member submitted a question or issue they would like to be addressed during the as-live panel discussion. The production team reviewed all the questions, grouping together similar issues, before selecting a number of people to put their questions directly to the panel.
"This [programme] is the first of its kind," said an audience member from Naivasha town in Nakuru County. "Most [discussion programmes] are one sided. This one is diverse and one can ask questions on issues such as environment and politics. Other programmes don't reach us, they take place in big hotels and their audience is selective."
Others appreciated the programme's efforts to reach the grassroots by staging debates in public places around the country and recruiting people of different age groups, religions and from different parts of the country.
"We who live in the city do not know what problems the people in the villages are facing - but through this programme we now know what they go through," said a member of the audience from Meru County.
Another listener called BBC Media Action partner station, Sahara Radio, to say, "The programme is good since it provides a forum for people from different backgrounds and communities to [have a] dialogue, and this is rare in the media."
Election broadcasts
Kenya's general election in 2013 was the first to be held after the politically-motivated violence that followed the 2007 election, which led to more than 1,000 deaths and hundreds of thousands of people forced from their homes. Many in Kenya were anxious to know how the authorities would ensure the ballot was peaceful, free and fair.
To broker the discussion, Sema Kenya's election special brought together a high-level panel and an audience of around 180 people from across the country.
Electoral changes made this election the country's most complex to date with six ballots rather than the usual three held on the same day for a number of local and national representatives. To help voters better understand these changes, Sema Kenya held detailed discussions about the new electoral system in the run up to the polls.
BBC Media Action research which analysed the role of media during the 2013 election found that, by providing a platform for dialogue, the programme helped individuals to hold government officials to account. 
The ethos of Sema Kenya continues in Beyond the Headlines, the Kenyan Broadcasting Corporation's (KBC) flagship political programme launched in May 2016, made possible with editorial and technical assistance from BBC Media Action.
Project information